CLICK HERE for all of Hoops HD's Preseason Coverage
We continue our season preview coverage with Northern Kentucky F-C Drew McDonald. Kentucky and Louisville might get most of the big men who grow up in the Bluegrass State, but not all of them. McDonald was born in Cold Spring, went to high school in Newport, and has reached great heights in Highland Heights during his college career: named to the Horizon League All-Freshman Team in 2016, scored a career-high 37 PTS vs. Cleveland State in 2017, and broke the school record for career defensive rebounds in 2018. HoopsHD's Jon Teitel got to chat with Drew about playing against his in-state rivals during the past 2 postseasons and how he celebrated his birthday last month.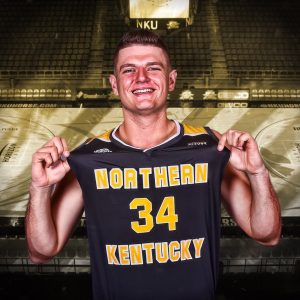 You play for Coach John Brannen: what makes him such a good coach, and what is the most important thing that you have learned from him? How detail-oriented and hard-working he is. Every time I step onto the floor I know that he is working just as hard off the floor (watching film, preparing scouting reports, reviewing drills, etc.).
You started 2 games as a freshman and then 67 over the past 2 years: what is the biggest difference between being a starter vs. coming off the bench? My freshman year was 1 of the 1st times in my life that I was not a starter: it was a little different but that was my role. The past 2 years I have tried to be a leader as well as a secondary coach on the floor.
In January of 2017 you scored a career-high 37 PTS/5-6 3PM in an 8-PT win over Cleveland State: was it just 1 of those scenarios where every shot you put up seemed to go in because you were "in the zone"? I remember that game vividly. I had 30 PTS in the 1st half including threes on each of our 1st 4 possessions. It was just 1 of those nights when I got hot early and continued to make shots throughout the game.
In the 2017 NCAA tourney you scored 14 PTS/3-9 3PM in a 9-PT loss to Kentucky: what was it like to face all of those future pros like Bam Adebayo/De'Aaron Fox/Malik Monk, and how close did you come to pulling off the in-state upset? Just being in the NCAA tourney is something that every player dreams about. At the time I was just focusing on their strengths/weaknesses rather than their future prospects. We almost pulled off a historic upset.
In the 2018 NIT you had 19 PTS/13 REB in an 8-PT loss to Louisville: what did you learn from that game that will help you this year? We played well as a team and were up in the 1st half. It was not the postseason tourney that we wanted to be in but we bounced back and almost got them. It gave me the confidence to show that I can play with anyone at any level and believe that I am the best player on the floor.
Last year you led the conference in defensive REB and your 555 career defensive REB is a school record: what is the key to being a great rebounder? Just wanting the ball. Coach emphasized early last year that we were not a great rebounding team and it is something that I have always enjoyed doing.
You are 1 of 2 seniors on the roster: how much pressure is there on you to be a leader this season? There is a little more pressure and guys are looking up to me because our other senior is a graduate transfer (Zaynah Robinson from Norfolk State). I know the system and know what Coach wants from all my time here so I will just bring it every day and work hard to hold everyone accountable.
It seems like everyone in your family played 1 or more sports in college: who is the best athlete in the family? That is tough. My mom was a pretty good player here and my sister plays volleyball at SIU-Edwardsville. My sister is probably the best.
You turned 22 last month: what did you do for the big day? It was a Sunday that we had off so I just watched week 1 of the NFL. It was a perfect day for me!
What are your goals for the upcoming season, and what are your expectations for the upcoming season? My goal is to help lead this team back to the NCAA tourney. We have some smaller goals like going undefeated at home, but if we focus on team success then winning will help everybody's larger goals. I would like to expect a title but I just live in the moment and stick with the process day by day. I do not want to put a ceiling on ourselves.