CLICK HERE for all of Hoops HD's Preseason Coverage
We continue our season preview coverage with Robert Morris head coach Andy Toole. It seems like just 15 years ago Coach Toole was Player Toole who helped Penn go 14-0 in conference play before making the 2003 NCAA tourney. In 2010 he was hired as head coach of the Colonials and became 1 of the youngest head coaches in the country. Now he joins St. Francis of Brooklyn's Glenn Braica as the longest-tenured coaches in the NEC, as they each begin their 9th season as head coaches next month. HoopsHD's Jon Teitel got to chat with Coach Toole about facing a pair of Wildcats in the postseason and coaching the defending NEC ROY.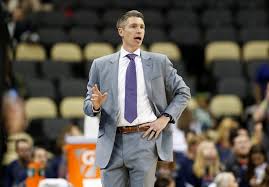 You played in back-to-back NCAA tourneys at Penn for Fran Dunphy, who is poised to become 1 of the few coaches to ever win 250+ games at 2 different schools (Penn/Temple): how much of an influence was he on your own decision to become a coach? He had a major influence on me, even today with the day-to-day decisions we make while running our program. He knows how he wants his team to operate. I talk to other former Quakers like Coach Matt Langel at Colgate who helped shape our mindset.
In the 2010 NCAA tourney as head coach at Robert Morris, Karon Abraham scored 23 PTS in an OT loss to #2-seed Villanova: what is it like to face Jay Wright in March? That version of Villanova basketball was not even close to what it is at this point, but there are some similarities between Dunphy and Wright. They are so strong/tough in how they execute and they do not beat themselves so it is hard to get them out of their style. They play the same way and have great connectivity: all coaches marvel at their unselfishness/ball movement.
In 2014 you were named conference COY: what did it mean to you to receive such an outstanding honor? To me it is a bit of an overblown honor because your players have so much of an impact on that. Our 2 best seniors (Karvel Anderson/Anthony Myers-Pate) did most of our heavy lifting to keep our guys on the right track each and every day. My staff was instrumental in continuing to game plan night after night after night.
It is extremely rare for a #8-seed to beat a #1-seed in the NIT, but you did it 2 years in a row by beating Kentucky in 2013 and St. John's in 2014: what is the secret to pulling off an upset in postseason play? I am not entirely sure. In both of those situations we really tried to play loose and with a sense of freedom because there was no longer any pressure on us to make the NCAA tourney. There was so much pressure during the conference tourney but after we became the underdog we just tried to compete/play aggressively and took the court with something to prove.
Last year Koby Thomas was named conference ROY: how was he able to come in and contribute right from the start? The biggest thing is his activity level: when he is engaged on both sides of the ball he just fills up a stat sheet. He has great instincts for rebounding/cutting and can finish around the rim: he is a double-double threat each and every night. This offseason we talked about opponents who try to counter his strengths, but he is always able to put pressure on our opponents.
Your non-conference schedule includes games against USC/Purdue/Louisville: which of these games do you feel will present your biggest test? All of them! I have not dug deep into their rosters yet but they will all present unique challenges. USC returns a lot of their core that finished 2nd in the Pac-12, Purdue has a lot of size/physicality, and Louisville with a new coach in Chris Mack will be a hostile environment for us right before Christmas.
You have a couple of assistant coaches who played college/pro basketball (including 1991 NEC POY Mike Iuzzolino and 2012 CBI champion Tray Woodall): how does a coach's playing experience translate to sideline success? Some of it is on the sideline, while other parts of it involve success in the office/locker room. They can relate to the players and be good models for guys about how hard you have to work every day. Most college players I know want to make the NCAA tourney and then play pro, and many of our guys have done that.
Your roster has players from 9 different states, as well as France and the Bahamas: what sort of recruiting philosophy do you have? We just try to find the best players we can. We cast our net locally and then expand it from there. We want guys who are willing to sacrifice for the team and have some humility/toughness wherever that path takes us.
You had a birthday last month: how hard is it to "celebrate" when you are born on 9/11? My birthday was fine and (as usual) low-key. It gets less and less fun to celebrate as you get older but I have been dealing with it for 17 years.
What are your goals for the upcoming season, and what are your expectations for the upcoming season? Our goals are always the same: compete for a conference championship. My expectations are to be in the mix for that. We hit the proverbial wall coming down the stretch last year but I think that our returning guys have learned from that and will grow from that experience. We had a lot of positives and the opposite of that will hopefully teach us to stay engaged without having a dip.