CLICK HERE for all of Hoops HD's Preseason Coverage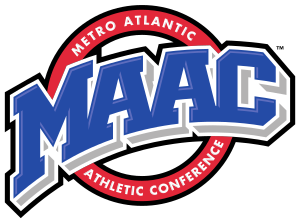 If there is any conference in the nation that has a single team at the top of it that should, on paper, clearly run away with the league title this year, it would be the MAAC. Rider returns virtually every player of note from a team that won 22 games and shared the league regular season crown.  However, the Broncs were upset by St. Peter's by double-digits in the conference tournament quarterfinals and should be playing this season with a major chip on their shoulders.  If someone else is going to find a way to keep up with Rider, keep an eye, as always, on Tim Cluess' Iona team.  The Gaels stole the conference tournament title last year and return their top two players.  Canisius could also be in the hunt with three starters back and watch out for both Marist and Quinnipiac as teams that could make moves up in the standings.
Predicted Order of Finish
Rider – Dimencio Vaughn averaged 16.1 points per game and 6.7 rebounds. Jordan Allen averaged 13.4 points.  Tyere Marshall averaged 10.3 points and 6.6 rebounds.  Stevie Jordan averaged 12.6 points and 5.9 assists.  Frederick Scott, the MAAC Sixth Man of the Year, averaged 12.8 points and 6.5 rebounds.  All of them, as well as senior guard Anthony Durham, are back this year from a team that won 22 games and tied for the MAAC regular season title.  Anything short of a trip to the Big Dance would be a major disappointment.
Iona – Never count out Tim Cluess' team in this conference, as he proved again last season by taking the 4th place Gaels to the conference tournament championship and NCAA Tournament bid. While only two starters return, Rickey McGill and E.J. Crawford, they were the top two scorers on the team.  Top reserve Roland Griffin (11.2 points and 5.2 rebounds per game) is back as well.  Also keep an eye on Robert Morris transfer Isaiah Still, who led his former team in scoring two years ago.
Canisius – Three starters, including a pair of double-digit scorers in Isaiah Reese and Takal Molson, do return but the Golden Griffins will need to find a way to replace Jermaine Crumpton's 17.1 points per game if they want to contend for the league crown.
Marist – This could be a breakout year for the Red Foxes as they return their top seven players from a 25-loss team and add in new head coach John Dunne, who has proven he knows how to win games in this conference during his time at St. Peter's. Brian Parker, who averaged over 17 points per game last season, should have another huge season.
Quinnipiac – Another team that could vastly improve on last season (12-21 overall), the Bobcats return four starters led by Cameron Young's 18.8 points per game. Young was granted a fifth year of eligibility by the NCAA back in May and will play as a graduate student this season.  They also welcome in George Washington transfer Kevin Marfo, a 6-8 forward with double-double potential.
Niagara – Senior forward Marvin Prochet could be poised for a monster year as he is a double-double threat every time he takes the court. However, the Purple Eagles will need to find a way to make up for over 40 points per games scored by Kahlil Dukes and Matt Scott if they want to make any serious noise in this league.
Monmouth – With Austin Tilghman and Micah Seaborn gone from a team that lost 20 games last year, this could be another rough season for the Hawks. They do, however, return three starters and welcome in Florida Atlantic transfer Nick Rutherford.
Fairfield – The Stags lost their top two players (including the school's all-time scoring leader Tyler Nelson) from a team that barely finished above .500 last season (17-16 overall). Matching last season's record may be an accomplishment this time around.
Saint Peter's – The Peacocks welcome in former Seton Hall star Shaheen Holloway as their new head coach, but don't look for any huge improvement from last year right away. Only two starters return from a team that went 6-12 in conference play.
Manhattan – With their top three scorers gone from last season, this could be a long year for the Jaspers. The one bright spot is the return of junior forward Pauly Paulicap who led the conference in blocks and was named MAAC Defensive Player of the Year.
Siena – The Saints went 8-24 last year and did not lose a single player that averaged double figures. The bad news is that they didn't retain anyone that averaged double figures either.  Without a legitimate scoring threat on the roster, new head coach Jamion Christian should expect another long season in Albany.