CLICK HERE for all of Hoops HD's Preseason Coverage
We continue our season preview coverage with new CSUN head coach Mark Gottfried. It is hard to say which of his coaching performances has been the most impressive because there are so many to choose from: winning the 1995 NCAA title as an assistant at UCLA, going 29-4 as head coach at Murray State in 1998, making the 2004 Elite 8 at Alabama after upsetting Stanford/Syracuse along the way, or making 4 straight NCAA tourney appearances at NC State from 2012-2015. HoopsHD's Jon Teitel got to chat with Coach Gottfried about winning an NCAA title and how the new job is going.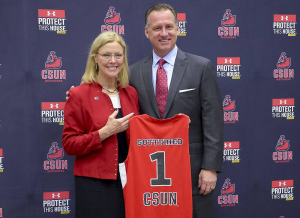 You were a Freshman All-American at Oral Roberts, then transferred to Alabama where you set school records with 8 3PM in a game against Vanderbilt and 48.5 career 3P%: what is the secret to making shots from behind the arc? You just pumped up my ego! You need to figure out the correct technique, practice it, and then be able to correct yourself. The key is repetition/repetition/repetition.
You won the 1995 NCAA title as an assistant to Jim Harrick at UCLA: what was he like to work for, and is it weird to be his boss almost 25 years later? He was amazing to work for: I learned a lot and he is a great teacher. His demeanor was something that I learned a lot about: he was very even-keeled. I do not think it is "weird" that he is working for me: it is a privilege because he brings so much to the table. I just wanted him to be himself and pass on the wisdom that he has acquired.
In 2002 you were named SEC COY at your alma mater: what did it mean to you to receive such an outstanding honor? It meant a lot. I love Alabama: the fact that we won the SEC title outright made me feel really good.
In the 2015 NCAA tourney as coach at NC State, you held #1-seed Villanova to 31.1 FG% in a 3-PT upset of the Wildcats: how were you able to beat Jay Wright in March? He is extremely good as a coach and his teams are very hard to defend. We had a good plan that day: to be honest that Villanova team was still 1 year away (when they won it all in 2016). They can dribble/penetrate and are fundamentally sound.
Last March you were hired as head coach at Cal-State Northridge: why did you take the job, and how is it going so far? I missed having a team. I worked for the  Dallas Mavericks and did a lot of scouting/draft preparation. Coming back to LA was a natural fit: I know this town and the people here so it just made sense.
You made the postseason during your 1st year as head coach at all 3 of your previous schools (Murray State in 1996/Alabama in 1999/NC State in 2012): how were you able to have such instant success everywhere you go? I do not know that there is any magic formula. The players I inherited all seemed to be very hungry and were tired of losing, as we are this year. However, this is obviously the greatest challenge that I have ever had as a head coach.
Last year PG Terrell Gomez was named conference ROY: how was he able to make such a smooth transition from high school to college despite standing 5'8"? It only took me about 2 days to fall in love with him. He has tremendous character and is a fun player to be around. He is excited for a fresh start.
Your non-conference schedule includes a game against Washington State: how do you prepare to face a team from a power conference? We open up with New Mexico, which is exciting for us: we have tried to create an aggressive schedule based on where we are. I am a believer in getting good at what we do and becoming confident in ourselves with what we want to run.
Your son Brandon played football at Stanford, your daughter Layson is an international fashion model, your father Joe was a basketball coach/athletic director, and your uncle Mike was a college football head coach/ESPN analyst: how proud are you of having such a high-achieving family? I also have a  couple of cousins who you may have heard of: Jim/John Harbaugh! We all grew up around coaching our whole lives so we have seen winning/losing and understand how difficult it can be. The good part is that we have been around a lot of fun times.
What are your goals for the upcoming season, and what are your expectations for the upcoming season? Last year we finished 6-24 (337th out of 351 D-1 teams) but my goal every year is to make the NCAA tourney. It is a tall order for us so we will have to be playing our best basketball at the end of the year.