CLICK HERE for all of Hoops HD's Preseason Coverage
We continue our season preview coverage with Mississippi State F Aric Holman. On the majority of college basketball teams the 6'10" Holman would be the tallest player on the roster. In Starkville it just makes him part of the crowd, as the Bulldogs have a whopping SIX guys on the team who stand between 6'10" and 6'11". He certainly knows how to use his height on defense, finishing in the top-10 in the SEC in BPG during each of the past 2 years. HoopsHD's Jon Teitel got to chat with Aric about his team's NIT semifinal run last spring and how the rest of the frontcourt is looking this season.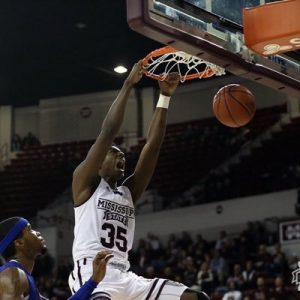 You grew up in Kentucky: what made you choose Mississippi State? I just wanted to be different: most of the guys I grew up with wanted to stay close to home but I wanted to go out on my own path.
You play for Coach Ben Howland: what makes him such a good coach, and what is the most important thing that you have learned from him? He gets the best out of you and will teach you things that help you both on/off the court. If you are far away from your family he will help you grow/develop.
All of your shooting percentages went way up last year even though your minutes/game actually went down: what is the key to being a good shooter? Just staying in the gym, getting plenty of reps up, and building your confidence when nobody else is around: it paid off.
You have finished in the top-10 in the SEC in BPG each of the past 2 years: what is the secret to blocking shots? It is an instinct thing: I have cherished doing that since high school as an athletic big man and I tend to be pretty good at it.
Last December you scored a career-high 23 PTS/10-12 FG in a win over North Florida: was it just 1 of those scenarios where every shot you put up seemed to go in because you were "in the zone"? I would say so. I was also trying to take as many smart shots as I could to make them all count.
In the 2018 SEC quarterfinal you had 4 BLK in a 3-PT loss to Tennessee: how is Nick Weatherspoon's health at the moment (he hurt his neck in the 2nd half and had to be taken to the hospital)? He is doing fine now, has recovered from his injury, and is ready to roll.
In the 2018 NIT semifinal you had 10 PTS/4-8 FG/3 BLK in a loss to Penn State: what did you learn from that game that will help you this year? Just how dominant we are as a team when we are all on the same page. When we are out here having fun and playing hard we get good outcomes.
Your non-conference schedule includes games against ASU/Clemson/Cincinnati: which of these games do you feel will present your biggest test? I would add Dayton in there as well because they have a great home atmosphere. I think that our biggest game will be against Clemson: it is at a neutral site (Newark, NJ) and they had a great season last year (25 wins and a run to the Sweet 16).
You have a great returning backcourt including guys like Quinndary Weatherspoon/Tyson Carter/Lamar Peters/Nick Weatherspoon: what kind of help do you have in the frontcourt? We have a great forward in Abdul Ado, KeyShawn Feazell is only a sophomore, and we have some good freshmen as well.
What are your goals for the upcoming season, and what are your expectations for the upcoming season? My goal is to help get my team to the NCAA tourney and make it a season that we all remember.