CLICK HERE for all of Hoops HD's Preseason Coverage
We continue our season preview coverage with South Dakota State G Skyler Flatten. He has to be 1 of the most experienced players in the nation: he arrived in the fall of 2013 and redshirted that season, played in 31 games as a redshirt freshman, missed all of the following year due to a knee injury, then played 62 games during the past 2 years. His teammate Mike Daum daum-inates most of the headlines but it is Skyler who has no limits from behind the arc, as he led the Summit League last year with 49.1 3P%. HoopsHD's Jon Teitel got to chat with Skyler about being a great 3-PT shooter and making the NCAA tourney last March.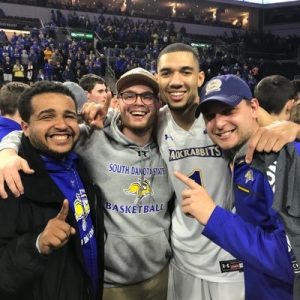 You grew up in South Dakota: what made you choose the Jackrabbits? This is in my backyard and it gives my family a chance to see almost every 1 of my games. The coaching staff is great and it is like a family environment here.
You play for Coach TJ Otzelberger: what makes him such a good coach, and what is the most important thing that you have learned from him? He is so personable and knows the game inside-out. He treats everyone like a family member and has taught me to get 1% better each and every day. At the end of the season it will add up.
After playing in 31 games as a freshman you missed all of the next season due to a torn patellar tendon in your left knee: how bad was the injury, and how excited were you last January to hear that the NCAA awarded you a medical hardship so that you can play this season? It was a tough injury: I knew something was wrong but decided to play on it until getting surgery. I am excited for the chance to redeem myself and show what I can do for our great program.
In your 1st few years on campus you only started 2 games but last year you started 31 games: what is the biggest difference between being a starter vs. coming off the bench? You feel like you are in the flow more and can let it all loose as a starter. Some players like coming off the bench but I just like going in as a starter and producing.
Last December you scored a career-high 18 PTS/7-10 FG in a win over Concordia: was it just 1 of those scenarios where every shot you put up seemed to go in because you were "in the zone"? I think it was a flow thing: I felt confident every time I shot the ball so I kept taking more shots and it was great.
Last year you led the Summit League with 49.1 3P%: what is the secret to making shots from behind the arc? Just getting into the gym every day and making a certain number of shots. Confidence is key: you cannot shoot the ball just for the heck of it. You have to expect it to go in after putting in the time practicing your shot.
In the 2018 NCAA tourney you had 4 REB in an 8-PT loss to Ohio State: what did you learn from that game that will help you this year? I learned to be more aggressive and never take a possession off. You have to treat every opponent the same and play as hard as you can because anyone can beat anyone in the tourney.
Your teammate Mike Daum is the 2-time defending conference POY and 3-time defending conference tourney MVP: what makes him such a great player, and do you think that he can make it to the NBA next year? I certainly think he will make it to the NBA. He never gets too high or too low and comes to work every day. He is a great leader who sets an example for the younger guys and takes care of his business.
Your non-conference schedule includes games against Memphis/Nevada: which of these games do you feel will present your biggest test? Nevada is a preseason top-10 team and showed last year that they could make a deep run in the NCAA tourney. They have a really good ball club and hopefully we can beat them: it would be a big step for our program.
What are your goals for the upcoming season, and what are your expectations for the upcoming season? I want to make it back to the NCAA tourney and hopefully make a deep run. We have been there before so now it is time for us to take the next step. I want to be the best teammate and do whatever I can to help us win.