CLICK HERE for all of Hoops HD's Preseason Coverage
Today is the official soft launch to the start of the college basketball season!  At least, that's how we at Hoops HD look at it.
Some people consider the season to be in full swing on the very first day of practice even though there aren't any games, and most players don't like the beginning of practice because it's still mostly conditioning.
Others consider the season started on the first day of meaningful games, which is November 6th this year.
Others don't care until conference play start.
There are some that don't really care until conference tournaments begin.
The way we look at it at Hoops HD is that the entrees do not arrive until the first day of meaningful games.  But, we've been seated at our table, and they've given us a basket of bread and crackers.  Today's game between UAB and Georgia is not an official game, and there might not be that many people in the stands, and we may not even get to watch it because at the time I am writing this there is no indication that there will be any video streaming of the game.  But, for the first time since last year's national championship game between Villanova and Michigan, two college basketball teams are playing each other!!  And (with the exception of this upcoming Saturday and Monday and Christmas Eve) there will be at least one college basketball game every day between now and the day after Selection Sunday!!  This is a great day, because the longest possible expanse of college basketball that we could possibly have is right in front of us.  So, HAPPY COLLEGE BASKETBALL SEASON EVERYBODY!!  (sort of)
CLICK HERE TO SEE THE ENTIRE LIST OF ALL DIV1 OPEN EXHIBITION GAMES
PUPPET RAMBLINGS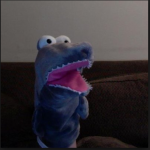 -I really wish the NCAA gave a damn about charity.  They've certainly received enough of it via their tax exempt status, but I digress…
Last year we saw the NCAA grant waiver after waiver after waiver in which schools were allowed to schedule a third exhibition game so long as all the money raised from that event was given to charity.  Many thought (myself included) that we were getting to a point to where the NCAA would change the rules and allow all teams to play three exhibition games, so long as all the proceeds from open exhibitions against other div1 programs went to charity.  That would be a fantastic rule, wouldn't it??  Last year I probably donated more money to more charities than I ever have before.  A lot of money was raised for a lot of good causes.  And, we all got to see basketball games that were far more exciting than your typical exhibition game.  So, doing that every year made all kinds of sense to me.  But, I guess the NCAA did not see it that way.
No waivers were granted this year.  Every school is once again limited to two exhibition contests.  What they did do is change the rules to where there are now three options.  Div1 teams can play open exhibition games against nondiv1 schools (div2, div3, or NAIA), they can play a closed three hour scrimmage against another div1 school, or they can play an open exhibition against another div1 school so long as all of the proceeds go to an approved charity.  While this is better than before, I don't understand why we don't just have three exhibition games.  I've wanted there to be three exhibition games for a while simply because just playing one more game gets teams more sharp for the start of the regular season, especially if they're able to play that game against another div1 school in a game that's open to fans.  While the way the NCAA decided to do it isn't THAT big of a deal, and in two weeks no one will even care about it anymore, I do think that they're doing it wrong.
As for tonight's game between Georgia and UAB, it is for charity with proceeds going to the American Red Cross.  As of now there is no information about a video stream, but we should be able to listen to the game by CLICKING HERE
For those of you who end up watching, listening to, or attending some of these preseason exhibition games, I would encourage you do make at least a small donation to the charity that the games are supporting.  Three reasons: It's a good thing to do, the more money that is raised the more likely the NCAA is to continue to approve them, and the more money that's raised the more likely it is that schools will continue to schedule them.  Even if you just give $5-$10, which is only about what a crappy watered-down beer costs at most arenas, all that money can add up.