CLICK HERE for all of Hoops HD's Preseason Coverage
We continue our season preview coverage with Winthrop women's head coach Lynette Woodard. In basketball you have subs, role players, starters, and superstars: on a level beyond them all are the legends whose legacies are enshrined for eternity. Coach Woodard is such a legend: 4-time All-American at Kansas, 1981 national POY, all-time leading scorer in women's basketball history, 2-time Academic All-American, 1984 Olympic gold medalist, and Hall of Fame inductee. HoopsHD's Jon Teitel got to chat with Coach Woodard about becoming the 1st woman to ever play for the Harlem Globetrotters and how she likes being a coach.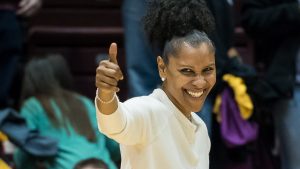 You played for Hall of Fame coach Marian Washington at Kansas: what made her such a great coach, and what was the most important thing that you ever learned from her? She understood the game and was able to communicate it very well. I was gifted but still did not understand how to play the game until I had a great teacher like her who could break the game down because it was going really fast for me. She taught me to work hard, be committed to excellence, and not cut any corners. It was all fun and games at 1st but she taught me to believe in myself by being competitive.
You were a 4-time All-American at Kansas and the 1981 national POY: what did it mean to you to receive such outstanding honors? It makes me feel very proud even to this day, especially knowing where I began. After I was named an All-American for the 1st time Coach Washington took my head out of the clouds without beating me down and challenged me to improve.
You remain the all-time leading scorer in D-1 women's basketball with 3649 career PTS: what is the secret to being a great scorer? Being determined, practicing, and loving the game. I figured that my offense could come from my defense so I got 5 SPG and that helped a lot. I wanted to be in better shape than anyone when I stepped onto the floor. In AAU ball I did not know that at first, but after seeing the guys running miles/stairs/hills I wanted to do that as well.
You also set school records with 1714 REB/522 STL: how did you balance your scoring with your rebounding with your defense? I just always hustled. Some people thought I just shot the ball all the time but I made sure to do other things like get some assists and hit the boards. I could jump/run and I was hungry for the ball so I wanted to be everywhere it was. I had a rhythm for the game and learned all the different aspects of the game by doing daily drills.
You were also a 2-time Academic All-American: how did you balance your work on the court with your work in the classroom? I was afraid that I was going to flunk out: I shared my fear with Coach Washington 1 day and she told me to organize my schoolwork and then get it done. I eventually learned some good study habits but at 1st I did not know what it took to be a student at that level. I enrolled in summer classes at Wichita State and completed all of my assignments but still had to get some self-confidence. When I finally started making good grades I realized that self-discipline was important.
You were selected to team USA for the Olympics in 1980 (but missed out due to a boycott) and 1984 (winning a gold medal as captain): how frustrating was it to not go to Moscow, and how excited were you to win a gold in Los Angeles? It was very disappointing to not go in 1980: I was stunned for a long time but the people around me said that I could just go back in 1984. It seemed like a long way away but I started counting my blessings because there were other players who would not get that chance. I saw all the good things that could come from playing in an Olympics in the US and it was a dream come true to have my family there.
In 1985 you became the 1st woman to ever play for the Harlem Globetrotters: why did you join the team, and how did that decision change your life (if at all)? They happened to be in the stands during the 1984 Olympics and have always been innovators. They even started the 4-PT shot: perhaps we will see that in the NBA 1 day! I dreamed about it as a child: they were always my team because I had a cousin who played for them (Hubert "Geese" Ausbie). When it was my time I read that the team was going co-ed and I called them and said that I was the 1. I was invited to tryouts and the rest is history. It did change my life. My mom Dorothy from Kansas had a dog named Toto(!) and I will forever be grateful.
In 2004 you were inducted into the Basketball Hall of Fame and in 2005 you were inducted into the Women's Basketball Hall of Fame: where do those rank among the highlights of your career? You really do not know until you get to the ceremony but then you realize how humbling it is. You see all of the players in the room who you watched while growing up: I felt like Cinderella at the ball (and with the "ball"!). It was so amazing to feel all of the love/appreciation they had for what I had done. It is also about your family/friends because that is who they treat the warmest: they were forever touched by that.
In 2017 you were hired as head coach at Winthrop: what was the best part of year #1, and what was the not-best part? Coming into coaching was a lot different. I have very high expectations but it is a very young ball club so I focused on changing the culture. We have to understand what it will take for us to be competitive.
What are your goals for the upcoming season, and what are your expectations for the upcoming season? I love the players' attitude/renewed energy and they are buying in. If they all put in what they have to bring to the team then we can make the most of it. As long as we remain a team and cheer each other on and pick each other up when we are down then it will make the season fun. We are going to be a better ball club.