CLICK HERE for all of Hoops HD's Preseason Coverage
We continue our season preview coverage with Utah G Parker Van Dyke. In an era of scandalous recruiting stories involving cars/money/etc., Parker is a breath of fresh air. Coach Larry Krystkowiak just happened to find the right kid in the right place at the right time, as Parker grew up in Salt Lake City and was a 1st-team all-state selection who always wanted to play for the Utes. He began his college career in the fall of 2013, but due to following up that season with a 2-year LDS Church mission in Alabama he still has 1 more year of eligibility left. HoopsHD's Jon Teitel got to chat with Parker about making the NIT title game last March and being a senior leader. We also wish him a belated happy birthday earlier this week!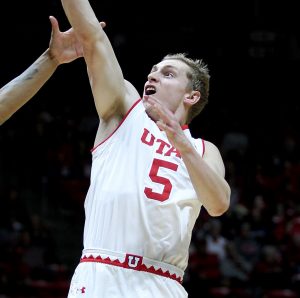 You grew up in Salt Lake City: what made you choose Utah? I was born/raised here and grew up as a big Utah fan. When they started recruiting me it just felt like the right decision and I have had a great experience here.
You served a 2-year LDS Church mission in Birmingham, AL: what was the best part of the experience? I served all over the state and it was a great experience. The best part was the people I met: the South is very different from Utah so I enjoyed partaking in a different environment. I created some great relationships that I will have for the rest of my life and it taught me to be a better student/player.
You play for Coach Larry Krystkowiak: what makes him such a good coach, and what is the most important thing that you have learned from him? Coach K is extremely passionate about what he does: he loves the game and all of his players. He coaches us both on the floor and in life: to be better players as well as better men. He knows the game but takes it upon himself to be a mentor. We talk about how there are no little things in life and that you should represent something bigger than yourself in who you are and how you do things. He has taught me a lot.
You played in 23 games as a freshman: how were you able to come in and contribute right from the start? Thinking back to that year, we had a great coaching staff who prepared me to play at that level. We balance player development with team development. It was Delon Wright's junior year and going up against him in practice made me better.
In the 2018 NIT title game you had 2 AST in a loss to Penn State: what did you learn from that game that will help you this year? Just being able to play in a survive-and-advance atmosphere, which will prepare us for the Pac-12 tourney…and hopefully the NCAA tourney. When you have little time to prepare and are at a road/neutral site it is not easy to win but we can build off of that.
The Pac-12 had 3 teams make the NCAA tourney last year (none of whom made it to the 2nd round) and had 3 players taken in the 1st round of the NBA draft (Deandre Ayton/Troy Brown Jr./Aaron Holiday): if the conference has so much talent then why are there not more teams in the tourney? That is a great question that has been on my mind the past couple of years. We have finished top-4 in the conference the past 2 years but have not been able to get a bid. The Pac-12 is viewed as a lesser Power-5 conference even though a team like ASU had a great non-conference schedule last year (including wins over Kansas/Kansas State/Xavier). We have set ourselves up this year with some tough games so if we can win a couple of those then it will make us look pretty good. I think that our conference can compete with anyone in the nation so hopefully that changes.
Your non-conference schedule includes games against Minnesota/Kentucky/Nevada: which of these games do you feel will present your biggest test? Nevada is a great team with a lot of experience but playing against Coach John Calipari at Rupp Arena is a once in a lifetime experience for a person like me. They have talent and I am excited for the atmosphere: it will be a test but also fun.
You are 1 of 3 seniors on the roster: how much pressure is there on you to be a leader this year? I am definitely expected to be a big-time leader because I have been around the block a few times. I have been working on communication so that guys know they can come to me if they have any confusion. They can lean on me and ask me questions because I have been here before and I know what they are going through. We are expected to lead both on and off the floor by executing and living the right way.
You turned 24 earlier this week: what were your plans for the big day? That is old for a college basketball player! It will probably be a normal day of lifting/practicing but the good part of being a local kid is that I have so much family/friends around.
What are your goals for the upcoming season, and what are your expectations for the upcoming season? We want to make the NCAA tourney: when you grow up watching March Madness you envision yourself being a part of the experience someday so that is the ultimate goal for our team. Individually, I do not want to have any regrets. As a leader of this team I want to lead to the best of my ability: defending, helping my teammates be better, etc.