CLICK HERE for all of Hoops HD's Preseason Coverage
We continue our season preview coverage with George Mason head coach Dave Paulsen. Some coaches get into the business by becoming an assistant at a big-time program and then just waiting to take over once their boss retires, while others prefer to become head coach at a smaller school and keep moving up the ladder by moving from 1 school to another. Coach Paulsen appeared to be taking the former route as a grad assistant to Steve Fisher at Michigan in 1990 but later opted for Plan B. He has had success everywhere he has coached: back-to-back D-3 tourney appearances at St. Lawrence, a winning record at Le Moyne, back-to-back D-3 national COY awards at Williams, then 3 straight 25-win seasons at Bucknell before joining George Mason in 2015. HoopsHD's Jon Teitel got to chat with Coach Paulsen about winning a D-3 title and celebrating his birthday last month.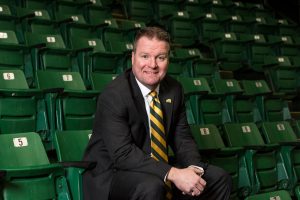 You played basketball at Williams and were Phi Beta Kappa: how good a player were you back in the day, and how did you balance your work on the court with your work in the classroom? I was short but made up for it by being extremely slow! I was a very-average-to-below-average player but loved the game and knew that I wanted to coach. My coach later hired me at Williams. I think that academics/athletics should go hand in hand: when you stay busy there is a sense of urgency to everything you are doing. You need time to blow off steam every day so it was not that difficult to put down the books.
In the 1990 NCAA tourney as a grad assistant to Steve Fisher at Michigan you faced high-scoring Loyola Marymount: what are your memories of that 149-115 loss? I remember Jeff Fryer running right by me on the wing and banging in 3 after 3. I was a lowly grad assistant but I knew that there was no way we could run with them: it was just a disaster.
In 2003 as head coach at your alma mater you went 31-1 and won the D-3 title, and in 2004 Jason Kalsow made a jumper with 0.2 seconds left in a 2-PT loss to Wisconsin-Stevens Point: what did it mean to you to win a title and have a near-perfect season, and how did it feel to lose a title at the buzzer? There is no better feeling in the world then winning a national championship: it is something you dream about. It felt so surreal when we actually won: we were down by 8 PTS with 3 minutes left and I started to think about what I would tell my guys in the locker room. We got some lucky breaks and it was just a magical ride. The following year we made 15-30 from behind the arc and only had a couple of turnovers: we probably deserved to win it more that year then we did in 2002. Stevens Point made a couple of shots while falling out of bounds so it all kind of balances out. Both of those teams came as close to realizing their full potential as any that I have ever coached.
In the 2012 NIT as head coach at Bucknell, Mike Muscala had 20 PTS/9 REB/4 BLK in a win over Arizona: where does that win in Tucson rank among the greatest of your D-1 career? It is hard to say. I do not rank it as high as the wins in our conference championship games. 1 of the biggest challenges for NIT teams is to play with great passion after the gut-punch of losing in your conference tourney, so to bounce back and play so well on the road against a #1-seed was a pretty remarkable accomplishment.
You were a 2-time D-3 national COY at Williams and a 3-time Patriot League COY at Bucknell: what did it mean to you to receive such outstanding honors? Those honors are a reflection of teams who were willing to be coached and were unselfish and willing to sacrifice. My assistants did a great job behind the scenes to teach/coach/scout. I will reflect on it more when I am done coaching but I share it with everyone in the program.
Your non-conference schedule includes games against Cincinnati/Kansas State/1 of Baylor or Mississippi: which of these games do you feel will present your biggest test?  Penn…because it is our season opener. Penn gave Kansas everything they could handle in the NCAA tourney last March. Whatever the heck they call the new metric that is replacing the RPI, we should rank high in it because we probably over-scheduled ourselves. Nobody will be able to say that we did not challenge ourselves.
After having only 1 senior on last year's team you now have a great veteran backcourt of Otis Livingston II/Jaire Grayer/Justin Kier: how crucial will all of their experience be to your team's success this year? It will be very important because we did not lose anyone. I told people last year that I viewed it as a 2-year season: I was not sandbagging because we have a ton of experience and way more depth now than we have ever had. We are not coaching effort/culture: just execution. Everyone on the roster has bought in so it is a ton of fun to go to practice.
1 of your assistant coaches is Duane Simpkins, who was a McDonald's All-American: how nice is it to have an assistant who played for a pair of Hall of Fame coaches like Morgan Wootten/Gary Williams? Our entire staff is great. If you walk into our practice it seems like he has been with us for the past 7 years like the rest of us have. Nobody is worried about having their own recruit: it is about the team. Gary is actually going to drop by to speak to our team during the preseason. Duane is a tremendous coach/role model: he spent 5 years as a high school coach so he is a teacher/mentor foremost.
You had a birthday last month: what did you do for the big day (besides having a celebratory Diet Mountain Dew!)? The fun thing that Sunday is that I met up with my 3 brothers and we went to the Packers-Vikings game. Before that it was practice with the team/recruiting.
What are your goals for the upcoming season, and what are your expectations for the upcoming season? The goals are the same all the time: reach the level of your potential. We want to define our own success by taking care of our business every day. We have some expectations for the 1st time since we have been here but we just need to take care of our own business.