CLICK HERE for all of Hoops HD's Preseason Coverage
We continue our season preview coverage with Fairfield head coach Sydney Johnson. You might think we live in an era where college basketball coaches only view their players as commodities worth paying top dollar for when recruiting them or interchangeable pieces to sub in and out based on who is in foul trouble. However, this image of Coach Johnson and the school's all-time leading scorer Tyler Nelson from the MAAC tourney title game last March illustrates that there are still some coaches out there who build lasting relationships with their players. HoopsHD's Jon Teitel got to chat with Coach Johnson about the importance of that photo as well as his recruiting philosophy.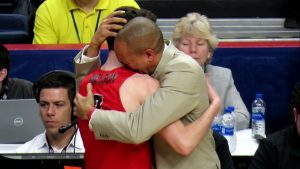 You played for Hall of Fame coach Pete Carril at Princeton: what makes him such a great coach, and what is the most important thing that you ever learned from him? The exceptional thing about Coach Carril is that he sees everything both good/bad, which meant that everything mattered. We paid attention to detail and it taught me how to see more of the game (schemes/spacing/etc.). I also learned about togetherness because he pushed us extremely hard to be a great unit.
In the 1996 NCAA tourney you scored a team-high 11 PTS in a 2-PT upset of defending champ UCLA: did you think that the backdoor pass for the game-winning layup in the final seconds by Gabe Lewullis was going to work, and is it true that after the final buzzer Carril mumbled under his breath, "I can't believe they f—ing did it"? I can confirm that teammates/assistant coaches of mine who were within earshot stated he said that. My dad went to IU so as soon as the buzzer went off I ran to find him in the crowd. UCLA is 1 of the greatest basketball programs of all time but we were a good team as well. We believed in ourselves and were used to Coach drawing up a play during a timeout and then we would go out and make it happen. We broke the huddle and had our winning habits in mind: it all came together.
In 1997 you were named Ivy POY: what did it mean to you to receive such an outstanding honor? A very close friend of mine once said that I have an ego but not a big ego. I am proud of the award because I put my heart/soul into playing for my coaches and loved my teammates like brothers. The place changed my life and I tried to work hard: nobody owed my anything but it was still really nice to be acknowledged. I am a team guy and appreciated the honor from the rival coaches: I cared deeply about doing the right thing. I still care about it…but do not lead with it in my bio!
You remain the only 3-time captain in school history and still hold the school record for career STL: what is the key to being a good leader and what is the key to being a good defender? I think that the key to being a good leader is listening. It sounds weird but you need to hear what is needed and then be willing to give that. I arrived as 1 of the better freshmen in the league…but then slid over to SG after they recruited Mitch Henderson. The next year we got Brian Earl…and I slid over to the 3rd guard on the court. That is what the team needed because those other 2 guys were really good. To defend you need to be tenacious and study what your opponents do. I also had really good coaching from guys like Armond Hill/JT III who taught me some tricks of the trade. You also need some nastiness to you.
In the 2007 NCAA tourney you made the Final 4 as an assistant to John Thompson III at Georgetown after Jeff Green banked in a jumper with 2.5 seconds left to beat Vanderbilt and your team overcame an 11-PT deficit in the 2nd half to beat North Carolina in OT: what is your favorite memory from that postseason? It was some of the best coaching that I have ever been around. When Coach huddled us together heading into OT against UNC he was just nodding/smiling and told the guys that we would get it done. It was not a Hollywood moment but rather a sincere connection between the staff and players. In the 2nd round we trailed BC at halftime but just found a way to come back in the 2nd half (and win by 7 PTS). We ran into some pro-level players at Ohio State in the Final 4 (including Greg Oden/Mike Conley) but we were good because we were so in sync.
In the 2011 NCAA tourney as head coach at your alma mater, Brandon Knight made a driving layup with 2 seconds left (his only points of the game) in a 2-PT win by Kentucky: where does that rank among the most devastating losses of your career? I am pivoting to my right and looking at a framed photo of that team on my desk, next to photos of me hugging Tyler Nelson as well as some photos of my family. We loved each other, worked really hard, and executed the game plan against Kentucky the entire game. We were right where we wanted to be but just had a breakdown at the very end. However, it will never ever take away the moments that we had that season.
Your roster includes players from Puerto Rico/Sweden/Lithuania/Congo/Serbia/Tunisia/Egypt: what sort of recruiting philosophy do you have? We want Princeton-offense-skilled players with a high level of competitiveness/intensity. Over the past 2-3 years a number of kids who checked those boxes happened to be international kids. Of our current freshman class, 3 of them are from the US and 1 is from Sweden so it just goes in cycles. Passing/dribbling/shooting/playing really freaking hard is common overseas, whereas 6'8" players in the US who look like LeBron James often get placed under the basket.
Your non-conference schedule includes games against Purdue/Boston College: which of these games do you feel will present your biggest test? Purdue is a monster test because they stomped us last year (106-64 in West Lafayette). We had 8 newcomers last year so we had a lot to figure out but it was a good lesson for us. I am really interested/excited to see our approach to that environment to see how we comport ourselves. BC is obviously a signature game: we were fortunate to beat them the last time we played them and I am sure they have not forgotten that. Both games will tell me a lot about my team and how they respond to challenges…but the most important thing is how we perform in our league.
Your father played basketball at Indiana and your brother Steve played basketball at Cal: who is the best athlete in the family? I am the youngest so I am on shaky ground if I take any sides! My dad was a phenomenal athlete: he was a high jump state champion and 1 of the better basketball players in the state by his junior year. Last year he was honored as a past All-State player: he combined his athleticism with high aptitude in the classroom.
What are your goals for the upcoming season, and what are your expectations for the upcoming season? The goals are to be the MAAC representative in the NCAA tourney. We have come so close during the past couple of years but I like the strategy we have taken in the program. We have kids who are hungry/aggressive to get it done. It is hard in a 1-bid league but we are not running from that. Last year was my most special year at Fairfield and it reminded me of my Princeton/Georgetown teams. If I can have more seasons like that where the guys change my life, I will be the happiest coach in America!