CLICK HERE for all of Hoops HD's Preseason Coverage
We continue our season preview coverage with West Virginia assistant coach Erik Martin. There are few assistant coaches in the country who have been connected to their boss for as long as Coach Martin has. He first met Bob Huggins more than 25 years ago when he agreed to come to Cincinnati to play for the Bearcats, then worked as an assistant to Huggins at Kansas State before following him to West Virginia. HoopsHD's Jon Teitel got to chat with Coach Martin about almost beating the Fab 5 as a player in the Final 4 and facing the eventual champs last March as an assistant coach in the Sweet 16.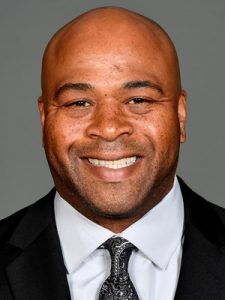 Take me through the 1992 NCAA tourney as a player for Bob Huggins at Cincinnati:
In the Sweet 16 you scored 10 PTS including a pair of FTs with 20 seconds left in a 2-PT win over UTEP: did you think that you were going to make them both, and where does that rank among the highlights of your career? I did think that I would make them both but I remember Hugs getting on me during a timeout for something else that I did. It was big but there is so much else that happened after that. Hugs keeps reminding me that I made them: it was a great moment in my life.
In the 1st-ever Final 4 to feature 4 schools that had previously won a national championship, you had 10 PTS/10 REB in a 4-PT loss to Michigan: what was it like to face the "Fab 5" with a spot in the title game on the line? It was bigger than anything that has ever happened in my life. At the start of the year I do not think that anyone even had us in their top-50. 1 of my teammates told Dick Vitale at Midnight Madness that we planned to reach the Final 4. Dick told us to get some more realistic goals but Hugs told him that we would do it.
In 1993 you led the Great Midwest Conference with 60.3 FG%: what is the key to being a great shooter? Getting a lot of rebounds! We had a great guard named Nick Van Exel: he made a lot of big shots but I tried to get as many rebounds as I could whenever he missed.
In the 1993 NCAA tourney you scored 16 PTS in a 7-PT OT loss to North Carolina: how close did you come to beating the eventual national champ? The refs were awful during that game: I think Coach Dean Smith kicked the scorer's table and they did not even give him a technical foul. That being said, I give Carolina credit because they beat some really good teams along the way.
You played pro basketball in the US/overseas for 9 years: what is the biggest difference between basketball in the US vs. basketball in other countries? Now there is very little difference: everyone is going to smaller lineups with stretch-fours. Back in my day there was a lack of athleticism overseas so they would get an American to even out their squads. Now it is a fine line because everyone wants to step out and shoot the 3 like Golden State.
In the 2010 Big East tourney as an assistant to Huggins at West Virginia, tourney MVP Da'Sean Butler banked in a 3-PT shot at the buzzer in a 3-PT win over your alma mater and then 2 nights later he made a runner with 4 seconds left in a 2-PT win over Georgetown to clinch the school's 1st Big East title: where does Butler rank among the most clutch players that you have ever seen, and was is extra-special to win it at MSG with an all-New York area starting lineup of Butler/Wellington Smith/Kevin Jones/Devin Ebanks/Truck Bryant? I gotta go with my guy Nick as the most clutch but Da'Sean was probably #2. We also had guys like Mazzulla who was from Rhode Island: they called us the Metro-neers! After wins at our home arena we play the song "Country Roads" by John Denver, so when they played it at MSG it was electric. I will never forget that: there were grown men in the stands who were crying. It was surreal: everything was happening so fast at the time but it remains 1 of the best days of my life.
In the 2018 Sweet 16 you lost to eventual champion Villanova: what do you think your team learned from that game that can help them this year? I do not know if we learned anything but we need to do a better job of blocking out on the FT line. If we had blocked out on 1 possession in the 2nd half and then made a 3 we could have cut it to single digits. You have to give Villanova credit for withstanding our pressure. They beat each of the top-3 schools in the Big 12 in a row (West Virginia/Texas Tech/Kansas) so I tip my hat to them. The best team probably won the title last year, which does not happen all the time.
Your veteran frontcourt looks great with Esa Ahmad/Lamont West/Sagaba Konate: how is the backcourt looking after the graduation of Jevon Carter/Daxter Miles Jr.? It is looking young! They are gym rats so they are always coming in to watch film but they will have to learn a lot of lessons during games. I think that we will be a lot better in February then we will in November. When you have veterans who leave you just need to let the younger guys figure things out.
You are responsible for the development of big men: what is the key to success in the post? 1 thing you have to do is create space: it is all about footwork. There are 100 different ways you can do it. I will keep saying it: I told Sagaba what to do and he just kept doing the work to become a great player. My job is to teach them what to do.
Your non-conference schedule includes games against Florida/Pitt/Tennessee: which of these games do you feel will present your biggest test? Definitely the game at Tennessee. They are a top-5 team that brings almost everyone back, but after playing road games in the Big 12 we are prepared for that type of environment. It will be an opportunity to show America that we are a good team who deserves a high seed.
What are your goals for the upcoming season, and what are your expectations for the upcoming season? We are different than most schools: Hugs lets the players determine the goals. We want to win the national title but I want our players to get better as both players/people. If all they learned during their time here was about basketball then I did a poor job of preparing them for life. All D-1 athletes deserve more than wins/rings: even if you play in the NBA the ball will stop bouncing 1 day and you need to be prepared for that. I want them to be productive citizens, which sometimes gets overlooked. We need to be role models and teach them to be ready for life.