CLICK HERE for all of Hoops HD's Preseason Coverage
We continue our season preview coverage with Tulane head coach Mike Dunleavy Sr. Duke fans might know him as the father of 2001 NCAA champ Mike Jr. and Quinnipiac fans might know him as the father of head coach Baker but his storied career dates back several decades and involves many Hall of Famers. He played for a great coach named Frank M. at South Carolina (McGuire, not Martin), played with Dr. J in 1 NBA Finals and with Moses Malone in another, and coached Magic Johnson in an NBA Finals. He led the NBA in 3P% in 1983 and was named NBA Coach of the Year 20 years ago. HoopsHD's Jon Teitel got to chat with Coach Dunleavy about his colossal career and fantastic family.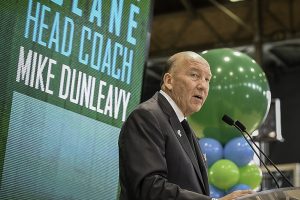 You played for Hall of Fame coach Frank McGuire at South Carolina: what made him such a great coach, and what was the most important thing that you ever learned from him? First of all, he was great recruiter. Secondly, it was his style of play. Coach McGuire coached Wilt Chamberlain in the NBA when he averaged 50 points per game and recorded the only 100-point game in NBA history. A lot of the things we learned were pro things, which was very positive. During my freshman year we had four future pros in addition to 7-footer Danny Traylor: myself, Kevin Joyce (1st-team All-American, 1972 Olympian), Brian Winters (NBA All-Star), and Alex English (NBA Hall of Famer).
In December of 1980 as a player for Houston you scored a career-high 48 PTS in a 3-PT win over Denver: was it just 1 of those scenarios where every shot you put up seemed to go in because you were "in the zone", and was it extra-special to do it against your college teammate English? What really happened in that game is that it was a quiet 48 PTS because I scored double digits in every quarter. Moses Malone was injured that night so Billy Paultz was our center. As he told me, it was because of him that I got open because he screened for me many times and got me great looks. It was just one of those games: it was not like I was just so hot all night. I made 19-30 FG but it was one of those things where the ball just moved and I got open looks and made shots. It had nothing to do with playing against Alex because he did not guard me, but 1 person who was in the mix of people who defended me was Hall of Famer David Thompson. The main thing was that it was a win in a fairly close game.
In 1979 you finished 6th in the NBA with 86.4 FT% and in 1983 you led the NBA in 3P%: what is the secret to being a great shooter? Consistency in shooting the ball same way every time. That year we had 4 guys on my team who were in the top-7 in the league: Calvin Murphy/Rick Barry were #1/#2, and Mike Newlin and I were #6/#7!
You made the NBA Finals twice as a player (once each with Philly/Houston) and once as a coach (with the Lakers in 1991): what was it like to face legends like Bill Walton/Larry Bird/Michael Jordan with a championship at stake? The only time we were favored was during my rookie year when we played against Portland. We had a lot of great players on that team but obviously Portland was a great team as well and played really good team basketball. Bill Walton was really amazing but they also had a great supporting cast. In the Rockets-Celtics series we were major underdogs. We had some injuries but got hot at the end of the year and then won like six games in a row to get into the playoffs, and then we set the record for most road wins.
As someone who had a good view of 2 of the most famous "switching hands" plays in the history of the sport, were you more impressed by Bird in Game 1 of the 1981 Finals (he missed an 18-footer, caught the rebound in mid-air while falling out of bounds, switched the ball to his left hand and flipped it into the basket) or Jordan in Game 2 of the 1991 Finals (he drove to the basket, raised the ball in his right hand, then switched the ball to his left hand and banked in a layup)? I think that Bird's shot was a tougher shot. I do not think that Jordan had to finish it the way he did: he was just athletic enough to do so.
In 1999 you were named NBA COY with Portland: what did it mean to you to receive such an outstanding honor? Any time a coach is named Coach of the Year it is really a team award. The main thing that year was that we never lost three games in a row all season long. We really kept it even and played really solid basketball. We were really good defensively and did a good job of sharing the ball.
You won 6 games in your 1st year at Tulane in 2017 but won 14 games last year: how were you able to make such a big improvement from year #1 to year #2? In my first year I was teaching virtually every player and everyone on my coaching staff (except for assistant coach Raman Sposato) what we were going to do. Last year we came back and had 10 guys who were here (giving us 10 other teachers + coaches), so that made it a lot easier for the new guys to pick everything up. That was the big part of experience: when you have a lot more teachers then your players can leave and go home and talk about it and the guys really know what they are talking about.
You lost your top-2 scorers from last year (Melvin Frazier/Cameron Reynolds) and only have 2 seniors on the roster: how will you try to replace all of that offense/leadership? I think that we are going to have depth. It is going to be hard because it is not going to fall on only one guy. We think that we have a couple guys who can pick up and add 2-4 points per game for us, and I think we are going to have the deepest team since I have been here.
Your son Mike Jr. ranks in the top-50 in NBA history with 1304 career 3PM, your son Baker is head coach at Quinnipiac, and your son James is an agent who has several NBA clients: how proud are you of all of their accomplishments? Obviously I am very proud of all of them. Basketball is kind of their livelihood in a sense but it started out with them being good students. They all went to good schools and made good grades and they each have a really good work ethic. Those are the main things. To do anything you have to work hard and stick with it. Nobody has a straight line up: you have to just keep plugging and working.
What are your goals for the upcoming season, and what are your expectations for the upcoming season? It is to take our game to another level. We always want to play fast but this year we would like to play even faster. We want to be fundamentally strong and have got to get better defensively. With our depth we will have more substitution options so we will be able to play faster. We are going to play a lot of young guys so we might be somewhat erratic for a period of time but I think that we will be exciting to watch.