CLICK HERE for all of Hoops HD's Preseason Coverage
We continue our season preview coverage with USC G Jonah Mathews. It was quite a sporting Sunday in Los Angeles yesterday: the Rams beat the Packers to remain the only undefeated team in the NFL, the Dodgers (fresh off winning the longest World Series game ever on Friday) lost to the Red Sox in Game 5, the Clippers scored 136 points while pummeling the Wizards, the Galaxy came up 1 goal short in a loss to the Dynamo, and Alec Martinez scored the game-winning goal for the Kings with 55 seconds left in a win over the Rangers. UCLA & USC both lost home football games on Saturday but their basketball teams both hope to make it back to the postseason next March. HoopsHD's Jon Teitel got to chat with Jonah about making a sneaker switch and being a great 3-PT shooter.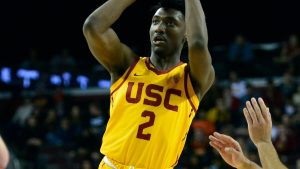 You play for Coach Andy Enfield: what makes him such a good coach, and what is the most important thing that you have learned from him? He lets us play and is not a stickler so he lets us make all the decisions on the ball. He never takes us out if we make a mistake.
You played in 35 games as a freshman: how were you able to come in and contribute right from the start? We only had 10 guys on the roster but I prepared to contribute and play a role. The upperclassmen just showed me the way.
Last January you were struggling with your shot until switching to a new pair of sneakers: are we ever going to see you wear anything except Jordans in the future?! Nike called Coach Enfield and said I could not wear them…unfortunately!
You shot 42.3 3P% last season: what is the secret to making shots from behind the arc? Just repetition. I get into the gym every day and just take shots that I will take during a game, which helped my confidence.
In the 2018 Pac-12 tourney semifinals you scored a career-high 27 PTS/8-10 FG in a win over Oregon: was it just 1 of those scenarios where every shot you put up seemed to go in because you were "in the zone"? I felt good before that game, saw 1 go in, and that helped me get going. I played against the Ducks twice before during the regular season so I felt comfortable against them the 3rd time.
In the 2018 NIT you had a 5-PT 2-OT win over UNC Asheville and then a 4-PT loss to Western Kentucky: what did you learn from your postseason run that will help you this year? You have to come ready to play every game because people are out to get you. We almost lost both of those games so we have to be locked in from the start.
Your non-conference schedule includes games against Vanderbilt/Texas Tech/Nevada/TCU/Oklahoma: which of these games do you feel will present your biggest test? All of them are good teams but Nevada will be ranked in the top-10. They all play in big conferences so we have to come ready to play. We cannot fool around and have to get some wins.
Bennie Boatwright missed 17 games as a sophomore due to a knee sprain and then the final month of last season due to a left patella injury: how is his health doing at the moment? He is determined to rehab his injuries and has gotten back to doing sprints. He should be back to contact drills in a couple of weeks and is progressing well.
Your father Phil is a college basketball coach and your brother Jordan plays pro basketball in Denmark: who is the best athlete in the family? Easily me because I can do everything: I am the best for sure!
What are your goals for the upcoming season, and what are your expectations for the upcoming season? I want to be 1st-team All-Pac-12 on both offense and defense. It really hut to miss the NCAA tourney last year so we have to be hungry. I hope we can win a conference title and then make a deep run in March.