CLICK HERE for all of Hoops HD's Preseason Coverage
We continue our season preview coverage with UC Davis G TJ Shorts II. Few players made a more dazzling debut than TJ did last season in Davis: 13 PTS in his very 1st game at Northern Colorado, 13-13 FTs in a win over Lamar last December, a game-winning 3-PT shot with 2 seconds left in double-OT in a 1-PT road win at Long Beach State in February, and a triple-double in a triple-OT 8-PT win 12 days later at Cal Poly. After leading the Aggies to the Big West regular season title the awards kept pouring in: he became the 1st player in conference history to be named Player of the Year and Newcomer of the Year in the same season. HoopsHD's Jon Teitel got to chat with TJ about winning all of those awards and having a huge home-court advantage.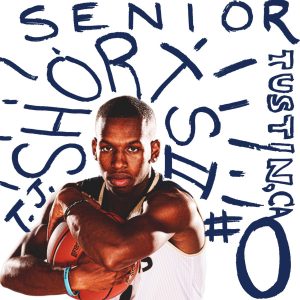 You are 5'9": do you consider your size to be an advantage or disadvantage on the court? It has its advantages and disadvantages but this is the body that God gave me so I see it as an advantage.
You play for Coach Jim Les, who was named 2018 conference COY and had 884 career AST as a player at Cleveland State/Bradley: what makes him such a good coach, and do you 2 have a special bond because he was such a great PG himself? He just wants to win and is willing to do anything to win. He will cater the offense around his players. Our relationship is great due to his knowledge and he is always giving me pointers/tips: I appreciate everything that he does for me.
Last year you won 3 multiple-OT road games by single digits during an 8-game stretch to finish the regular season: how was your team able to keep pulling out these exhausting wins game after game? Just staying connected. We knew that we were capable of winning so we just stayed focused on the goal and stuck to the game plan.
You became the 1st player in Big West history to be named Player of the Year and Newcomer of the Year in the same season: how were you able to come in and dominate right from the start? My coaches/teammates believed in me: it is a big thing that allows you to play to your full capability and showcase your talent from the jump so I took full advantage.
You ranked top-10 in the conference in many categories including PPG/APG/SPG: what is the key to being a good PG? Just leading: it might not be about scoring/passing specifically because it depends what your team needs you to do to get a win.
In the 2018 NIT you scored 10 PTS in a 10-PT loss at Utah: what did you learn from that game that will help you this year? We were leading for most of that game so our expectations are to take it up a notch. We want to make the NCAA tourney this season.
The Aggies went undefeated at home 2 years ago and 10-2 at home last season: how much of a home-court advantage do you have at the Pavilion? We have a great home-court advantage because the fans come out and we just do what we do. Hopefully we can start a new streak again this season.
Your non-conference schedule includes road games at Arkansas/Indiana/Arizona/USC: which of these games do you feel will present your biggest test? Each game will present different tests and we know they will all be tough, but they will set us up for conference play so we can get rolling as we get closer to the Big West tourney.
You are 1 of 5 seniors on the roster: how crucial will all of that experience be to your team's success this year? It will be huge. It can be a blessing or a curse but as a veteran group we need to lead the younger guys and teach them.
What are your goals for the upcoming season, and what are your expectations for the upcoming season? The main goal is to get to the NCAA tourney, which is the only thing that I am focused on. We want to win a regular season title, win the conference tourney, and then make a nice little run.