CLICK HERE for all of Hoops HD's Preseason Coverage
We continue (and perhaps conclude, depending on whether a couple of people respond later this week!) our season preview coverage with CSUN assistant coach Mo Williams. There are plenty of current D-1 head coaches who had successful NBA careers (Patrick Ewing, Chris Mullin, Penny Hardaway, etc.), but Coach Williams is 1 of the few D-1 assistants in the country with an NBA championship on his resume. In addition to winning a title with Cleveland in 2016, he was an All-Star in 2009 and remains 1 of the best FT shooters in NBA history. HoopsHD's Jon Teitel got to chat with Coach Williams about being a former player for his current boss and scoring 52 PTS in an NBA game.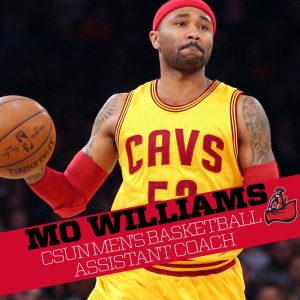 In the 2001 McDonald's All-American Game you scored 7 PTS for the East in a 6-PT loss to the West: which of your fellow honorees impressed you the most (Tyson Chandler/TJ Ford/David Lee/other)? We had a really good class. I have been good friends with TJ for a long time but the 1 guy who impressed everyone was Dajuan Wagner: he had scored 100 PTS in a high school game and had about 100 friends/relatives in the crowd.
You played for Coach Mark Gottfried at Alabama: what was it like to play for him, and what is it like to work for him almost 2 decades later? Our relationship is very strong: he started recruiting me when I was just 14-15 years old. We have formed a bond of friendship that has carried over to working on his staff: it has been remarkable for me because I have learned from him at every level.
In 2002 you started all 35 games at PG, averaged 10.4 PPG, and were named SEC ROY: how were you able to come in and contribute right from the start? I worked my behind off to put myself in a position to play. They agreed to give me the ball even though we had a lot of juniors/seniors on the team (such as Erwin Dudley/Rod Grizzard). It gave me a lot of confidence to see that the staff believed in me.
In 2009 as a member of the Cavaliers you were named an NBA All-Star: what did it mean to you to receive such an outstanding honor? Personally it meant a lot but I did not really care about it until my name was actually called. After that I started to appreciate it and understood that only a select few guys get to play in that game every winter. It was a testament to what kind of season my team and I were having. I took full advantage of it and took it all in: it was like Christmas! I went to everything they had and tried to get into as many events as I could: I enjoyed every minute of it.
In January 2015 as a player for Minnesota you scored a franchise-record 52 PTS/19-33 FG in an 8–PT win over Indiana: was it just 1 of those scenarios where every shot you put up seemed to go in because you were "in the zone"? It was 1 of those days where I did not really warm up before the game. I did not have the energy and did not feel like playing…but after making a couple of plays I had about 15 PTS at halftime. I came out in the 3rd quarter and just exploded with 28 PTS, and since it was a close game my competitive juices started flowing. We were on a 15-game losing streak at the time so it was real sweet to finally get a win.
In the 2016 NBA Finals with Cleveland, you become the 1st team in NBA history to win a title after being down 3-1 to Golden State: how were you able to win 3 in a row against the budding Warriors dynasty, and what did it mean to you to win a title? We just played our behinds off and took it 1 game at a time. I know it is a cliché but we really did: once you get to Game 7 anything can happen. There were a lot of stressful days because Golden State is such a good team but it showed who we were as a team and how together we were as a unit. When you are facing adversity the only factor that can turn things around is togetherness. I do not think that winning 3 games in a row when you are down 3-1 in the Finals will ever be done again.
Your 87.1 career FT% still remains in the top-30 all-time: what is the secret to making FTs? Concentration, repetition, and shooting it off your fingertips the same way every single time.
Last year PG Terrell Gomez was named conference ROY: as someone who played 13 years in the NBA as a 6'1" PG, how impressed are you to see someone succeed in college as a 5'8" PG? He shoots the ball at a high clip and does not miss very often. It allows him to stretch the floor and he is quicker than 99% of his opponents so he can use his height to an advantage.
Your non-conference schedule includes a game against Washington State: how do you prepare to face a team from a power conference? We have New Mexico on opening night so we are focused on them right now: they were 3rd in their conference last year. We are fortunate enough that those teams might overlook us so we will try to jump on them early and not look back.
What are your goals for the upcoming season, and what are your expectations for the upcoming season? We want to get better every single day: we are a young team with 8 freshmen but we are still good enough to win some games.