HoopsHD's Jon Teitel will spend the upcoming months covering several Georgetown basketball home games, with a very special reward coming in March. Part 1 of his series features last night's game against Central Connecticut State, who came to DC to visit the Hoyas in the schools' 1st-ever meeting:
Pregame media room meals in years past have involved BBQ or pizza but tonight was make-your-own tacos: I like tacos!
Perhaps the folks in charge of credentials think that I went to medical school, but if we ever decide to merge our own college basketball site with an athletic trainer website then I THINK I have figured out the perfect name for it: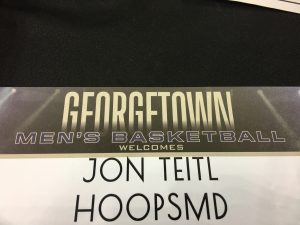 It was not a huge crowd on a cold Saturday night during a holiday weekend but it is always fun to watch a pair of former Big East Players of the Year square off as current coaches (1984/1985 POY Patrick Ewing vs. 1994 POY Donyell Marshall). As we prepared for tip-off I could not help but notice Georgetown's new court with free throw lanes featuring the school's colors in an intricate kente cloth pattern that we 1st saw on jerseys during the Allen Iverson era almost 25 years ago: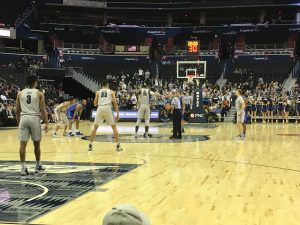 It appeared that the "other" Blue Devils were going to be in for a long night against a Big East opponent after their 1st possession ended in a shot clock violation, but they never backed down. FR SG Ian Krishnan grew up about 45 minutes outside of DC and it was obvious that this was not just another road game for him. From jumpers to 3-PT shots, every time the ball left his hands it looked like it was going in, which it mostly did during his 12-PT 1st half. SR wing Tyler Kohl did not have his outside shot working early (0-3 in the 1st 20 minutes) but he made a pair of acrobatic layups that each had a high degree of difficulty.
2 keys for power conference teams when facing mid-major opponents is to make use of their size advantage while also playing smart. As the Hoyas doubled up CCSU on 1st half points in the paint (16-8) and did not allow their opponent to attempt a single FT in the 1st 20 minutes, it is no surprise that they were up by double digits at halftime. SR C Jessie Govan displayed his entire arsenal: a 3-PT shot, a REB/putback, a layup, a follow-dunk, and a baby hook en route to 14 PTS at the break. FR SG Mac McClung only made 1-5 FG in the 1st half but the 1 was a crowd-pleasing breakaway dunk: for a 6'2" kid playing in his 2nd career college game, his vertical leap is something to behold: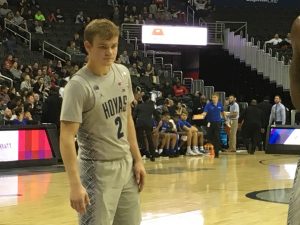 Last year the Hoya mascot rode a skateboard, this year he has his own custom SUV!:
The 2nd half was an old-fashioned offensive shootout with both teams combining to make 15-25 from 3-PT land. Kohl found his touch by making all 4 of his 3-PT attempts, while Krishnan made 4 of his own and was fouled while attempting a 5th one en route to a game-high 28 PTS. The X-factor for CCSU was FR SF Karrington Wallace: after not taking a single shot in the 1st half, he was perfect in the 2nd half with 12 PTS off the bench (4-4 FG/4-4 FT).
Georgetown is going to experience some growing pains this year due to starting a pair of freshmen in the backcourt (McClung and James Akinjo combined to shoot 4-20 from the field while committing 6 turnovers), but they held on for the win thanks to a huge 2nd half from their starting big men. 6'9″ SR PF Trey Mourning (whose father Alonzo actually played against Coach Marshall back in 1992 when Georgetown and UConn were both in the Big East) scored a career-high 12 PTS on an array of layups and baseline jumpers: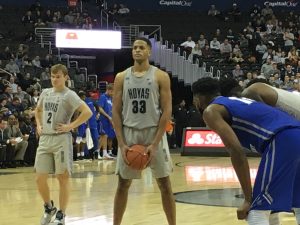 6'8″ SO SG Jamorko Pickett was only 1-4 from behind the arc in the 1st half but got back in sync by making all 3 of his 2nd half attempts to finish with 12 PTS. 6'10" SR C Govan was the best player on the court by far: apparently the advice he received from Coach Ewing all night paid off: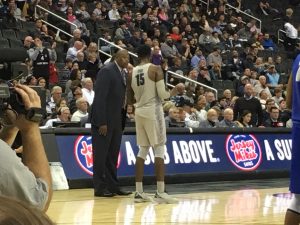 In the postgame press conference I asked Krishnan what it was like to face Georgetown after growing up in the Maryland suburbs: he said that everyone growing up in the area wants to attend Georgetown, but his team proved that everyone on its roster is good enough to play for the Hoyas: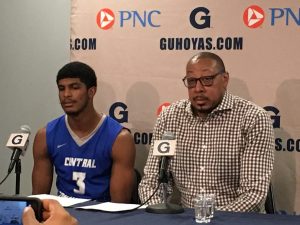 Coach Ewing said that his team made too many mistakes and took too many 3-PT shots but he was very happy with the way that Pickett played: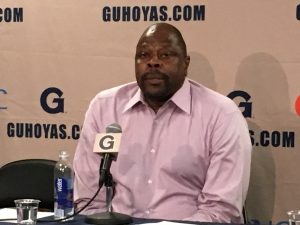 I asked Govan if his amazing effort (26 PTS/8 REB/0 TO/0 fouls/3 BLK/3 STL) was as close to a near-perfect game that he has ever played: he smiled and said that it is never perfect when he misses 3 FTs and he was just glad that his team did not get upset: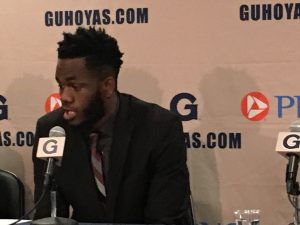 That's all for now, check back in the weeks ahead for Part 2.