HoopsHD's Jon Teitel will spend the upcoming months covering several Georgetown basketball home games, with a very special reward coming in March. Part 1 of his series featured Central Connecticut State (http://hoopshd.com/2018/11/11/hanging-with-the-hoyas-part-1) and Part 2 featured Richmond (http://hoopshd.com/2018/11/30/hanging-with-the-hoyas-part-2). Part 3 was a Monday night visit to DC by the Liberty Flames for the schools' 2nd meeting all-time:
The pregame media room meal switched back to make-your-own tacos (muy bien) but the chocolate chip brownie for dessert was the star of the show! Okay Coach Ewing: let's see what holiday gift you have in store for the 4000 and change in attendance (WHY did they schedule a 6:30PM tipoff in DC on the same night as a Redskins-Eagles Monday Night Football game that is right before final exams?!):
Like most fans the majority of my attention is focused on the offensive end of the court during a game but I could not help but notice Liberty's defense (which began the night #6 in the nation by allowing only 56.1 PPG). Coach Ritchie McKay learned all about the "pack line" defense as an assistant coach to Tony Bennett at Virginia, and his team kept giving the Hoyas' big men fits all night. Every time an entry pass was sent into the low post there would be an immediate double-team in an attempt to force guys like 6'10" Jessie Govan/6'9" Trey Mourning to fire the ball back out to a guard on the perimeter.
Speaking of offense, Liberty was dominant in transition (15-3 edge in points off turnovers) while Georgetown hit the offensive boards time after time (9-0 edge in 2nd-chance points) which explained how even the game was in the 1st 20 minutes (Georgetown led 40-38 at halftime).
It was still a 5-PT game early in the 2nd half before the Hoyas put together a 22-4 run to make it 71-48 with just under 10 minutes to go thanks to FR PG James Akinjo: he only had 1 assist in the 2nd stanza but scored 14 of his game-high 19 PTS via a couple of threes, a tough bank shot, a pretty spin resulting in a layup, and a step-back jumper. He has only played college basketball for 1 month but he always seems like the fastest guy on the court and is already the best FT shooter on the team: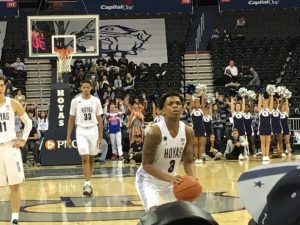 I think I finally discovered his secret: when everyone else jumps to attention after coming back from a TV timeout, he remains seated in his chair right there on the court to take advantage of every single second of rest he can get before standing up: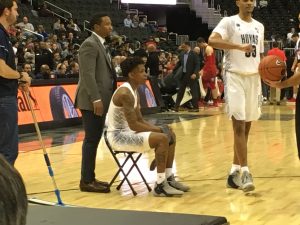 Govan continued to look like the Big East player of the year: 17 PTS (including 2-2 3PM)/10 REB in an efficient 31 minutes: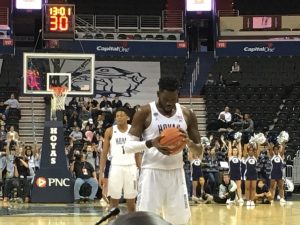 However, Liberty's Scottie James middle name must be "Efficient": entering the game with a conference-best 71.7 FG% and coming off a career-high 17-REB effort in a win over Georgia State on Saturday, he continued to impress with a team-high 18 PTS on 7-9 FG. He is 6'8" but can do damage both inside and out: reverse pivots, a Dream Shake series of fakes that led to an easy layup, and even a pair of 3-PT shots. However, not even Scottie Pippen could help a mid-major team pull off a road upset of a Big East team when the home team has a 29-5 advantage in getting to the FT line.
When you combine that with Georgetown's insane 11-18 3PM, it is easy to see why the Hoyas won the game 88-78. In the postgame press conference we received 2 injury updates from Coach Ewing: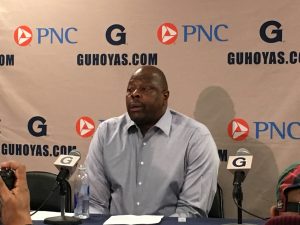 I had noticed a boot on the left foot of NC State transfer Omer Yurtseven during a mid-game huddle. Someone else raised the issue and Ewing said that it was just a sprained ankle: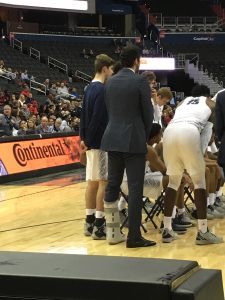 SR Greg Malinowski hurt his left knee late in the 2nd half and limped over to the bench so that the trainer could take a look while he grimaced through the pain: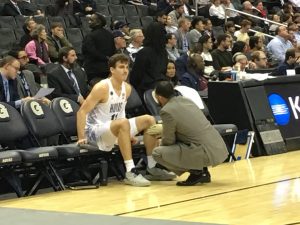 He went to the locker room, and returned to the bench a few minutes later with some padding around his knee. I inquired about an update and Ewing said that Malinowski had just banged knees with someone and should be ready for the big rivalry game at Syracuse on Saturday. I also asked Coach McKay about James' unique skill set: he responded that his JR PF was "relentless, a pursuer of improvement", and that he was blessed to have such a great player: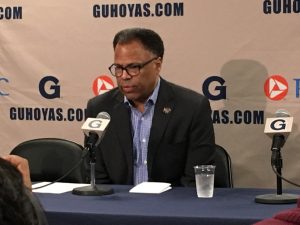 I finished the night by seeing how the 3-PT shot fit into Govan's offensive game plan after not making any during the previous 2 games: he said (on the right) that it is just a matter of Ewing "giving him the freedom to take it when he has a good look".  He gets his feet set/takes the shot/tries to knock it down…which he usually does (10-21 3PM this season!):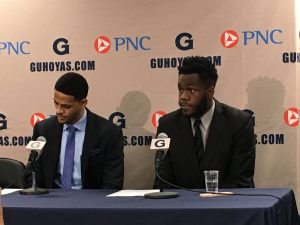 That's all for now, check back in the weeks ahead for Part 4.