The WNBA has plenty of coaches who were great players in their own right including Pokey Chatman (All-American PG at LSU who set school records for most career AST/STL), Katie Smith (7-time WNBA All-Star/3-time Olympic gold medalist who was inducted into the Hall of Fame earlier this year), and Taj McWilliams-Franklin (6-time WNBA All-Star who remains the league's all-time leader in ORB). They are getting even more championship company today as it was reported that the LA Sparks are hiring Derek Fisher to be their new head coach. Fisher has been a winner for most of the past 2 decades: 1996 Sun Belt POY at Arkansas-Little Rock, 1st round pick of the Lakers in the 1996 NBA draft, 5 championships with the Lakers from 2000-2010, and he remains the all-time NBA record holder with 259 career playoff games (LeBron James is currently in 4th place with 239 career playoff games). Prior to the announcement, HoopsHD's Jon Teitel got to chat with the new coach about his prior success at the Staples Center and making 1 of the most clutch shots in NBA playoff history.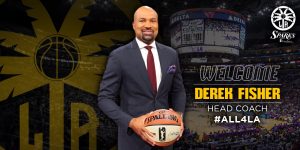 In 1996 at Arkansas–Little Rock you were named Sun Belt POY: what did it mean to you to receive such an outstanding honor? It was definitely an honor…but what made it really special is that I was a little better statistically as a junior: some of our best players sustained injuries so I had more of a scoring burden. As a senior I was able to fall back into my all-around game and we had a successful year.
In the 1996 Sun Belt tourney title game you scored 17 PTS but Tyrone Garris made a scoop shot at the buzzer in a 1-PT win by New Orleans: how much of a home-court advantage did you have while playing at Barton Coliseum, and where does that rank among the most devastating losses of your career? We probably did have a home-court advantage: it also served as the local fairgrounds so our opponents had to deal with the stench of elephants and the sight of asbestos! It is not my most devastating loss but is close to it: I never got to play in the NCAA tourney, which is 1 of my all-time regrets.
Take me through the magical 2001 NBA playoffs with the Lakers:
In Game 4 of the Western Conference Finals against San Antonio you scored a career-high 28 PTS/6-7 3PM: was it just 1 of those scenarios where every shot you put up seemed to go in because you were "in the zone"? I really had not experienced being in a "zone" like that before. My role was not to shoot the ball that much based on how our team played but it just seemed to come together for me during the postseason. I missed most of the regular season due to a foot fracture but that allowed me to spend a lot of time practicing my shot.
In Game 5 of the NBA Finals you scored 18 PTS/6-8 3PM in a win over Philly to help clinch your 2nd straight title: how were you able to play your best when it mattered the most? A lot of my experience at Little Rock as well as some big high school games back home helped. When games were close down the stretch I just tried to make plays to help my team win. I had a calm/confidence that came from experiencing the same situations before, even if they were not in the NBA.
You won the 2002 Western Conference Finals over Sacramento, which is widely regarded as 1 of the best series in NBA playoff history (with each of the last 4 games coming down to the final seconds): what was your reaction when referee Tim Donaghy later alleged that Game 6 was fixed (your Lakers attempted 18 more FTs than Sacramento in the 4th quarter of your 4-PT win)? I do not have many comments on that: I do not know where he would have gotten that information from. There were 6 other games played during that series: my opinion is that the Kings lost Games 1&7 in Sacrameto, which shows that we were able to beat them on their home court. It is always interesting to hear such discussions but it did not impact the shots that we made in that series.
In Game 5 of the 2004 Western Conference Semifinals after 3 timeouts were called with only 0.4 seconds left, you received an inbounds pass and made a turnaround jumper at the buzzer to beat San Antonio: did you think that your shot was going in, and how did that shot change your life (if at all)? When I 1st shot the ball I thought that I might have put too much on it, but once it got a little closer I knew that it was online and had a chance to go in. I did not know for sure until I saw it go through the net. It changed my life from the standpoint of hitting a game-winner in the NBA playoffs: it is not an experience you get to have very often and it was the 1st time I had such an opportunity with the game on the line. Those are the moments you dream about as a kid and it actually happened!
Prior to Game 2 of the 2007 Western Conference Semifinals with Utah you flew from New York to Salt Lake City after your daughter Tatum's emergency 3-hour eye cancer surgery and arrived after the game had already tipped off, found out that starting PG Deron Williams was in foul trouble and backup PG Dee Brown was injured, got a police escort to the arena, received a standing ovation as you walked onto the floor in the 3rd quarter without having a chance to warm up, made a key defensive stop on Baron Davis late in the 4th quarter to help send the game into OT, then made a 3-PT shot in the closing minutes to help seal a 10-PT win over Golden State: how were your emotions doing by the end of that long day, and how were you able to stay focused on the court despite so much happening off the court? My emotions were all over the place as you might suspect at a time like that. I do not know how I kept my emotions in check: it was almost like an out-of-body experience where my body was not connected to the way I was feeling. I was kind of on auto-pilot and just going through the motions to convince my body to do what I had practiced to do my entire life.
In the 2012 Western Conference Finals with Oklahoma City, the Spurs won the 1st 2 games of the series to extend their winning streak to 20 games: how on earth were you able to win the next 4 games in a row to clinch the conference title? In 2004 with the Lakers when I hit my famous shot we were down 0-2 before winning 4 in a row to win the series. In 2007 we trailed Houston 0-2 in the 1st round before beating the Rockets on the road in Game 7 to win the series. From my experience it had happened before so we just tried to win Game 3, which changed the scope of the entire series.
In the 2014 Western Conference 1st round against Memphis your team set an NBA record for the most OT games in a series with 4 (which were all in a row from Games 2-5): how exhausted were you by the end of that 7-game series? I was completely wiped out! We were operating at less than full-strength and were not able to make all the plays we were capable of without a healthy Russell Westbrook. I was emotional because it ended up being my last year as a player, and combined with a long series against a good team was tough.
In 2014 you were hired as head coach of the Knicks by your former coach/team president Phil Jackson: how did you like being a coach, and what do you hope to do in the future? Despite some of the stumbles we had at times I loved coaching. Not a lot of people get to coach the Knicks so I loved the idea of trying to help the organization figure out how to sustain success. If I get the opportunity again I want to be an integral part of doing something bigger than any 1 person and working together to be successful.