The bracket reflects games played through December 30th.
I want everyone to understand what they are looking at.  This is a CHECKPOINT of CURRENT MERIT.  It is not a prediction of what I think the bracket will look like on Selection Sunday, nor is it necessarily a reflection of how good I think the teams are.  It is just me asking the question how hard would it be for an average team to win the games that these teams have played, and then ranking them based on how they've done.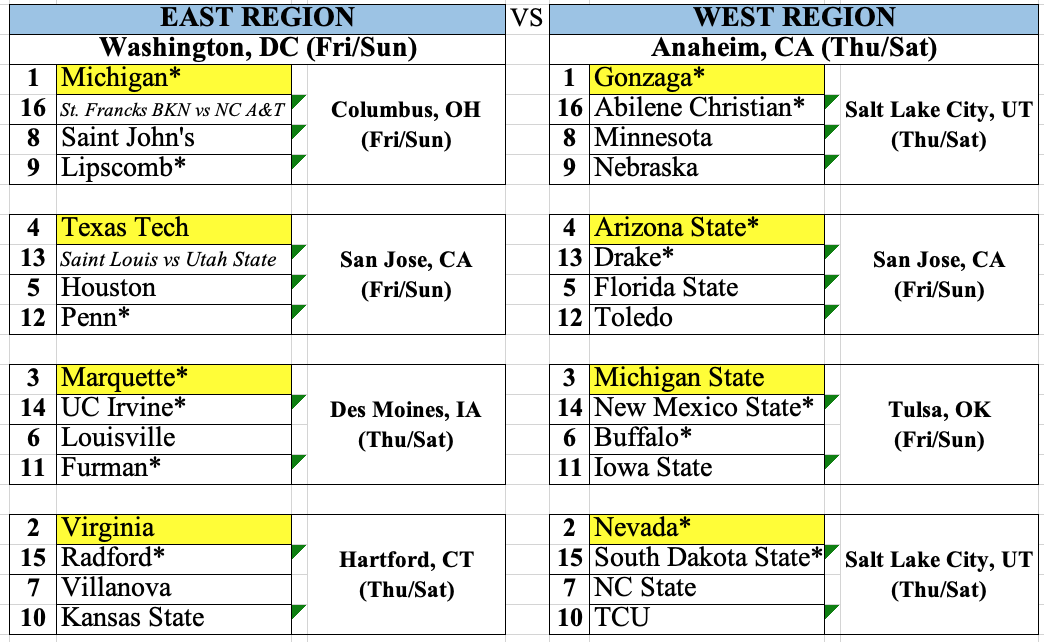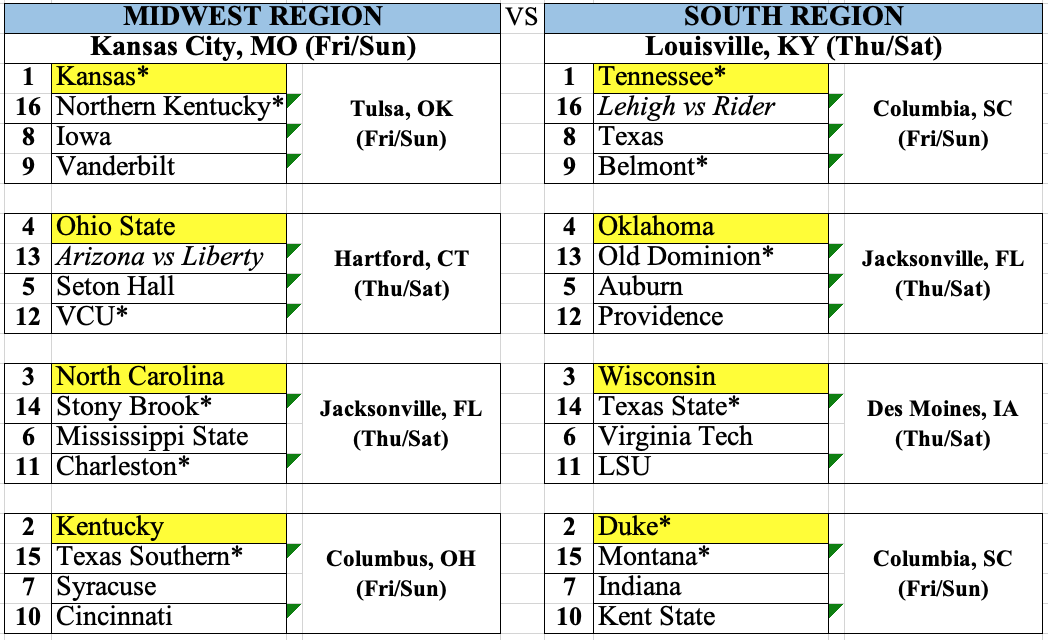 OTHERS CONSIDERED: Temple, Arkansas, Notre Dame, Butler, Florida, Purdue, Creighton, Clemson, Alabama, Maryland, Northwestern, Missouri, Pittsburgh, Washington, Ole Miss, San Francisco, UCF, Murray State, Hofstra, North Texas,
NOTES ON THE BRACKET
-With two wins away from home against Louisville and North Carolina in an eight day span, Kentucky has gone from a team that was hovering around the bubble (at least based on what their resume was) to a team that's all the way up on the #2 line (at least based on what their current resume is).  We've seen this before from Kentucky where they kind of stumble around early, then Christmas Break hits, and suddenly they are firing on all cylinders.  They didn't just pick up wins against North Carolina and Louisville.  They looked VERY impressive in the process.
-Both Lipscomb and Belmont suffered losses this week and while they weren't particularly damaging, they weren't particularly helpful either.  I think both of them are good enough to win out, and if they do then I believe they SHOULD end up inside the bubble.  Whether the committee will take them or not remains to be seen, but I'm trying hard to believe that efforts are being made to identify good teams from UTR conferences.
-A team that's not in this field that I really like is Northwestern.  They are sneakily good.  They currently don't have any notable wins, but they don't have any bad losses, and nearly all their losses were very close games against very high caliber teams.
-I think Arizona State is a home court hero, and since their loss to Princeton and some of their other close calls at home, I think they may only be a home court hero when they're facing a strong opponent.  Still, I have them as a protected seed because none of the teams below them have enough on their resume to put them ahead of Arizona State.  Yet.
-Furman is still in the bracket and still inside the bubble despite getting blown off the court by East Tennessee State.  I don't think they'll be there in the end.  I don't think they'll be at the top of the league in the end.  They're not at the top of the league now, but they still have the best overall resume, and that is how we choose the automatic qualifier.  We don't use current conference standings like a lot of other sites use, although it is fun to do that every once in a while just to watch Chad's head explode.
MONDAY'S HIGHLIGHTED GAMES 
-NJIT AT DUQUESNE.  Neither team will likely end up anywhere near the bubble, but both are off to historically good starts in regards to their programs' histories, and it will be interesting to see what they do against each other.  A win for NJIT would give them an incredible 7th true road win on the year.
-CREIGHTON AT PROVIDENCE (Big East).  Creighton has a lot of catching up to do, and a win on the road in a conference game like this would be a huge step in the right direction.  Providence has some work to do as well because while they've got some good stuff on their resume, simply holding serve the rest of the way probably isn't going to be enough.
-Marshall @ Virginia
-Hartford @ Boston College
-Monmouth @ Penn
-Oberlin (nondiv1) @ Kent State
-UNC Asheville @ Vanderbilt
-Cal State Bakersfield @ Gonzaga