Most smaller schools need some undersized guards to lead them into the postseason but there are some schools like NC Central who can turn to a 6'9″ center to take them to the promised land. On Saturday the Eagles beat Norfolk State 50-47 in the MEAC tourney title game in Norfolk to earn an automatic bid to this week's NCAA tournament. They did so thanks in large part to SR C Raasean Davis, who had 14 REB in the title game and was named conference tourney MVP. Earlier this week HoopsHD's Jon Teitel got to speak with Raasean about what it feels like to make the NCAA tourney yet again.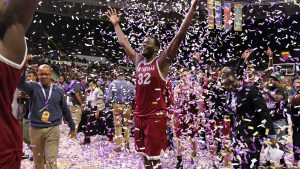 You grew up in Chicago and began your career at Kent State: why did you decide to transfer, and what made you choose NC Central? I chose Kent State because it was close to my home and they were the most consistent school in recruiting me. I felt that I had a chance to play right away coming out of high school. I transferred to NC Central due to Coach Bobby Steinburg: he knew Coach LeVelle Moton and sent him some tape of me, and that is how it went down.
What makes Coach Moton such a good coach, and what is the most important thing that you have learned from him so far? He is great at strategizing and having us prepared: there is never a day where we are not working, which is why we win so much of the time. It is part of the legacy here: the way he pushes us.
In the 2018 NCAA tourney you scored 19 PTS/9-11 FG in a loss to Texas Southern: what did you learn from that game that will help you this year? We just have to stick together: 1 man cannot do it alone. If we all stay focused then we can compete with anybody. You cannot take anything for granted: this might be our last 1 so we have to go out there ready to fight as a unit.
You began this season with back-to-back games against a pair of NCAA tourney-caliber teams in Clemson/Cincinnati: which of them impressed you the most, and why? I would say Cincinnati: they were really physical and well-coached and ready to go. They had a good game plan against me and carried it out really well.
In the MEAC tourney title game on Saturday you had 14 REB in a 3-PT win over Norfolk State: how was your team able to overcome a 12-PT deficit in the 2nd half? I have to give credit to Coach Moton. We were down 10 PTS going into halftime. I cannot really share what he said but he came into the locker room and told us what we needed to hear, which helped us go out there in the 2nd half and do what we needed to do.
You were also named conference tourney MVP: what did it mean to you to win a title, and what has the reaction been like since returning to campus? It means everything to me and my teammates to win a title: this is why we work hard during the summertime when nobody is watching, through the preseason and practices. We are all just blessed/honored to return to the NCAA tourney for the 3rd time in a row. It has been a great feeling of joy.
You have led the conference in FG% during each of the past 2 years: what is the key to being a great shooter? I have to give credit to my guards for setting me up pretty well and getting me the ball in places where I need it. I just try to stay prepared as best I can for my team: working out during the summertime/preseason has led up to this day.
You increased your FT% from 58.7% last year to 68% this year: has your improvement been due to something mental or physical or other? Maybe a little bit of both. I worked really hard on my FT shooting during the offseason because I knew that it was something I really needed to improve on. Assistant coach Eric Wilson always works with me on my FTs and stresses how important it is for me to be able to make them.
You turned 23 last Wednesday: what did you do for the big day? Nothing really. Lord willing it will not be my last: I was just trying to stay locked in and focus on the game/winning. I am pretty sure that after everything is over I will sit down and have a day where I celebrate my birthday the right way!