The NCAA tournament is about basketball but also so much more: the fans, bands, cheerleaders, etc. The East Regional is taking place in Washington, DC this weekend and we could not be more excited to be there in person! HoopsHD is all over it and covering all of the angles so you can look forward to a cascade of coverage in the days ahead. Jon Teitel continues our coverage by chatting with as many Michigan State players as possible as they prepare to face Duke in the Elite 8 tonight.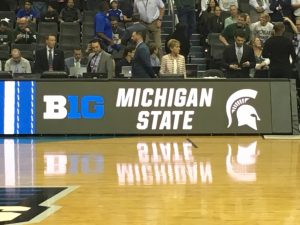 The day continued with Coach Tom Izzo and 3 of his veterans (Cassius Winston/Nick Ward/Matt McQuaid) on the podium. Izzo said that this has been a year where his players taught him more than he taught them, followed by the players each sharing a few tidbits. McQuaid said that Izzo is 1 of the most passionate people he has ever met, Ward admitted that Zion Williamson is extremely athletic but that all of the Spartan big men are excited to play against him, and Winston said that while he cried a lot as a kid and let his emotions get the best of him he eventually realized that nothing good ever came from it: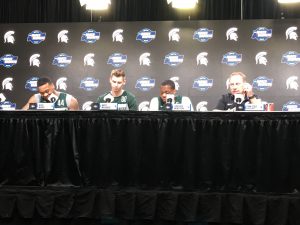 After the players left Izzo stuck around for some questions, and even gave a very long answer to an inquiry from little old HoopsHD:
Q: You have faced Coach K in the NCAA tournament for 2 decades dating back to the 1999 Final 4: how have your and/or his coaching styles changed over the past 20 years when you see each other over and over in March?
A: I do not like seeing him as much because we have not had as much success…but what I do is I have incredible respect for what he has done. I think any coach/any player/any person/any CEO that can consistently work at a level of excellence I am a fan of. I do not think we have changed that much. I do not think he has changed that much. He dipped into more of the 1-and-done style and has found a way, like a chameleon, he can just figure out a way to make it work for him and has done an excellent job of that. Maybe that is the only thing that has been very different is the number of 1-and-done players they had. We have a few, not as many, but he has maintained it since the late 1980s when I really started watching them and figuring out how they do things. From the Johnny Dawkins/Jay Bilas era and Grant Hill/Jay Williams and the guys we played in that first 1999 game. We were in a couple of Final Fours that they were in: sometimes we played them and sometimes we did not. You always keep an eye on the programs (I think everybody does this in life) that have been successful. You try to figure out how do they do it and then how do you beat them. I figured out a little bit about how they have done it but have not figured out as well how to beat them. I am still working on that, and that is why we are still a work in progress: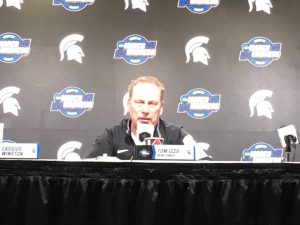 Earlier in the day Ward said that even though his left hand was sore there is nothing that would keep him off the court on Sunday. He had it on ice in the locker room, as you can see for yourself: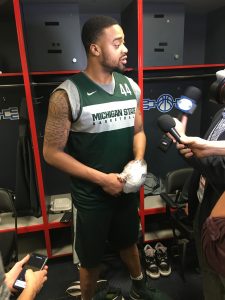 I wished FR SG Brock Washington a happy birthday when I saw him in the locker room. He said that making the Final 4 would be the best birthday gift ever, and that he hoped to spend part of his birthday evening with his parent and younger brother. Since Duke is on ESPN every night, he is well aware of how great a team they are, but the Spartans wanted to face them in the Elite 8 because to be the best you have to beat the best. They are focusing on the mission and know the scouting report inside and out. Without giving away the whole game plan, they will try to keep Zion Williamson from scoring inside by throwing different people at him: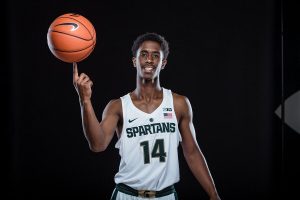 My "Captain Obvious" question of the day to FR PG Jack Hoiberg was whether he had talked to his father Fred. He confirmed that his dad is taking the head coaching job at Nebraska, and that while he did not have too many details he was very excited about it. Part of me assumes that Jack will transfer to Lincoln to play for his father for the 1st time in his life, but he did not take the bait regarding his future plans and is just focused on getting to the Final 4. Michigan State beat Nebraska on the road in January but he was sick that day and did not make the trip. He has never been to their campus before but heard it is nice: his cousin goes to Nebraska and loves it there. His dad is planning to be in attendance on Sunday for the Duke game and then fly west since he will be introduced to the Nebraska media on Tuesday. He knows that Zion is super-talented but the team is definitely excited to face the best and see how they do. The plan is to contain Zion in transition and not give him any gaps to get to the rim as they try to keep him out of the paint. Everyone has dreamed of making the Final 4 since they were kids, and he is no different: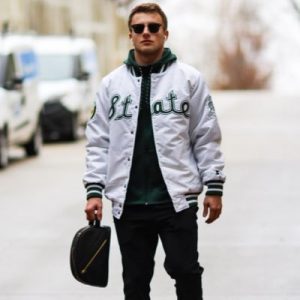 That's all for now, check back later for continuing coverage.