It was a big weekend for Arkansas basketball: on Sunday they hired Eric Musselman to replace Mike Anderson as head coach, and on Saturday former Razorback Sidney Moncrief was announced as a member of the Naismith Hall of Fame's Class of 2019. As a member of the famed "Triplets" he helped lead his team to the 1978 Final 4 before heading to the NBA as the leading scorer in school history. He made 5 straight All-Star games with Milwaukee from 1982-1986 and was named NBA DPOY in 1983 & 1984. Several years ago HoopsHD's Jon Teitel got to chat with Sidney about his spectacular career and is proud to present that previously unpublished interview for the very 1st time: congrats!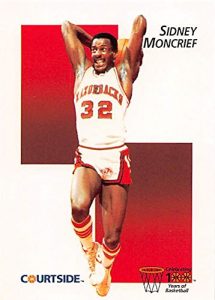 Along with Marvin Delph/Ron Brewer you formed "The Triplets" under head coach Eddie Sutton/assistant coaches Gene Keady/Pat Foster: could you tell at the time what an amazing coaching staff you had? We knew that they were good coaches because we were well-trained but we only realized how great a staff we had after the fact.
You finished the 1977 regular season with a record of 26-1: how did you lose to Wake Forest in the NCAA tourney (Rod Griffin scored 26 PTS/10-17 FG)? We had such a good team but had not been tested. I dislocated my finger in the 1st half and freaked out before the trainer popped it back into place. I fouled out of that game but it set us up for the next year.
Take me through the magical 1978 NCAA tourney:
You had 21 PTS/11 REB in a 4-PT win over #2-ranked UCLA: what did you learn from the 1977 tourney that helped you in 1978? We were just more familiar with the tourney environment and also had the ability to close out a game and not become too relaxed. We should have beaten Wake Forest so we learned to stay focused.
You scored 10 PTS and Brewer made a jumper at the buzzer in a 2-PT win over Notre Dame in the 3rd-place game: did you think that Brewer's shot was going in, and how was your team able to stay focused for the consolation game? It was tough to lose on a Saturday and then come back on a Monday but it was easy to get up for top-flight competition like Notre Dame. I got off to a slow start but we had a good 2nd half. Ron did what he did so well: make big shots.
You were named All American in 1978 & 1979: what did it mean to you to win such outstanding honors? Back then it was something special to be an All-American because most guys stayed in college for 4 years and you would have to be at the top of your game to be recognized by the media. It also helped put our school on the map as a basketball powerhouse.
In the 1979 NCAA tourney you scored 24 PTS but Bob Heaton's last-second shot hit both sides of the rim before going in to clinch a 2-PT win by Indiana State: what was it like to face Larry Bird in March (31 PTS/10 REB)? Larry and I had played on the same team in international competition. I had to guard him in the 2nd half. We had a call go against us late and to this day 80% of the people who saw the game would say that Bird was the 1 who made the final shot because he was the best player! Heaton was the most unlikely of heroes.
You remain 1 of the shortest college players to ever have 2000+ PTS/1000+ REB: how on earth were you able to get so many rebounds despite being 6'4"? I was trained from my junior high school days to be an inside player. My teams relied on my rebounding so I developed the skill of having a nose for the basketball.
In the summer of 1979 you were drafted 5th overall by Milwaukee (4 spots behind Magic Johnson): did you see that as a validation of your college career, or the realization of a lifelong dream of reaching the NBA, or other? Neither one. I did not process it the same way: it was just something that was happening in my life. I was pleased but I did not have strong feelings about it with tears of joy or anything.
In Game 7 of the 1980 Western Conference Semifinals you scored 13 PTS in a 4-PT loss to Seattle: why do you refer to that as "the biggest postseason disappointment of your career"? Looking back I felt that of all the teams I played on in Milwaukee that 1 had the best shot talent-wise of making the Finals. We had all that we needed to advance but we played some great competition.
In Game 3 of the 1982 Eastern Conference 1st round you made a running bank shot at the buzzer to beat Philly: where does that rank among the most clutch shots of your career? Very high. I was a huge fan of Dr. J growing up and we had not beaten Philly in my career until that point.
You won the inaugural 2 NBA DPOY awards in 1983 and 1984: what was your secret for being a great defender? Knowing your system and having a great team behind you. The bottom line is that the best 1-on-1 offensive player will embarrass the best defensive guy unless the rest of the team buys into the system. I was shocked to win the award but was also very thankful.
In the 1984 All-Star Game you had 8 PTS/5 STL in a 9-PT OT win over the West: how on earth were you able to beat a team with a Hall of Fame starting 5 of Kareem Abdul-Jabbar/Magic Johnson/George Gervin/Alex English/Adrian Dantley? Isiah Thomas was on the East team: say no more!
In Game 7 of the 1986 Eastern Conference Semifinals you scored 23 PTS and Julius Erving missed a 15-foot jumper with 3 seconds left in a 1-PT win over Philly: everyone knows about the Lakers-Celtics rivalry of the 1980s, but how intense was the Bucks-Sixers rivalry? It was in the 1st tier of rivalries back then. The year that Philly won it all (1983) they had 1 of the best teams in NBA history, both their starters as well as their bench. It always came down to close shots when we faced each other.
Your son Brett played college football at Troy: how proud are you of all that he has accomplished, and does he credit at least some of his success to genetics? I am very proud that he graduated from college. I told hem to pay attention to his coach and be a team player. He did not want to play basketball because he did not want to follow in my footsteps so I told him to play any sport he wanted and just give it his best shot.