There is an old adage that "defense wins championships": Bobby Jones has now proven that defense also wins you membership in the most elite of clubs. Last Saturday he was announced as a member of the Naismith Hall of Fame's Class of 2019. He has been involved with some of the most notable basketball teams of the past few decades: the 1972 US Olympic team, some great North Carolina squads coached by Dean Smith, and the 1983 NBA champion Philadelphia 76ers. Earlier today HoopsHD's Jon Teitel got to chat with Bobby about his top-notch defense and well-deserved honor.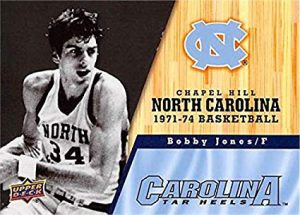 At South Mecklenburg High School you won 2 state high jump titles and finished 3rd as a junior year to an athlete at Smith High School named Bob McAdoo (who also beat you in the state basketball playoffs before later becoming your teammate at both UNC/Philly): how good of an athlete was Bob in high school, and how easy was it for you 2 to make the switch from rivals to teammates? It was quite a rivalry! I won as a sophomore but the following year he improved and was able to win the high jump title. His basketball team did beat us in the state semifinals but I still hold it over his head that I outscored him! He is a good guy and was a great teammate in both college and the NBA.
You played 5 minutes for team USA in the 1972 Olympic gold medal game: how did that infamous 51-50 loss to the Soviet Union change your life (if at all)? I do not think that it changed my life but it did make me more aware of the business/politics involved with the Olympics, which was disheartening. I remember having a book about the Olympics while growing up: Al Oerter threw the discus and was my favorite Olympic athlete. I was still in college at the time so by the time I got back to campus and had to catch up on all of my schoolwork I actually had to drop a course so that I could graduate.
You were selected by the Carolina Cougars in the 1973 ABA Special Circumstances Draft but returned to campus to finish your psychology degree and were named an All-American in 1974: how much importance did you place on academics? I cannot say that I was a great student but very few people back then ever left college early: only a few guys like Darryl Dawkins/Moses Malone. I wanted to graduate but was not planning to become a psychology teacher.
In 1975 with Denver you set an ABA record with 60.4 FG% and were named to the ABA All-Rookie Team: what was your secret for being such a great shooter, and how did you make such a smooth transition from college to the pros? It had to do with my training at North Carolina: the coaches taught me how to play defense and turned me into a good athlete. In high school I could dominate due to my size but in college they taught me how to do things like take a charge/overplay your man. My scoring average as a rookie was higher at the time because David Thompson had not arrived in Denver yet.
In the 1976 ABA All-Star Game you had 24 PTS/10 REB in a 6-PT win for Denver over the ABA All-Stars: how on earth did your team score 52 PTS in the 4th quarter to win the game against a team featuring legends like Artis Gilmore/Julius Erving/George Gervin, and what do you remember about the 1st-ever slam dunk contest? That game was 1 of my great highlights although it was a real challenge for us to face the All-Stars. I was invited to participate in the dunk contest but turned it down because I wanted to focus on winning the game. We had some great players in Denver like Thompson/Dan Issel: teams who have played together for a long time can usually beat a group of all-stars who come together for just 1 day.
In the 1980 playoffs as a player for the 76ers, Erving made his famous baseline up-and-under move in Game 4 and Magic Johnson was named MVP after filling in for an injured Kareem Abdul-Jabbar in Game 6 with 42 PTS/14-14 FT/15 REB/7 AST/3 STL: what do you remember about Dr. J's amazing play, and how was Magic able to come in as a rookie PG and win the series as a fill-in center? I enjoyed watching Julius as a teammate more than having to guard him as an opponent at the 1976 All-Star Game! Magic was a highly-skilled athlete who had a lot of confidence and a great motivation to win. However, you have to remember that he was not playing with a bunch of stiffs: Jamaal Wilkes scored 37 PTS against us in Game 6.
In Game 7 of the 1981 Eastern Conference Finals you scored 13 PTS off the bench in a 1-PT loss at Boston: where do you think that series (with 5 of the 7 games decided by 1-2 PTS) ranked among the greatest in NBA playoff history? I honestly do not remember that series as much as some of my other ones but it was obviously a very tight series.
Take me through the magical 1983 playoffs:
You finished the regular season by winning the inaugural NBA 6th Man of the Year Award: what is the biggest difference between being a starter vs. coming off the bench? I thought that it was an advantage for 2 reasons: you could sit there and watch what your opponents were doing (who was hot/which way did they drive/etc.), and I felt that having the energy to finish games was much more important than being out there to start a game. There was 1 year that I was named to an All-Star Game despite not even being a starter on my own team, which showed that I was doing something worthwhile despite coming off the bench. There are not very many people who have done that: perhaps Paul Silas when he played for the Celtics.
In Game 4 of the Finals you had 13 PTS/6-7 FG/4 STL/no turnovers in a 7-PT win over the Lakers to finish off the sweep: what did it mean to you to win a title? It was 1 of the hardest things that I have ever done: I was so exhausted after that series. We were actually trailing at halftime during each of those 4 games so it took a great team effort to win that series. You are competing as a group and trying to help each other, which is what I miss the most about my time in the NBA.
You made 11 straight NBA All-Defensive teams from 1975-1985: what is the key to playing great defense? The 1st key is effort: it might take away from your offensive abilities but great defensive players cannot just rest on offense. I was not a great 1-on-1 player like Julius/Andrew Toney but I was good at making open shots. You have to work at it by reading defenses and take some chances whether it be a STL/BLK. I also thought that deflections were just as important because it disrupted the other team, which is what defense is all about.
You played for several Hall of Fame coaches including Dean Smith/Larry Brown/Billy Cunningham before becoming a coach yourself at Carmel Christian School in Charlotte: what was the most important thing that you learned from any of them, and how do you like being a coach? Before coming to Carmel I spent more than a decade as a coach at Charlotte Christian School, which is where Stephen Curry went to high school. I enjoy working with the kids: they have great energy and listen well, which is the key to success at any level. I always tried to be a "compliant" player and do whatever my coaches told me to do. I remember 1 time with the 76ers where a teammate came up to me after a timeout and told me to pass him the ball because he knew that he could score against the guy who was guarding him: I told him no because I was going to run the play that Billy had called during the timeout.
On Saturday you were named a member of the Naismith Hall of Fame's Class of 2019: how did you learn about the good news, and where does that rank among the highlights of your career? I was driving in my truck to Charleston to visit my son. I got a call from Hall of Fame president/CEO John Doleva on my cell phone and put it on speaker. My wife was crying in the back seat and my best friend raised his hands in celebration while I just tried to keep my composure. The emotions I had at that moment took me back to everything I did as a player: it flashed by me really fast. It ranks right up there and is only behind winning the title in 1983. I wanted to be part of a championship team so much and the Hall of Fame is more about what I did as an individual.