Now that the college basketball season has come to a close with Virginia cutting down the nets in Minneapolis it is time to figure out a way to make it through the next several months without any games to watch. For you readers out there we will recommend some books to add to your summer reading list. The 1st entry on our list is "Misadventures in Broadcasting", a series of stories from the 50+ year broadcasting career of Duquesne basketball play-by-play man Ray Goss. HoopsHD's Jon Teitel got to chat with Ray yesterday about his Hall of Famer career and attending 1 of the most famous college basketball games ever.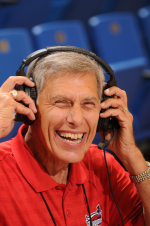 How did the book come about? 1 of the 1st chapters mentions the time after a game in Dagus Mines where I was left cradling a phone between my shoulder/ear. It was such a bizarre game that I figured I should put it down on paper before I forgot all of the details. My friend Bob Gussin has a publishing house and he encouraged me after reading my 1st draft. I was sharing some basketball stories at lunch 1 day with Bill Meyer and his wife Mary and Mary suggested that I was such a good storyteller that I should write a book. Bill was a longtime friend who passed away recently and play college ball at Hiram College in Ohio: he even played pro ball for 1 year in the old ABA. With the help of some friends like Jack Benedict (who provided some details that I had forgotten) and Bill Betts (who helped me edit it chapter by chapter) it eventually got finished. Bill was an English professor so when his edits would come back there was so much red ink on the paper that it looked as if someone had bled on it! There are 42 chapters but it still seems kind of slim to me: I self-published it because all you need is enough money to pay the printer.
How did you 1st get into broadcasting and how have you been able to stick around for more than 50 years? I could never have imagined being this old and still doing Duquesne basketball games. I would have loved to be a pro athlete but after realizing that I could not make it I still loved sports so much that I knew I would enjoy broadcasting. I got plenty of on-the-job training during college at Duquesne on WDUQ, the student-operated university station. There were not enough basketball games to do it full-time so I was fortunate to be the morning guy on the radio while also doing sports. I thoroughly enjoy play-by-play: it is like dessert in that I would love to live with only that but now I just do sports on the side. Back in the day I would do 100 sporting events year, which was a lot! Whether it is a pro game on TV or a little league game on the radio I enjoy all of it. When you are in the moment and it is a close exciting game you do not even notice the time pass by.
What has been the biggest change in the industry over the past half-century? As far as broadcasting the biggest change is the cell phone. My book is all about mistakes but with cell phones you have a great backup in case you lose a line. The quality is not that bad at all so you can broadcast anything from anywhere. 1 of my favorite chapters involves a baseball game where we did not even have a phone line: we had to run an extension from a nearby bar! The improvement in equipment has also been great: it is almost fail-safe even for a guy like me who is not a professional engineer.
What has been the biggest change in basketball over the past half-century? I remember back when there were only 2 officials on the court trying to keep up with all of the younger players. The downside is when 1 ref thinks the other refs might have had a better view and none of them blow their whistle. The 3-PT shot has been the biggest innovation since its introduction in the 1980s. During its 1st year in college if you were fouled while shooting a 3 then you only got 2 FTs: how did that make any sense? I have seen enough clutch 3-pointers made in the final seconds that I am a big advocate of fouling if you are up by 3 late in the game. There is also no offseason anymore so players are on the court year-round because there is so much money to be made. Guys like Bob Cousy/George Mikan were great but I do not know if they could compete in today's era. Athletes in all sports have improved: I do not remember anyone doing alley-oops 20 years ago but I think that the sport has changed for the better.
What are your memories of Carnegie Tech's 68-66 upset of Hot Rod Hundley's West Virginia team in 1965? It was 1 of the 1st games that I ever broadcast on the radio. We were on a stage behind 1 of the baskets at Skibo Gym, which was not the best place to call a game when the action was 200' away on the other end of the court. D-3 Carnegie Tech had no business competing with West Virginia but they were leading at the end. The strategy for Hundley after getting fouled in the final seconds was easy: make the 1st FT, miss the 2nd, then have a teammate get the rebound and lay it in to send it to OT. Hundley made the 1st, missed the 2nd, and 6'10" center Lloyd Sharrar got the rebound. At that time there were not a lot of people that big in college: you also have to remember that he had the inside position on the lane because that was the rule back then. Sharrar tried to tip it in once, then twice, but the clock hit zero before he could get the ball to go in. West Virginia would never play Carnegie Mellon today in a home-and-home series.
How did you sneak into the 1966 Final 4, and could you tell at the time how big a deal it was for Texas Western to beat Adolph Rupp's Kentucky Wildcats in the title game? I had no idea that it would turn out to be that big. My newspaper colleague Carl Kologie and I contacted the NCAA and were told that if they had enough press passes then we could get 1 but we would just have to show up and find out on the day of the game. We showed up and Carl received a pass but I did not. Carl had a friend who worked as a maintenance man at Cole Field House and he told us to meet him 15 minutes before tip-off. His friend helped us get in but we were told not to go onto the court. I was worried that someone would ask to see my ticket and then escort me out, but I noticed that there were some empty seats down near Carl so I strolled down there and ended up taking a seat that was reserved for a newspaper from my home state of Indiana. My friend Herm Sledzik got a ticket for both Friday and Saturday nights and suggested that I just try using his Friday night ticket to get into the title game because the only difference from the Saturday night ticket was the date! I figured I would walk into the press room after the title game but was surprised to see that nobody was asking Coach Rupp any questions. I asked him if he thought that Bobby Joe Hill was the best PG he had seen all year and Rupp said that he was 1 of the best: his answer ended up in someone else's newspaper story.
What was it like to broadcast an IUP-Edinboro game from the middle of the Edinboro student section? That was amazing! We tried calling the station several times but they said they could not hear our broadcast on the line. The gym was packed and it was close to tip-off and we needed to get onto the air. Someone finally mentioned that the phone line had moved so we walked right across the floor, went into the stands, and sandwiched ourselves into the student section. It was noisy, which makes it sound exciting for the listeners. Edinboro made a buzzer-beater but the ref waived it off because their coach had called a timeout with 2 seconds left. All of the students turned to me and I was worried I would get pummeled so I toned it down a bit.
How close did you come to becoming an NBA broadcaster in 1978, and do you blame Portland for winning the 1977 title or Brent Musburger for beating you to the punch? I cannot blame Brent: naturally they would pick him over me! Pitt SID Beano Cook had done color commentary with me for a couple of years and when he was at CBS he was able to set me up to do an audition of a Lakers-Pacers game in Indianapolis. I was waiting for my flight and the Lakers were in the airport so I got to catch up with Lakers rookie Norm Nixon (who had played at Duquesne). Pat Riley was the Lakers' radio guy/travel agent at the time: Norm introduced me to Pat, who said that he would put us in with his group so that he would have a better chance of getting onto the flight. I did play-by play for the whole game on videotape with former Pistons coach Herb Brown for 1 half and 5-time All-Star Gene Shue for the other half. When Gene and I went out to dinner together we spent most of the night talking about tennis since we both loved playing that sport. I thought that I did okay and CBS confirmed it by calling me to say that they would be sending me a contract for next year. What happened was that Portland won the 1977 title over Philly and the ratings were not great because they were not 2 big markets so they scrapped the whole thing…but I still have the contract!
You write about a pair of excellent encounters with Bob Cousy/Bill Sharman: do you consider them to be the exception or the rule when it comes to players' interactions with broadcasters? Back then people were much better about it. The only contact I have had with pro players were some guys on the Pittsburgh Piranhas: when you are the team's broadcaster it is a little different. Back then the players did not make nearly the amount they make now so they were friendlier with the fans. I met Sidney Crosby once and he was a genuinely nice guy: he is like a god in Canada! He will walk to the team bus after the game and then stick around and sign autographs for 20 minutes. I met Cousy in my 20s and Sharman in my 60s. The funniest thing was that I thought it looked like Sharman but could not imagine why he was at a girls' basketball game until I learned that he was there to watch his niece play!
What was Mike Rice like as a coach at Duquesne, and how do you think he feels about being the only broadcaster ever ejected from an NBA game (in 1994)? Mike was amazing: he had so much energy and would do whatever it took to win. 1 time when a ball went out of bounds he dived to save it and accidentally put his foot through a bass drum. He was a very good tennis player and I played him once or twice on the road: 1 time I beat him and then he did not want to ever play me again! At the end of the game he would send a better FT shooter to the line and convince the refs that it was the right guy at the line. Back then the refs really were "homers": the bettors would see who would come out onto the floor and then run to the phones and give the points because they knew that any close calls would go the home team's way. It has changed now with split officiating crews. It is the toughest game in the world to call, especially the block/charge call.
How on earth were you able to broadcast 3 different basketball games in a 24-hour span during the 1994-95 season? That was totally amazing. I had to prove to the Piranhas that I could do all of their games so I was fortunate to get the job. A lot of the time it is about who knows you. I was able to do it but it was difficult. The 1st game was Friday night in Chicago, which was no problem. I had to do a Duquesne home game Saturday afternoon so I had to catch a 6AM flight but there were not any cabs around that early. I just made the flight, my wife picked me up, and I changed in a restaurant parking lot despite the cold winter weather. I did a Piranhas game at 7PM, then fell asleep with all sorts of numbers running through my head!
What is your favorite memory of Hall of Fame referee Red Mihalik? He was absolutely the greatest official I have ever seen. They have a really tough job and he was scrupulously honest. There was a close game I remember where somebody dunked at the buzzer to win the game. Red immediately waved "no basket" and said that the player's hand was still on the ball when the buzzer had sounded. He was probably right but who else would have the guts to make that call? I remember 1 game where I thought that he had missed a call: Red blew his whistle and bellowed out "my fault, my fault", changed the call, and nobody complained about it. He was the humblest guy you would ever meet and did not want to go into the Hall of Fame. He did it all: the Final 4, Olympics, everything. He reluctantly allowed himself to be inducted after Coach Dean Smith wrote his recommendation letter. Today's refs will stand in 1 spot but Red would constantly maneuver around to get a better angle if he got screened out from his original position.
What is your biggest pet peeve? 1 of my biggest pet peeves now is the 2-shot foul when you are in the bonus. Announcers will say a team is in the bonus but I consider a "bonus" to be an extra shot. A lot of people will say that a player can "put the ball on the floor" but I think there is a better 1-word description for it: "dribble"! I am such a nitpicker that players do not tie their shoes but rather their shoelaces.