Gonzaga was 29-0 a few weeks with only a home game vs. BYU standing in their way of an undefeated regular season…and they finished 29-1.  However, rather then let it ruin their year, they got back on track by beating St. Mary's in the WCC title game to earn yet another automatic bid to this week's NCAA tournament. The Bulldogs have now made it to the NCAA tourney every single year since 1999, and this year they begin with #16-seed South Dakota State in a West Region match-up on Thursday afternoon in Salt Lake City. HoopsHD's Jon Teitel got to speak with 1 of Gonzaga coach Mark Few's former assistant coaches (Leon Rice, whose Boise State Broncos just beat Utah by 5 PTS on the road last night in a 1st round NIT game) about his former boss's sensational history of success.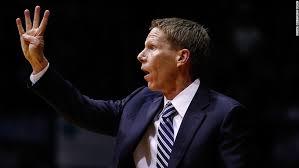 Gonzaga has made the NCAA tourney in each of Coach Few's 18 seasons in charge, which is 1 of the longest active streaks in the nation: how has he been able to remain so consistent for such a long stretch of time? He has had a lot of consistency in his staff, which has played a big part in it, and has also recruited well.
Take me through the 1999 NCAA tourney when he was an assistant to Dan Monson at Gonzaga:
Casey Calvary scored 12 PTS including a put-back with under 5 seconds left to clinch a 1-PT win over Florida: where does that shot rank among the most clutch you have ever seen? Casey is 1 of the few guys in NCAA history to have game-winning buzzer-beaters in 2 different tourney games! That 1 was special because it started a very long run of making it to the NCAA tourney every year.
Richard Hamilton scored 21 PTS in a 5-PT win by eventual champion UConn: how close did he come to winning that game, and what was the reaction like when he got back to campus? It was a 1-PT game in the final minute but the Huskies did not make any mistakes and had a great team that ended up winning it all. It has been amazing to see the Gonzaga team rise from essentially a D-2 program to where they are today.
What are your memories of the 2001 NCAA tourney (Calvary had 16 PTS/15 REB and made a put-back with under 10 seconds left to clinch a 1-PT win over Virginia)? That was a scrappy team led by PG Dan Dickau. I remember Alex Hernandez making a lot of big plays for us down the stretch: he was the unsung hero of that team.
In the 2003 NCAA tourney Tony Skinner/Blake Stepp each scored 25 PTS in a 1-PT 2-OT loss to Arizona: where does that rank among the most exciting games you have ever seen? That was a great game because we were such a huge underdog. Blake had a shot at the end of the game that he probably makes 8 out of 10 times but it just rattled out.
What are your memories of the 2005 NCAA tourney (Adam Morrison scored 25 PTS but the Bulldogs missed ½ of their 18 FTs in a 2-PT loss to Texas Tech)? We always told our players that there were 2 things that did not last long: dogs that chase cars and teams that miss FTs! Adam missed a lot of FTs that night but it ended up making him a better player in the long run.
What are your memories of the 2006 NCAA tourney (Morrison scored 24 PTS but UCLA scored the final 11 PTS of the game to clinch a 2-PT win)? We did not have a lot of games that I can remember where we had the lead and ended up losing the game. We dominated for most of that game, which is why it turned out to be 1 of our most painful losses. It was a perfect storm where we went cold and UCLA just could not miss.
What are your memories of the 2009 NCAA tourney (freshman Demetri Goodson only scored 4 PTS but drove the length of the court to make the game-winning layup with 0.9 seconds left in a 2-PT win over Western Kentucky)? That was an amazing game. When we 1st saw him heading up the floor we actually thought that it was our other guard who was more experienced! Goodson had been playing well for us so we put him in and just went with a small lineup. He was 1 of the fastest guys to ever play at Gonzaga.
After winning 11 straight WCC regular season titles, St. Mary's finally came out on top in 2012 and had a 4-PT OT win over Gonzaga in the WCC tourney title game (despite 22 PTS/13 REB from Elias Harris): has Coach Few made any changes over the past decade as the rest of the conference has finally started to catch up? The quality of the opposing players has seemed to increase so it is hard to continue at such a high level. I believe that it is 1 of the great stories in sports.
He has been named WCC COY more than 10 times during his career: what does it mean to him to win such outstanding honors? The beauty of Mark is that he always deflects the attention and says that it is a reflection of his staff/players, but we have a lot of pride in him.
He has won more than 80% of his games, which makes him 1 of the winningest active coaches in all of D-1: what makes him such a great coach, and do you consider him to be 1 of the best coaches in the nation? There is no question that he is 1 of the best. He has been 1 of my best friends for more than 25 years and I would put him in the upper echelon. He has a great feel for the sport and knows how to win close games.