For the UTR Game of the Day between Cornell and Princeton – CLICK HERE
For the latest Hoops HD Bracket Rundown – CLICK HERE
With the 2019 NCAA tourney tipping off next month, we will spend this month taking a walk down memory lane with a choice collection of players/coaches who are celebrating an awesome anniversary this year. From a comeback win to clinch the 1954 tourney title (65th anniversary) through a last-second loss in the 2014 Final 4 (5th anniversary), these legends have all carved out a little piece of history in past Marches. We continue our series with Charlie Coles, who played at Miami OH in the 1960s before becoming head coach at his alma mater more than 30 years later. After spending a couple of years as an assistant to Herb Sendek, he took over in 1996 and made the NCAA tourney in his very 1st season, then made it all the way to the Sweet 16 in 1999. Coach Coles passed away in 2013 but HoopsHD's Jon Teitel got to chat with him in the past and now presents this previously-unpublished interview about the 20th anniversary of his 1999 run to the Sweet 16 as well as his near-death experience the previous year in the 1998 MAC tourney.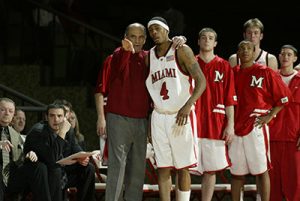 As a senior at Bryan High School you led the state of Ohio in scoring with 42.1 PPG (including a school-record 55 PTS against Shawnee) and later became a 2-time all-conference player at Miami OH: what is the secret to being a great scorer, and how did you decide to get into coaching? I just liked basketball while growing up and shot around a lot at the school court next door. I was known as a real good shooter but was very skinny. Nobody ever said that I would be a great player, but in high school I grew a little bit and became more athletic and an all-around player. We had very small gyms back then. 1 of our archrivals was Greeneview who had Gary Bradds (a future 2-time All-American at Ohio State). Every team in our area sent at least 1 guy to college. I had a good high school coach who liked to get the ball up and down the floor, which was good for me. I selected Miami because a lot of guys from my area went there. I always knew that I wanted to be a coach: even back in elementary school I had great coaching mentors.
What are your memories of the 1987 MAC tourney title game as head coach at Central Michigan (Tommie Johnson made 2 FT with 6 seconds left in a 1-PT win over Kent State for the school's 1st MAC tourney title)? We beat them twice during the regular season even though they had a great coach in Jim McDonald so we knew that the 3rd time was going to be tough. We had a real good team led by Dan Majerle but were lucky to win that game: it was a big thrill to make the NCAA tourney.
Take me through the 1995 NCAA tourney as an assistant at your alma mater under Herb Sendek:
Devin Davis had 24 PTS/15 REB in a 9-PT win over Arizona: what made Sendek such a great coach, and what is the most important thing that you ever learned from him? Herb is without a doubt the smartest guy I have ever been around and was great at game preparation. I thought that I was pretty good at watching tapes but Herb did a great job of presenting it to the team on game day. He left no stone unturned and taught me that you can never be over-prepared.
Junior Burrough had 28 PTS/12 REB in a 6-PT OT win by Virginia: did you feel like your team was ready to make a deep postseason run? We should have beat them. Our PG got hurt at the end of the Arizona game: if we had a healthy Derrick Cross then we would have beaten Virginia. I got mad at Jamie Mahaffey for passing up a wide-open jump shot with 40 seconds left: we never got a good shot after that.
What are your memories of the 1996 NIT (Damon Frierson scored 24 PTS but missed a runner at the buzzer in a 1-PT loss to Fresno State)? It was a great atmosphere as we were going against the great Jerry Tarkanian. We were playing free and easy and Devin Davis had a monstrous dunk. Wally Szczerbiak was hurt back then and was not even able to travel with us.
You took over for Sendek as head coach in 1996 but nearly died in March 1998 after going into cardiac arrest during the 1st half of a 4-PT win over Western Michigan in the 1st round of the MAC tourney: how close did you come to dying, and how on earth was your team able to stay focused and get the win? I lost my pulse and they had to bring me back to life. I still do not remember the day before the incident: I just remember waking up in the hospital. The team voted to play the game and they played very well. The players came to visit me in the hospital the next day and I had tears in my eyes when Damon/Wally told me that we had won.
Take me through the 1999 NCAA tourney:
Szczerbiak scored a career-high 43 PTS and blocked Greg Clark's jumper in the final seconds of a 1-PT win over Washington: where does that rank among the best performances that you have ever seen? It was the best: he was just unbelievable. I told him on the practice floor that Tuesday that he would be guarded by a big man half the time and a little man half the time. No matter who they had on him he was red-hot: he scored 43 of our 59 PTS!
Szczerbiak scored 24 PTS in an 8-PT win over Utah for the school's 1st-ever trip to the Sweet 16: what was the reaction like when you got back to campus? We had a big crowd because it was a big-time thing. Utah had won 24 straight games so nobody thought that we would beat them.
In the 2007 MAC tourney title game Doug Penno scored 11 PTS and banked in a 3-PT shot at the buzzer in a 1-PT win over Akron: where does that rank among the most clutch shots you have ever seen? It is definitely in the top-5: Doug's shot was big-time.
In the 2007 NCAA tourney Aaron Brooks scored 18 PTS in a 2-PT win by Oregon: how close did you come to pulling off the upset? We played well and had a chance to beat them: had I been ready for their zone defense I think that we would have beat them. We had a sneaky-good team and got out to a nice lead before they switched to the zone. Oregon went to the Elite 8 that year so they had a pretty good team.
In the 2008 MAC tourney title game Al Fisher scored all 11 of his PTS in the 2nd half including a double-clutch 15-foot jumper with 3 seconds left in a 2-PT win by Kent State: what do you remember about that loss? I was in the hospital having 14-hour quadruple-bypass surgery.
In 2012 you retired as the school's all-time winningest coach and the MAC's all-time leader in conference wins: what made you such a great coach, and what do you hope to do in the future? I do not know if I was ever a "great" coach but I really loved to coach. I was very fortunate because my family followed me as I followed my passion. I did not like the games as much as the practices: it was fun to go through the preparation. I do not know how much I will miss it but I have enough out there with my son coaching and my grandkids playing that I am having a lot of fun. I coached for 47 years, which you do not do unless you love it. I worked with a lot of nice people and a lot of good athletes including Majerle and Szcerbiak.