Click HERE for Chad Sherwood's UTR Game of the Day featuring Siena and Vermont (also featuring video of Siena head coach Jimmy Patsos)
This week, it is HoopsHD Correspondent John Stalica's turn to do the weekly bracket projection. As a reminder, this projection is part checkpoint and part eye test (in John's eyes) as to how the field can be expected to play out.
Thanks to their win at Kansas yesterday, Arizona State not only cemented their status as a protected seed (i.e. Top 4 seed), they are now on the #1 line thanks to wins against Kansas State and Xavier away from home.
Teams like Duke, Notre Dame and Kansas have blips on their radar, although Kansas is now in the midst of a 2-game losing streak against a very unlikely pair of Pac-12 teams. Florida also had a pair of toe stubs at home (Florida State and Loyola-Chicago), but righted their ship for now with a notable win in the Never Forget Tribute against Cincinnati over the weekend.
Arizona has rebounded quite nicely from the disaster in Atlantis, but USC has now taken a turn for the worse. They miss out on this week's bracket projection thanks to their recent slide.
Without further ado, here is the weekly bracket: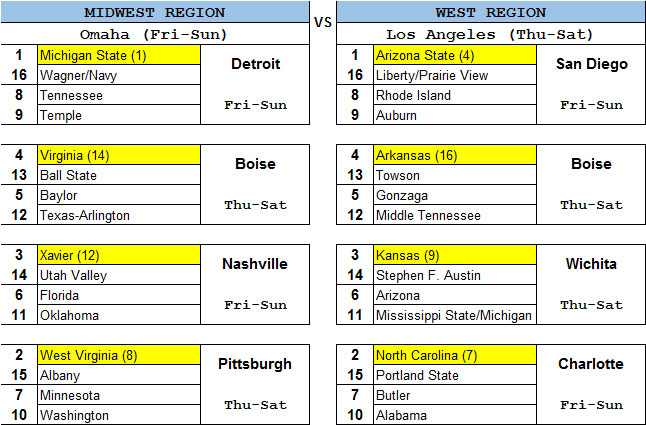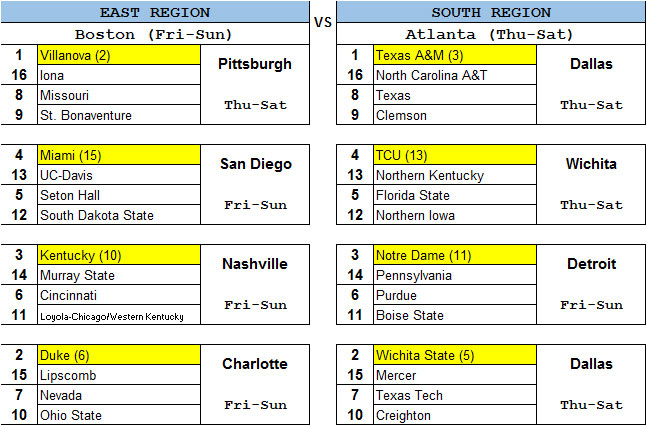 COMMENTS FROM DAVID
-John already alluded to this, and we all know it, but we are still not to a point to where all is definitive.  You have some teams that will likely end up in the top half of the bracket in March, but that aren't even in this bracket due to having won only buy games up to this point.  We also have other teams like Washington that are in the bracket due to one or two really big wins, but that may turn out to be one-hit wonders and end up missing the field.
-One team that I like that isn't in this bracket (and perhaps at this point doesn't deserve to be yet) is Houston.  They don't have the best of credentials yet, but they've shown signs of having a ton of potential to get them once they get into conference play.  They do have a rather ugly loss to Drexel, but that's their only loss of the year and it came in the second game of the year.  They have a blowout win at home against Arkansas (who's on John's #4 line) and another decisive win at Saint Louis, who isn't great, but it's still impressive to see them win back to back games by a huge margin with one of them being on the road.  They have another big week this week with games at LSU and a neutral floor game against Providence.  If they get both of those then we'll have to start thinking of them as an at-large candidate.
-I'm a little surprised at the lack of love for Northern Iowa.  Their only two losses are Villanova and North Carolina, and they've managed wins against SMU, NC State, UNLV and UT Arlington.  Their next two games are against Iowa State and Xavier with Xavier being at home.  It's unfortunate that the students are on break for that one because that could have been an incredible environment.  Some bad news for Northern Iowa is that they were cited for their first Ten Commandments Infraction for playing two games against nondiv1 teams.