For all of Jon's other Season Preview Interviews – CLICK HERE
Most of the hype surrounding the new guys in college basketball is on the incoming McDonald's All-Americans such as Allonzo Trier/Ivan Rabb.  However, we should also pay some serious attention to the new coaches, 1 of whom is former Miami assistant coach and current Louisiana Tech head coach Eric Konkol.  He was hired after former Bulldog coach Michael White was hired to replace Billy Donovan as head coach at Florida.  His coaching tree is quite impressive, as he played for Bo Ryan and worked for Jim Larranaga/Buzz Peterson.  HoopsHD's Jon Teitel got to chat with Coach Konkol about making FTs and how he will deal with the loss of 4 of Louisiana Tech's top-6 scorers from last season.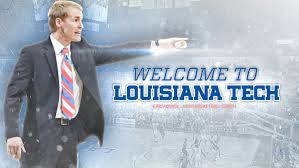 You began your college basketball career at Wisconsin–Platteville playing for Coach Bo Ryan: could you have ever imagined at the time that he would end up in the 2015 title game with Wisconsin? I was very fortunate to spend time in Coach Ryan's program and always thought that he would continue to get the most out of his teams no matter where he was coaching. I cannot say that I imagined him being in the title game with Wisconsin when I played for him 20 years ago, but I am not surprised that he has been so successful because he is such a tremendous coach.
After transferring to Wisconsin–Eau Claire you made it all the way to the D-3 title game in 2000: how good a player were you back in the day, and how close did you come to winning the title? We were very close: we lost 79-74 to Calvin College from Michigan. It was an incredible game: we were down by 16 PTS at halftime and almost came all the way back. We had a talented team and I was a backup guard. I have so many great memories of that season.
You were a career 89.7% FT shooter: what is your secret for making FTs? I think that repetition and routine are the keys to making free throws. I felt very comfortable at the line after shooting so many of them in my driveway while growing up. It is so important to see the ball go into the basket over and over to build your confidence.
In the 2001 NIT as a student assistant for Buzz Peterson at Tulsa you had 4 single-digit wins before beating Alabama by 13 in the title game: what did it mean to you to win a title? That was a special group. We had a young team that really grew throughout the year. We lost in the conference tournament championship game and then pulled everything together in the NIT. I remember feeling very fortunate to be cutting down the net in Madison Square Garden during my 1st year out of college.
You worked as an assistant to Jim Larranaga at both George Mason and Miami: what makes him such a great coach, and what is the most important thing that you have ever learned from him? Coach Larranaga is an incredible communicator: he is able to get the team on the same page and motivate each member of the program. I learned that no detail is too small and doing the little things well is what makes a program successful.
You worked as the offensive coordinator for the Hurricanes: what kind of offense have you found to be the most effective, and why? The best offense is generated from good defense. We hope to create turnovers at Louisiana Tech and score before our opponent's defense can get set. In the half court I really like to use pick-and-roll basketball. Players are really good at attacking with the dribble in today's game and I have found that spreading the floor and giving them that opportunity works well.
In the 2015 NIT title game you had a 2-PT OT loss to Stanford: where does that rank among the most devastating losses of your career? It is right up there, but I am very proud of that team. We fought through a lot of adversity and were very close to winning the championship. It was a great game and a wonderful experience to be in New York that week.
In May you were hired to replace Mike White as head coach at Louisiana Tech: what have you found to be the biggest difference in being a head coach vs. being an assistant coach? I think the biggest difference is that there are so many things to spend time on that managing that time becomes so important. We have so much that we want to do with our players, with recruiting, and with the community. I am fortunate to have some very talented assistant coaches at Louisiana Tech who have been so helpful.
Your team lost 4 of its top-6 scorers from last year: how will you try to replace all of that offense? We have our 2nd and 3rd leading scorers back in addition to several players who are looking to expand their roles from the year before. We would like a balanced attack so we need some other players to elevate their scoring.
What are your goals for the upcoming season, and what are your expectations for the upcoming season? Keep improving every day: that is my top goal and expectation. We have 2 starters back and a lot of new young players. Our focus is to keep getting stronger and more cohesive as a group so that we can be at our best in March.