For all of Jon's other Season Preview Interviews – CLICK HERE
Some transfer players take a long time to adjust to their new school, but Evan Singletary is more of an "instant impact" kind of guy.  After transferring to Albany last year he started all 33 games at PG, was a finalist for the Riley Wallace Award (which goes to the nation's top D-1 transfer), and was named to the America East All-Conference 1st-Team.  He was also among the best players in the conference in FT% and 3PM.  HoopsHD's Jon Teitel got to chat with Evan about his daughter Aubree, and we hope that he had a great 21st birthday last weekend!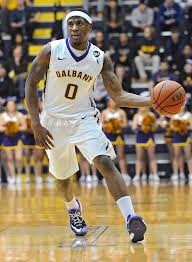 You have a daughter named Aubree: what impact has she had on your life either on or off the court? She has a big impact on my life: once I had her, everything that I now do is for her. I have to make smart decisions to give her a good future.
You play for Coach Will Brown: what makes him such a good coach, and what is the most important thing that you have ever learned from him? When I 1st got here he told me to not be afraid to step on anyone's toes and just play my game. We have very good communication: once he told me to stop looking towards him on every possession and to just play I became more comfortable in the system.
Last year you started all 33 games at PG and ranked among the conference leaders in PPG/APG: how do you balance your scoring with your passing? A PG needs to score while also getting his teammates involved, and that is my job: I do not like to be selfish.
You were also #4 in the conference with 80.9 FT% and led the team with 61 3PM: what is the key to being a good shooter? I shoot the same way every time and put my legs into it.
You finished the year by being named to the America East All-Conference 1st-Team: what did it mean to you to receive such an outstanding honor? It meant a lot to me. Ray Sanders and I worked out in the preseason every day and we told each other that we wanted to be named All-Conference and win a title. My teammates also had a lot to do with that.
In the 2015 America East tourney title game you scored 11 PTS and Peter Hooley made a 3-PT shot from the top of the key with 1.6 seconds left in a 1-PT win over Stony Brook: did you think the shot was going in, and what was the reaction like after the buzzer sounded? It was crazy. I was watching from the bench after fouling out but the shot looked good when it left his hand. I jumped into my teammate's arms and then ran onto the court with everyone else.
In the 2015 NCAA tourney you scored 13 PTS in a 9-PT loss to Oklahoma: what did you learn from that loss that you think can help you this year? We learned a lot. I learned that you have to play hard no matter what stage you are on or who your opponent is. It came down to offensive rebounding and the Soooners were a little tougher than us.
Your leading scorer from last year (Sam Rowley) has graduated: how much pressure is there on you as a senior to be 1 of the leaders this year? I do not think there is any pressure. Sam was a big piece of our team last year and his loss will hurt us, but we still have Peter Hooley. I need to be more vocal and be more of a leader myself.
Your very 1st game of the year is in Lexington: how are you preparing to face the Wildcats? We are going out and competing every day in practice. It will be tough but we will just listen to our coaches and try to win the game.
What are your goals for the upcoming season, and what are your expectations for the upcoming season? Our team goals are to definitely win another ring, get to the NCAA tourney, and then win a couple of games. I do not have any individual goals at the moment.