Tuesday marks the 101st anniversary of the birth of John McLendon.  Recognized as the 1st African-American basketball coach at a predominantly White university (Cleveland State) and the 1st African-American head coach in any professional sport (the American Basketball League), he was elected to the Basketball Hall of Fame on Monday for the 2nd time (after previously being elected as a contributor in 1979 for inventing the full-court press and the 4-corners offense).  He was not allowed to play basketball at Kansas in the 1930s because the team was segregated but was still able to pick up some tips from Athletic Director James Naismith, the inventor of the sport.  He later became coach at North Carolina Central and led the Eagles to 8 CIAA titles, followed by a stint at Tennessee State that included 3 NAIA COY awards and 3 straight NAIA titles.  Coach McLendon passed away in 1999, but HoopsHD's Jon Teitel got to chat with 1 of McLendon's former college players, Sam Jones, about his fellow Hall of Famer.  HoopsHD congratulates all the new members of the 2016 class of the Hall of Fame!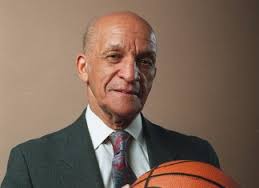 McLendon enrolled at Kansas in 1933 as the 1st black student in the school's PE department where he learned the game from his adviser (Dr. James Naismith, who also happened to be the inventor of the sport), but he was not permitted to actually play because the varsity remained segregated until 1951: why did he choose the Jayhawks, and what was the most important thing that he learned from Naismith? His father gave him a choice: go to Kansas or do not go anywhere! He learned a lot from Dr. Naismith after his father said that he was going to become his mentor. There were very few blacks at Kansas. He was an accomplished swimmer and there was some talk of draining the pool, but Naismith said that he would leave if they did that.
In March of 1944 as coach at North Carolina College he was part of "The Secret Game" played in a locked gym against Duke (an 88-44 win), the 1st college basketball game with Blacks and Whites competing on the same floor: how were the schools able to make the game happen, and how were they able to keep it a secret for more than 50 years? Back in those days you either kept it a secret or went to jail! I do not know if the entire Duke varsity team showed up but they figured out a way to sneak them onto the campus without any spectators.
He won 8 CIAA titles in a 12-year span from 1941-1952: how was he able to be so dominant for such a long period of time? Coach liked what he did and recruited people who could play in his system. It was not about the individual but rather about the team. He hated to fly so if there was a tournament that he could reach by car then he would just drive.
He is credited with increasing the pace of the game from its slow early years to the fast-break tempo that is still being used today: how did he come up with the idea, and what made it so successful? All of his players were in tip-top condition. I remember my 1st day of practice when we ran from the gym to the railroad track and back: it was a total of 5 miles with some hills that made it feel like an obstacle course. When we got back to the gym we immediately started practice by shooting layups. He never cursed and only said positive things to us.
In 1958 he was named NAIA national COY: what did it mean to him to win such an outstanding honor? It is 1 of the highest honors you can get as a coach so I am sure that he was thrilled to be named COY.
He won 3 straight NAIA titles at Tennessee State from 1957-1959, becoming the 1st college basketball coach to ever win 3 consecutive national titles: what did it mean to him to win all those titles? It was hard to repeat every year because every team wanted to knock them off.
In 1962 he became the 1st African-American head coach in pro sports after he was hired to lead the Cleveland Pipers (owned by George Steinbrenner) of the American Basketball League: how did he get the job, and how big a deal was it back then? Certain people look at it differently. He had a good team in Cleveland and was winning before getting fired by Steinbrenner because they disagreed about which players to play. It was a big deal when he 1st got the job because nobody in pro basketball had ever taken a chance on an African-American coach. Black people were unhappy that he got fired because he had been successful: they wondered what it took to become a long-term success.
In 1966 he became the 1st African-American basketball coach at a predominantly white university after getting hired at Cleveland State: what kind of reaction was there to his hiring? Coach felt that he could be successful anywhere he went and it was a great honor for him. The athletic department saw what he had done for the Pipers and they wanted to see what he could do for their school.
In 1966 he became the 1st Black coach to serve on the US Olympic Committee: how did he like the job? He had traveled overseas for the USOC for years to scout foreign basketball teams, which not a lot of people are aware of.
After retiring from coaching he spent 2 decades as a representative for Converse and was eventually inducted into the Hall of Fame in 1979: when people look back on his career, how do you think that he should be remembered the most? He was probably the 1st Black person hired to represent Converse. Coach Mac was 1 of the 1st Blacks to be inducted into the Hall of Fame as a contributor, which I think was a shame because he should also have been inducted at that time as a coach because of what he had accomplished (not only at NC Central and Tennessee State but also for inventing the 4-corners offense that Dean Smith later made famous at UNC). The fast-break made it so much easier for me when I got to the Celtics because I learned it from him as a freshman back in 1951. I want him to be remembered as a man who was well-respected around the world.