Michigan State's season ended on a sad note last month after getting upset by Middle Tennessee, but they plan to advance a bit farther next March thanks to some of their incredible incoming recruits.  1 of those is Joshua Langford, who has had 1 heck of a spring: winning a state title for the 3rd time in 4 years, winning the McDonald's All-American Game, and a spot on the USA Basketball Men's Junior National Select Team for Saturday's Nike Hoop Summit.  HoopsHD's Jon Teitel got to chat with Langford late last night about surviving a near-death experience and why he wants to play for Coach Tom Izzo.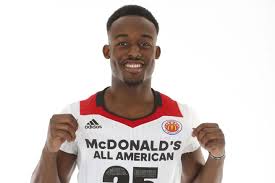 At age 12 you were diagnosed with bacterial meningitis: how close did you come to dying, and how were you able to survive? I was very close to dying, like on the borderline, but I just thank God and my doctors for helping me make it through.
You teach Sunday school and speak at chapel services: what role does your faith play in your life? It plays a big role. The ball will eventually stop bouncing for everyone but God will always be there, so my faith is very important to me.
You work out several times a day and even use an altitude mask to increase the intensity: how has your hard work in practice translated to your success in games? I feel like I have made a big jump from my freshman year, and even from last year, to now, and hopefully I can keep it going in college next year.
Last summer you signed to play at Michigan State for Coach Tom Izzo, who was recently elected to the Hall of Fame: what makes Izzo such a great coach, and why did you choose the Spartans? He gets the best out of his players with tough love and is always there for his players. Gary Harris had a chance to leave a few years ago after his freshman season but he came back because Coach has so much love for the team.
You are 6'7" and played combo guard in high school: what position are you most comfortable at on the court? I am comfortable at every position from the 1 to the 3 thanks to my skills and basketball IQ.
In early March you scored a game-high 25 PTS for Madison Academy to help beat Midfield and win your 3rd Alabama state title in 4 years: what is the key to winning titles? You have to play within your team and take care of business on the defensive end. You also need good chemistry.
The Spartans were upset by Middle Tennessee State in the 1st-round of the NCAA tourney: did you watch the game, and do you think that it puts any extra pressure on you to succeed next March? It was tough to watch them lose like that but it did not define their entire season. I hated to see the seniors (like Denzel Valentine) not win it all but we just have to move on and prepare for next year. There is not much pressure because there are still plenty of players around who can teach us the ropes.
In last month's McDonald's All-American Game you scored 12 PTS in a 7-PT win by the West: which player impressed you the most? I loved my whole team: we played together and were all unselfish. Lonzo Ball tied a McDonald's record with 13 AST and we all shared the ball, which I think is why we won.
1 of the players on the East team was Miles Bridges: how excited are you to team up with him in East Lansing this fall? I am very excited: Miles is a great player and I look forward to playing with him. We have talked and we have the same mindset as all the other incoming freshmen: work hard and win a title!
On Saturday you will play for the USA Basketball Men's Junior National Select Team in the Nike Hoop Summit in Portland, OR: what do you know about the World Select Team, and how do you think your team is going to do? We just had a mini-film session: I am holding the scouting report in my hand as we speak! The World Team looks big but I think that we can really spread them out with our strong guards. I think we are the better team so if we play together and treat them like they are better than us, I think that we will win.