The UCLA Bruins and Los Angeles Lakers did not have great seasons this year, but if they need a reminder of what it takes to win then they should look no further than legendary alum Jamaal Wilkes. After going 20-0 for the UCLA freshman team he won a pair of NCAA titles in 1972/1973 under Hall of Fame coach John Wooden. He finished the 1975 NBA season by being named ROY and winning a title with Golden State, then won 3 more titles in a 6-year span with the Lakers from 1980-1985, and in March he was elected to the Collegiate Basketball Hall of Fame. Earlier today HoopsHD's Jon Teitel got to chat with him about winning 88 games in a row and being a 3-time Academic All-American. We congratulate Mr. Wilkes and the rest of the 2016 class of the Hall of Fame, and are 1 day late in wishing him a very happy birthday as well!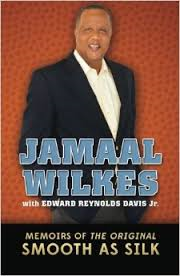 You were nicknamed "Silk" due to your smooth style: who gave you the nickname and how do you like it? I love it! When I was a freshman at UCLA there was a guy in the band who loved Bruins basketball. I made a nice move 1 day at practice and that evening I was eating dinner along with my fellow freshmen. The band guy came up to me and said that my move was as smooth as silk. The other guys on the team started calling me that so the nickname stuck, and the next year when I was on the varsity our broadcaster Dick Enberg started using it.
You were part of UCLA teams that won a record 88 consecutive games under Hall of Fame coach John Wooden: what made him such a great coach, and do you think that your record will ever be broken? The UConn women's team actually broke the record several years ago under Coach Geno Auriemma. Coach Wooden was a Hall of Fame player/coach and was a great teacher who could communicate the essence of what he was saying in just a few words. His consistent humility was remarkable: he was such a profound man.
After going 20-0 on the UCLA freshman team, you went 30-0 in your 1st year on the varsity and had 23 PTS/11-16 FG/10 REB in a 5-PT win over Florida State in the 1972 NCAA tourney title game: how much of a home-court advantage did you have while playing at the LA Memorial Sports Arena, and did it reach a point where you just expected to win every single time that you stepped onto the court? It was an advantage being in LA but the Sports Arena was foreign to us. From the players' standpoint the thought of losing just never entered our minds: from the 1st day of practice we just tried to do the best we could. You can imagine all the hoopla around such a long winning streak but Coach Wooden never talked to us about the streak. After every game he just wanted us to look in the mirror and believe that we did our best: that yardstick took all the pressure off of losing.
In the 1973 NCAA tourney title game, tourney MOP Bill Walton had 44 PTS/21-22 FG/13 REB in a win over Memphis to finish off yet another 30-0 season: where does Walton's performance rank among the greatest that you have ever seen? I cannot think of a greater game in college basketball history, at least that I was a part of.
In the 1974 Final 4 you scored 15 PTS in a 3-PT 2-OT loss to eventual champion NC State: how much of a home-court advantage did the Wolfpack have while playing in Greensboro, and where does that rank among the most devastating losses of your career? They were a great team and had a great coach. During the regionals they never had to leave their home state so I think it was a tremendous advantage for them. I get asked more about our losses to Notre Dame and NC State than our wins: that game should have been the title game.
You were a 2-time All-American and a 3-time 1st-team Academic All-American: how were you able to balance your work on the court with your work in the classroom? I took advantage of the tutors we had and our coaching staff always monitored us. It was a challenge for me because the classrooms were larger than I was used to in high school.
You were picked 11th overall by Golden State in the 1974 NBA draft (3 spots ahead of Maurice Lucas) en route to being named 1975 NBA ROY: how were you able to make such a smooth transition from college to the pros? It was not quite that smooth at all! Coming from UCLA, the media had a lot of questions about whether I could withstand the rigors of the NBA so I had to work hard to establish myself. I was playing PF opposite Rick Barry at SF, so in addition to the major leap from college I also had to play a more physical position. Fortunately I was able to learn the ropes and we had a team that just meshed during my 1st year.
In the 1975 NBA Finals with Golden State you swept Washington to win the title: how weird was it to play at the Cow Palace (due to a scheduling conflict at Oakland Arena), and how big a deal was it to be part of the 1st championship game in US major pro sports to feature 2 African-American head coaches (Al Attles/KC Jones)? The Cow Palace was very different but it symbolized how we were viewed by the public. We were predicted at the start of the season to finish 5th so instead of reserving the Oakland Arena for our playoff games it had been rented out to the Ice Capades! We had a chip on our shoulder so in an odd way it was a fitting end to that season. There was a lot of talk at the time about the coaches but it did not matter once we were in the heat of battle.
In the summer of 1975 you converted to Islam and legally changed your name to Jamaal Abdul-Lateef: did you face any backlash at the time? At the time it was what I believed and I was sincere about it. There was some backlash but people who really knew me did not care that much, plus I was playing well and we were winning.
Take me through the magical 1980 NBA Finals with the Lakers:
In Game 4 Julius Erving scored 23 PTS in a 3-PT win by Philly, including his legendary up-and-under move that has become 1 of the most famous basketball highlights ever: what was your reaction when you saw him defy gravity? The interesting thing about competing against Dr. J is that it was hard to not get caught up watching him because he was so captivating. I was the 1st guy he blew by on the way down court before making his incredible shot.
In Game 6 you scored a career-high 37 PTS to help clinch the title: what was the mood of the team like when you learned that Kareem Abdul-Jabbar was out with a bad ankle, and how was rookie Magic Johnson able to step in for him at center? It was a process: at 1st we felt devastated because we did not want to play in Philly without Kareem. Once the reality set in we recognized that we would have to play fast, rebound the ball better, and that each of us would get more shots. When we arrived in Philly we were not as distraught about it. At the shoot-around that morning Coach Paul Westhead asked who would jump center, and Magic volunteered.
In Game 6 of the 1982 NBA Finals you scored a team-high 27 PTS to help clinch your 2nd title in 3 years: how were you able to keep playing your best over and over when it mattered the most? Preparation. I know that "fundamentals" is an overused word but I had efficient techniques that I learned from both Coach Wooden and some of my other coaches. I tried to play with an economy of effort and do things in the simplest way possible.
In 2012 you were inducted into the Naismith Hall of Fame and in March you were inducted into the Collegiate Basketball Hall of Fame: where does that rank among the highlights of your career? I am truly honored and humbled by it: I still have to pinch myself! I always thought that winning titles was the best, and it was, but this ranks right up there.
If you would like to learn more about his career, you can purchase a copy of "Jamaal Wilkes: Memoirs of the Original Smooth as Silk" at:
www.amazon.com/Jamaal-Wilkes-Memoirs-Original-Smooth/dp/0615974848