The sports world is in a state of mourning today after learning of the passing of Hall of Fame Coach Pat Summitt.  Her career numbers are simply staggering: 1098 wins, 112 NCAA tourney wins, 38 consecutive postseason appearances, 16 SEC tourney titles, 8 NCAA titles, and a 1984 Olympic gold medal.  1 of the players who knew her the best was fellow Hall of Famer Cindy Noble Hauserman.  She played for Coach Summitt at Tennessee, made it to 2 straight AIAW tourney title games, and was named All-American in 1981.  3 years later she played for her college coach as a member of team USA as they both won Olympic gold medals.  HoopsHD's Jon Teitel got to chat with Hauserman about her legendary coach, and we extend our condolences to the entire Tennessee women's basketball family.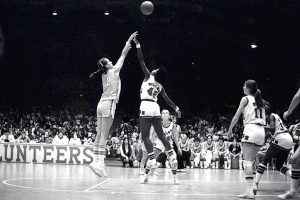 You won 2 state volleyball titles, 1 state basketball title, and 1 state track title at Adena High School: which sport were you best at, and which sport did you enjoy the most? We had a great group of athletes going through the high school during that time. Not only did we win those state tournaments but we also won the 1st-ever state track meet in 1975, the 1st-ever state volleyball tourney in the fall of 1975, and the 1st-ever state basketball tourney in the spring of 1976! 3 state titles in a 1-year period will probably never be repeated. I loved volleyball…but thanks to Title IX I was offered full scholarships in basketball and only partial scholarships in volleyball.
You attended Ohio State for 1 year before transferring to Tennessee: why did you decide to transfer, and what made you choose the Volunteers? I was heavily recruited by Coach Pat Summitt while in high school. The day I told her that I was staying close to home and going to OSU, I felt that I had made a mistake. I had a great freshman year (winning Big 10 ROY), but due to some circumstances I switched to UT the following summer. My career took off due to the intense training from the Tennessee staff.
In 1980 you shot a school-record 67.9 FG% while winning the 1st-ever SEC women's tourney as a starter alongside Holly Warlick: what is the key to being a great shooter, and were you surprised that Holly later became a coach? My father was a huge credit to my shooting ability. Correct shooting form kind of came naturally to me, but my dad made me shoot hundreds of shots on our driveway court before doing anything else and it paid off. Holly was a great teammate: she was a leader both on and off the court and had a positive attitude all of the time. It did not surprise me at all when she was awarded the position at Tennessee: she is 1 of Knoxville's finest.
That summer you made the US Olympic team: how did you feel about the boycott? It was very disheartening. We had won the pre-Olympic tournament held in Bulgaria and had a great team put together and coached by a great duo of head coach Sue Gunter and assistant coach Pat Summitt. Fortunately, I was one of the younger players on the team so my international career was not over. I had one more year of college and then played overseas in Italy for 1 year and in Japan for 1 year prior to the 1984 Olympic trials.
You made it to the AIAW tourney title game in 1980 and 1981 and lost both times (the 1st time to defending champ Old Dominion and the 2nd time to a Louisiana Tech team that finished 34-0): where do those rank among the most devastating losses of your career? We were at the top of the game. They were big losses but Pat turned the tables and had such a positive attitude towards us afterward the games that we all followed suit.
In 1981 you were named All-American: what did it mean to you to receive such an outstanding honor? It was a huge honor to be named to a list of the top-12 players in the nation during my senior year. After not making it to the 1980 Olympics I wanted to continue to play somewhere, so it increased my chances of being picked up by a foreign team. I was picked up by a team in Italy and then a team in Japan the next year. The Japanese experience heightened my game due to the intense day-long training and length of the season, so I was on top of my game for the 1984 Olympic trials.
After graduating you played professionally in Italy and Japan: what is the biggest difference between college basketball and pro basketball? Both were really a business and both had high expectations for me. I loved every minute of both levels of play and would never trade those experiences for anything in the world…but I still keep up with Tennessee and many of their athletic programs: Go Vols!
You played for team USA at the 1984 Olympics: what was it like to play for your college coach, and what did it mean to you to win a gold medal? I remember watching Ann Meyers do her thing on the court in 1976, the 1st time that women's basketball was part of the Olympics. She was accompanied by a hard-working farm girl who thrived on her defense, and that team won the silver medal in Montreal. I was a junior in high school: at that moment I wanted to work hard because I thought I had the tools to get to that level. Never did I dream that I would soon be getting drilled in practice by that defensive specialist from the 1976 team (Pat Summitt!) and that Ann would be my roommate in Squaw Valley a short time later representing team USA. Winning the gold was the icing on the cake of my career. I was so blessed to have somehow taken the road to success that I did. Don't get me wrong: there were times that I stumbled…but I got up time and time again.
In 1985 you were named assistant coach at Kentucky: why did you take the job, and how seriously do Wildcats fans take their basketball? I returned to Japan for 1 last season after the 1984 Olympics. I had hit about every plateau that a player could reach and I was ready to hang up my shoes. I love the SEC and UK had an assistant position come open during the summer of 1985. I applied and was hired by Terry Hall, a long-time coach for the Lady Wildcats. I was honored to be a part of their program during the 4 years that I spent there.
In 2000 you were inducted into the Women's Basketball Hall of Fame: where does that rank among the highlights of your career? It is a very special award. It was even greater that evening because the presenter for my induction was Coach Summitt. The Hall of Fame is located in downtown Knoxville, so my children/husband/father and some great friends were all there to help me celebrate.