The National Sports Collectors Convention (nsccshow.com) is an annual summer gathering of collectors/dealers who have a passion for trading cards, autographs, and any kind of memorabilia that you can think of. First formed in 1980, it is now the premier collectibles industry event that attracts a majority of the licensing agencies from around the professional sports world. The 37th "National" was held during the 1st week of August at the Atlantic City Convention Center, and next summer it will head back to the Midwest in Chicago. HoopsHD's Jon Teitel attended this year's event and will present photo essay installments of all the college basketball merchandise he saw in person.
We now come to the Kentucky Wildcats portion of our show.  The good news is that I found a guy with plenty of programs and ticket stubs.  The bad news is that he wished to remain anonymous, so I cannot even give him a shout-out.  Without any further adieu, here are 4 of my favorites:
1. This is a program from the 1970 Mideast Regional in Columbus, OH.  Apparently they did not play defense back in the 70s: Jacksonville won the 1st Sweet 16 matchup 104-103 over Iowa, Kentucky won their own game 109-99 over Notre Dame, and then Jacksonville beat the Wildcats 106-100 in the regional final.  Kentucky was ranked #1 in the nation and was led by future Hall of Famer Dan Issel with 28 PTS/10 REB, but the underdog Dolphins had a future Hall of Famer of their own in Artis Gilmore who had 24 PTS/20 REB.  Jacksonville ended up making the title game before losing to UCLA.  This official program originally cost 25 cents, but today it will cost you $50.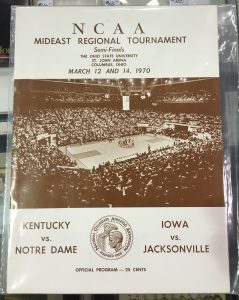 2. This program goes back even further, dating to Kentucky's game against Minnesota at Memorial Coliseum on 12/28/53.  Dick Garmaker led the Gophers with 23 PTS but was no match for future Hall of Famers Cliff Hagan/Frank Ramsey who combined to score 43 PTS in the Wildcats' 74-59 victory.  Kentucky finished a perfect 25-0 in the regular season but did not play in the NCAA tourney.  Several of their best players had graduated the previous year while Kentucky was still on probation from their 1951 point-shaving scandal, and when those players were ruled ineligible for the NCAA tourney Coach Adolph Rupp decided that his team would not participate.  With 3 Hall of Famers (Hagan/Ramsey/Rupp) from 1 of the best teams ever on the cover, this 1 seems like a steal to me at only $150.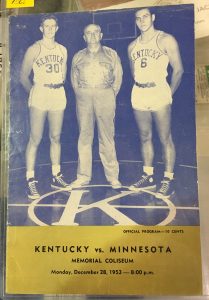 3. The most recent item I saw was from the Cats' trip to the 1998 Final 4 at the Alamodome, which was their 3rd straight appearance in the title game.  The other 3 teams were 2 who had not been there in decades (Stanford/Utah) and another blue-blood making its 3rd Final 4 in 6 seasons (North Carolina).  These "Comeback Cats" had their hands full, but had an 86-85 OT win over Stanford in the semis and then beat Utah 78-69 to win the 7th national title in school history.  Jeff Sheppard scored 16 PTS against the Utes and was named tourney MOP.  Coach Tubby Smith won 35 games in his 1st year on the sideline in Lexington, and if you want a pair of memories from this championship season you can have this pair of tickets for $100.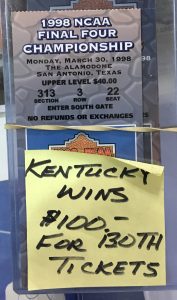 4. When I 1st saw this ticket from the 1975 title game at the San Diego Sports Arena I must confess that I was less than impressed.  When I realized that Kevin Grevey scored 34 PTS in a 92-85 losing effort to UCLA, who got double-doubles from 3 different players (Ralph Drollinger/Dave Meyers/tourney MOP Richard Washington), I could not even understand why a Kentucky fan would want to own this.  When I learned that this was the final game of Bruins' coach John Wooden's Hall of Fame career, I wanted it.  Wooden only used 6 players but apparently he knew what he was doing as he won his 10th title in 12 years.  This was the 1st title game that took place during my lifetime, and it was on sale for $295.