CLICK HERE for all of the Hoops HD preseason interviews, articles, and conference previews
We continue our 2016-17 season preview interview series with Butler SR PF Andrew Chrabascz. His fame is growing, his game is glowing, and his name…rhymes with absolutely nothing.  As a freshman at Butler he was named to the Big East All-Rookie Team, and he has scored at least 20 PTS against top-3 seeds in each of the past 2 NCAA tourneys.  HoopsHD's Jon Teitel got to chat with Andrew about his high school mentor and overcoming multiple injuries.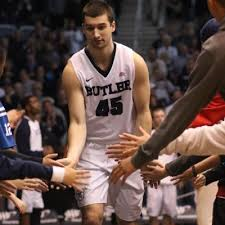 During high school you had private workouts with former NBA player Chris Herren: how did he help you improve both on or off the court? I started working with him after my freshman year. I used to just be a big man who played with my back to the basket, but Chris taught me a lot of guard skills. He also helped me a lot off the court by teaching me what path to follow and how to stay on the straight and narrow. I still keep in touch with him and love his family tremendously.
In 2014 you were named to the Big East All-Rookie team: how were you able to come in and contribute right from the start? My mindset was just to help the team as much as possible, which is still my mindset. Once my number got called to step onto the court I just tried to play balls to the wall. I have great teammates and it was a special moment to be named to the All-Rookie Team.
In the 2015 NCAA tourney you scored 20 PTS in a 3-PT OT loss to Notre Dame: how close did you come to pulling off the upset? We played to our plan perfectly: if we had made a couple of more shots at the end of the game then we would have advanced. It was a sour feeling to lose but I give all the credit to Notre Dame.
In the 2016 NCAA tourney you scored 25 PTS/4-4 3PM in an 8-PT loss to Virginia: what did you learn from that game that you think can help you this year? We learned that we have to be more defensive-minded. In the 1st half we took the lead but in the 2nd half they shot almost 80 FG%: nobody can win a game when you let a team shoot that well. We just have to stay together, which we did for the most part.
You play for Coach Chris Holtmann: what makes him such a good coach, and what is the most important thing that you have ever learned from him? He can relate to his players and has created great relationships with everyone. We all love to hold each other accountable and we respect that he just wants the best out of the team. He is good at motivating us and is great at game-preparation.
You missed some time during your career with a concussion and a broken right hand: how is your health at the moment? It is good. I feel great and the entire team is also doing well. It is nice to have the whole team together and working hard.
Your non-conference schedule includes games against Northwestern/Vanderbilt/Arizona/Utah/Cincinnati/Indiana: which of these games do you feel will present your biggest test? We look at every game as a huge test, so it is exciting for us to compete every night. The IU game is an obvious 1 because we are in the same state, but we know that we will have to bring our best for all those games.
You are 1 of 6 seniors on the roster: how crucial will all of that experience be to your team's success? It will be huge. We lost a couple of vocal guys from last year in Roosevelt Jones/Kellen Dunham, but it helps to have several veteran players who know what it takes to win. When we face adversity and have setbacks, our experience will allow us to fight back.
Your father Carl played basketball at Penn State and then the Washington Generals: who is the best athlete in the family? He beat me the last time we played when I was 12 years old so I guess that I have to give it to him…which is a tough thing to say!
What are your goals for the upcoming season, and what are your expectations for the upcoming season? We are just trying to improve every day and make strides in the right direction: it is too early to set any goals. I think we will have a chance to do real well and I want to make it to the NCAA tourney.