CLICK HERE for all of the Hoops HD Preseason Articles, Interviews, and Conference Previews
We continue our 2016-17 season preview interview series with Chattanooga SR PG Greg Pryor.  If senior point guards are a coach's best friend then Coach Matt McCall will not be lonely for the next several months.  Pryor was named SoCon tourney MVP last March and will try to lead his team back to the NCAA tourney next March.  He was #1 on the team in STL as a sophomore and #1 on the team in AST as a junior.  HoopsHD's Jon Teitel got to chat with Greg about being a senior leader and having a birthday on September 11th.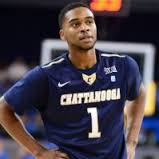 You were born on September 11, 1995: what do you remember about 9/11/01, and how does it impact your birthday every fall (if at all)? I was at my birthday party at school in Jacksonville and I remember everyone having to go home. My family had planned to go to a water park that day but my mom said we would have to go another time. I do not really think about it too much any more: I just try to wrap my head around the fact that people lost their lives on a day that happens to be special for me.
You got a new head coach last year in Matt McCall: what makes him such a good coach, and what is the most important thing that you have ever learned from him? He has a great knowledge of the game after working under Coach Billy Donovan at Florida. He lets us play freely and we do not overthink everything. We just play off our teammates and do not worry about what will happen if we do something wrong.
In the 2016 SoCon tourney title game you scored 13 PTS in a 6-PT win over East Tennessee State en route to being named conference tourney MVP: how hard is it to win 3 games in 3 days, and how were you able to play your best when it mattered the most? It is really hard to win 3 games in 3 days but that is why we work so hard over the summer and at practice. You have to be mentally prepared for it and know that your teammates have your back. Once you get divided things start to go downhill and you cannot recover from that. We know there is no tomorrow in the postseason: you have to fix any problems right then.
In the 2016 NCAA tourney you scored 8 PTS in a loss to Indiana: what did you learn from that game that you think can help you this year? You cannot let the moment overcome the task at hand: you just have to go out and play like it was any other game. Do not let the hype of the environment affect your play: just have all of your teammates stick together and do what you did to get to that position.
PF Justin Tuoyo transferred from VCU a couple of years ago and is the 2-time reigning conference DPOY: what makes him such a great defender? He is a great player who talks a lot on defense and helps out a lot. He has great timing for a shot-blocker and has a great feel around the rim.
Your non-conference schedule includes games against Tennessee/North Carolina/Vanderbilt: which of these games do you feel will present your biggest test? Every game will test us as a team: even if we are playing the best or worst team in the nation we still have to just play the same way we always play.
You are 1 of 4 guys from Tennessee on the roster: what is the basketball scene like in the state right now, and what makes guys choose the Mocs over the Blue Raiders/Tigers/Volunteers? Myself and a lot of my teammates were not heavily recruited out of high school and our routes took us all here. We have the same mindset of having to work hard because nothing was given to us. We push each other every day to get better on the court: our team feels like a family. I love Chattanooga and everything that it has done for me.
You are also 1 of 6 seniors on the roster: how crucial will all of that experience be to your team's success this year? We have been together for 4 years now through good times and bad times. We learned each other's strengths and weaknesses, which is a plus for us. We have to be leaders and are on the same page at all times. We had to build it from the bottom up and teach the younger players to keep it going by accepting what we have built here.
Your father Greg played football at Delta State: who is the best athlete in the family? He also ran track while I chose baseball/basketball. I tried playing football for 1 year but got hurt: it left a bad taste in my mouth.
What are your goals for the upcoming season, and what are your expectations for the upcoming season? We have no expectations: we will just focus on 1 game at a time and cannot live off of making it to the NCAA tourney last year. We will have a target on our backs and will just play our hardest.