If you want to see the NBA stars of tomorrow then forget the Final 4: the Nike Hoop Summit tonight in Portland is the place to find them.  The 20th annual game features the USA Junior National Select Team (AKA America's top high school seniors) taking on the world (AKA the World Select Team).  Each of the 1st 3 picks in the 2016 NBA Draft (Ben Simmons/Brandon Ingram/Jaylen Brown) were former Nike Hoop Summit players, and tonight's game should be no different with guys who will be college super-freshmen this fall including Wendell Carter Jr. (Duke), Michael Porter Jr. (Missouri), and Collin Sexton (Alabama).  1 member of Team USA who has not yet made his college decision is Mohamed (Mo) Bamba, but the 6'11" McDonald's All-American has his pick of spectacular schools with his "Final 4" down to Duke/Kentucky/Michigan/Texas.  HoopsHD's Jon Teitel got to chat with Mo earlier today about winning a gold medal last summer and what position he hopes to play at the next level.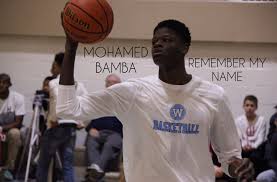 You grew up in Harlem and went to high school in the Philadelphia suburbs: why did you make the move, and was it difficult? There were a bunch of reasons but the most important was that I just needed a change of scenery. It was a definite culture shock when I arrived.
Your brother Sidiki Johnson played for Arizona/Providence: who is the best athlete in the family? I think it might be me now but I learned a lot from both him and my middle brother Ibrahim who played NAIA/D-3/D-2.  They might have had me beat in a couple of areas but I am finally catching up.
Last summer you played for team USA at the FIBA Americas U18 World Championship in Chile: what did it mean to you to win a gold medal? It meant the world to me to represent my country at such a high level and play my best. Our team had instant camaraderie, which made it all the better.
You have a 7'8" wingspan: how much of an advantage is your length on the court? It is a huge advantage because it allows me to intimidate both passers/shooters.
Fellow Class of 2017 top prospect DeAndre Ayton said that you are "dominant" on the defensive end: what is your secret for blocking/altering shots? There is no secret: you just have to go out there and want to dominate. Not many people like to play defense but I enjoy it because it leads to easy offense.
You have stated that you prefer to play a stretch 4 rather than be a true center down in the post: which position do you feel will be your best fit in college, and what if the team you pick already has an established PF? I think that I can have an impact anywhere on the floor but as a 4 I can move out to the 3-PT line and make some shots.  However, when I play for team USA I often play inside at the 5.
Last week you had a game-high 17 PTS/4 BLK for the East in a 2-PT loss to the West in the McDonald's All American Game in Chicago: which of your fellow honorees impressed you the most? I would say Mike (Porter Jr.): he went out there and played his butt off (17 PTS/8 REB). Colin (Sexton: 8 PTS/7 AST/4 STL) and Mitchell (Robinson: 14 PTS/7-9 FG) were other notable guys who also played really well.
Tonight you will play for team USA at the Nike Hoop Summit in Portland: what do you know about RJ Barrett (1 of the top prospects in the Class of 2019 who is from Canada), and how is Kentucky commit Quade Green doing after suffering a concussion earlier this week (while also pleading with you on TV to join him in Lexington!)? Quade hit his head but is just dinged up: it sucks that he is out because I like playing with him. I do not know much about RJ so I guess he will just have to prove himself to me later tonight!
Your own "Final 4" list of schools includes Duke/Kentucky/Michigan/Texas: how excited are you for the process to finally reach a conclusion? It is winding down so I am looking forward to getting on campus and starting to make an impact.
You mentioned that a school's head coach is a "big rock" for you when it comes to picking a school: do you feel like you cannot go wrong when your choices are John Beilein/Mike Krzyzewski/John Calipari/Shaka Smart? Absolutely: that is what makes the decision so hard. I want to go somewhere where we can win games…in April!