Some players make a difference on the court, some make a difference off the court, and some make a difference everywhere they go.  Mack Calvin went to college at USC and all he did was help beat a UCLA team featuring Lew Alcindor/John Wooden at Pauley Pavilion.  After school he joined the ABA, where he appeared in 5 straight All-Star games and was later named to the ABA All-Time Team.  HoopsHD's Jon Teitel got to chat with Mack about his fantastic career and what made him such a great scorer.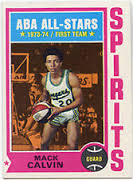 On 3/8/69 as a player at USC you beat UCLA 46–44 in Lew Alcindor's regular season college finale at Pauley Pavilion to give him only the 2nd loss of his 3-year varsity career and snap the Bruins' 41-game overall winning streak/51-game home winning streak: how were you able to pull off the upset in what you called the "single greatest thing that happened to me in basketball"? It was! I was a senior: we had practiced all year on the stall technique but had no idea we would put it to use in that game. The game plan worked to perfection. The best game was actually the night before at the LA Sports Arena: I scored almost 30 PTS but we lost in double-OT. We came back to the hotel and were crying even though we lost to the greatest college player ever in my opinion. Our coach told us to keep our heads up and that we were going to beat them the next night: I could not believe it because they had not lost at Pauley Pavilion in several years. The headline the next day in the LA Times was from Coach John Wooden: "Stalls are for horses", which infuriated our coach Bob Boyd.
You played 7 years in the ABA and then 4 years in the NBA: why did you originally choose the ABA, and what was the biggest difference between the 2 leagues? I did not really choose the ABA: they chose me. I had 2 great years at USC and was fortunate that the LA Stars drafted me in the 7th round. The Lakers drafted me in the 14th round but I chose the Stars because they offered me the best opportunity: a $2500 bonus and a salary of $12,000/year. In contrast, the Lakers offered me a tryout, a free Jerry West autograph, and a bus ticket, so it was no choice at all! There were 7 guards ahead of me on the Stars with guaranteed contracts, so after every practice I left the gym with my clothes on before Coach Bill Sharman had a chance to cut me. After 2 weeks I was scared as hell but I played well and ended up making the team.
In your 1st year you scored 16.8 PPG for the Stars and made the ABA All-Rookie Team: how were you able to come in and contribute right from the start? We won 23 of our final 27 games just to make the playoffs. My scoring average increased to 24 PPG in the playoffs and we made the Finals before losing to the Pacers. The ABA was made for me because I was a quick guard who could make 3-PT shots and drive to the basket. We were more of a methodical team at USC, whereas the NBA was a big-guard league. The ABA was a little man's league, kind of like the way the game is played today without a prototype center. I played for a former guard in Sharman, who was 1 of the greatest coaches ever, so it was a no-brainer.
The following year you scored a career-high 27.2 PPG for The Floridians (#3 in the league behind Dan Issel/John Brisker): what is the secret to being a great scorer? For me it was just the ability to make FTs/jump shots. I learned my craft from Jerry West: I followed him as a young kid and patterned my game after him. Coach Sharman allowed me to run the show like Steph Curry/Chris Paul and my quickness was finally unleashed.
You also set an ABA record that season with 696 FTM, and your 3554 career FTM is #1 in ABA history: how were you able to get to the line so often? Speed, quickness, and being very crafty. I always initiated the contact and then did my Hollywood act! I played against a lot of older guys who I learned a lot of tricks from. Coach Sharman taught me that you had to make FTs to be a great guard and always be in attack mode.
Your 3067 career AST is #2 in ABA history behind Louie Dampier: how were you able to balance your scoring with your passing? I just had the ability to see if help was coming and then find the open man. Sharman taught me to push the ball up the court, beat my man, drive to the basket, and then dish off if necessary. I did that with regularity, which I am very proud of. I did not play as well after the merger due to some injuries, but the ability to create is key.
You led the ABA in FT% for 2 years in a row and your 86.3 career FT% remains top-40 all-time among both leagues: what is the key to making FTs? Repetition and using your legs. You have to shoot it the same way every time and focus on a certain spot on the rim. Sharman was an amazing FT shooter yourself.
You were an ABA All-Star each year from 1971-1975: did you feel like you could hold your own against anyone in the league? I really did not feel like I had a peer in the ABA and did not think that anyone was better than me. We had some good guards but I thought that I was a far better scorer who could run a team. I think I was the Chris Paul of the 1970s: when you have so many weapons to break down a defense you can create a lot of havoc. I was a 3-time 1st-team All-ABA player, which means that I was 1 of the top-5 players in the league: numbers don't lie!
In 1997 you were 1 of 30 players named to the ABA All-Time Team: where does that rank among the highlights of your career? I am very proud of that. I was nominated as the top PG and today I stand around #13 or #14 when ranking the best ABA players ever. It meant a lot to be recognized by both my peers and the media. My only disappointment is that I got injured in the last year before the merger when I tore the tendon in my quadriceps, so the opportunity was not there. If I had been healthy then I have no doubt that I would already be in the Hall of Fame. I only played on 1 team with a losing record and was secretary of the ABA's union. For a 14th round pick you are often yesterday's news but I have been tremendously blessed: it would be a great honor if the Hall of Fame would vote me in. That would be the pinnacle of my career. I do a lot of speaking at schools and it would be a great platform to show kids that no matter your size or humble beginnings you can still make it. I started at Long Beach CC but ended up with over 100 scholarship offers. When you get older you hope that your family can enjoy it: I had a good run and basketball helped me do great things off the court.