Jimmy Hall has been a winner for most of his life: he was part of an undefeated national title team at St. Anthony's High School, then finished his college career with a MAC tourney title and a trip to the NCAA tourney. Plenty of players come close to averaging a double-double, but he was the only 1 in the nation last year with 19 PPG & 10.5 RPG. As Jimmy prepares for the NBA draft in June, HoopsHD's Jon Teitel got to chat with him about playing for a Hall of Fame coach in high school and what it would mean to him to get drafted.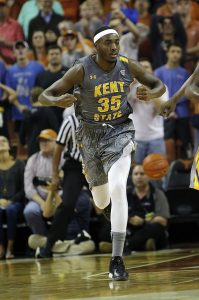 In 2011 you went 33-0 and won a national title at St. Anthony's High School with teammate Kyle Anderson and Hall of Fame coach Bob Hurley Sr.: have you talked to Kyle at all about what the NBA is like, and what make Hurley such a great coach? I have talked to Kyle a lot about pro basketball. Playing at St. Anthony's gave me a great work ethic because Coach Hurley taught us to remain consistent and grind through things. From the weight room to off-court situations, he taught us to work hard and be humble.
Your mother/sister ended up moving to Kent to be near you: how important was it to have that support network so close, and will they follow you to your next basketball city? Their support has been very helpful. My mom has always been there for me but it is great to have her and my sister come to my games in college: they act as great motivation. My mom is a big part of my life so I think that she will stick with me through the next step in my career. However, she is very big on education so she might stay because if she works at Kent State then she can receive free tuition.
As a senior you became the only player in the nation to average 19 PPG/10.5 RPG: how do you balance your scoring with your rebounding? I just continued to grind and out-work my opponent. I go for every rebound I can and try to hit open shots when I get to my spots. I know that I can get a couple of points every game just by grabbing some offensive rebounds and then making a put-back.
You also finished the season #1 in the conference with 49 BLK: what is your secret for blocking shots? I try to use my length because I have a long wingspan. I also try to stay vertical and jump straight up, which is a big thing in the NBA. I also try to watch a lot of the best shot-blockers in the NBA like the Greek Freak and Rudy Gobert: a lot of their success on defense is about timing/length.
In the 2017 MAC tourney title game you had 19 PTS/9-12 FG/10 REB in a 5-PT win over Akron: how were you able to play your best when it mattered the most, and what did it mean to you to win the title? I had a lot of confidence in myself and believed in my game plan because what I had been doing had been working well. Growing up in New York City there are a lot of people who attend the biggest games and cheer for the best players: it is hard to explain but I have always liked playing well in big games. Winning the title as a senior meant everything to me. We fell short the year before and had some ups and downs earlier this year, but we stuck together as a #6-seed to beat each of the top-3 seeds (Akron/Ohio/Buffalo).
In the 2017 NCAA tourney you had 20 PTS/15 REB in loss to UCLA: what did you think of fellow big man TJ Leaf, and how important was it for you to show what you could do against top-level competition? It was real fun to play in the NCAA tourney. TJ is explosive and has a great post game so I was very impressed. It was good for me to show everyone that I can do well against top competition. I always tried to rise to the occasion when I had the opportunity: we played a big-time schedule at St. Anthony's when we went undefeated.
What part of your skill set makes you different from other forwards in this year's draft? I think that I have the ability to handle the ball and guard small forwards. I have been working on my dribbling a lot and my skills in the post will set me apart. I feel like I am a very unique player and can score on anybody: if you throw it to me in the post I will either get a bucket or find an open man for a 3-PT shot if I get double-teamed.
Do you have a favorite NBA team/current player, and which NBA player is your game most similar to? My favorite team is the Knicks because I am from New York. I like players like Zach Randolph/Paul Millsap because I think their games are similar to mine, so to play with either of them would be a great feeling. I also like Draymond Green.
What would you be able to bring to an NBA team? I feel like I can bring great energy, an extremely solid work ethic, and the ability to be a great teammate. I am fun to be around but will work hard on the court, which is what you need on a team. I will do whatever it take to make an NBA team and then stick around.
What would it mean to you to get drafted: a validation of your college career, the realization of a lifelong dream of reaching the NBA, or other? At the start of my senior year I set a goal to make the NCAA tourney, and we ended up making it. I have been playing basketball since age 7 so to make it to the NBA would be unbelievable. I want my family to be proud of me and show them that I can accomplish my dreams.