Every sport has its own kind of perfection: Don Larsen in baseball, the 1972 Miami Dolphins in football, etc.  When it comes to college basketball there have been several teams who went undefeated but it has not happened since Indiana coach Bob Knight led his Hoosiers to an undefeated NCAA title in 1976.  Earlier this year Showtime premiered the documentary "Perfect In '76" produced by former HBO Sports president Ross Greenburg, who now has a production company that create some of the most compelling sports stories on television.  In addition to producing the film, he is an executive-in-residence and a faculty member of the Iona College School of Business.  After their undefeated season in 1975 was ruined by Kentucky in the Elite 8, Coach Knight came back the following year on a mission to win every single game.  Thanks to a lineup featuring several future 1st round draft picks (Scott May/Quinn Buckner/Bob Wilkerson/Kent Benson), the Hoosiers beat Michigan in the 1976 title game to finish a perfect 32-0.  HoopsHD's Jon Teitel got to chat with Ross earlier today about how the idea for the documentary came about and whether he thinks we will ever see another undefeated team in college basketball.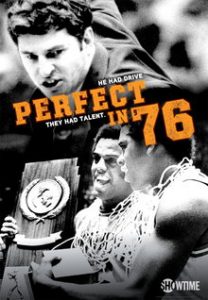 How did the idea of making this film come about, and how were you able to get John Mellencamp to narrate it? Bob Knight is represented by an agent named Sandy Montag, and I have gotten to know them both very well over the years. I wanted to focus on Knight's time at Indiana but he was reluctant because most people only care about the chair that he threw across the court against Purdue in 1985. I came up with the idea to focus on the 1976 season after Kentucky made their own run toward perfection a couple of years ago. Bob agreed to do it, we sold it to Showtime, and were able to put it together 1 year later.  We are very proud of the finished product. Our director George Roy mentioned that Mellencamp lived in Bloomington and was passionate about the Hoosiers. I approached John's agent and not only did John say that he would be happy to do it, but he even offered to open up his music library if we wanted any songs for the film.
The documentary features audio recordings from some of Knight's coaching mentors: what impact did Hall of Famers like Red Auerbach/Pete Newell have on him either on or off the court? They both had a huge impact on him. He counted on them for personal counsel as well as words of wisdom to share with his players. He would record his mentor's words on a recording device and then play it back for his players in the locker room: we had the photos of that. He loved having mentors and credited those 2 and many others (including Hall of Fame coach Hank Iba) as having an impact on him as a coach.
Knight is known for both his fiery temper as well as being a Hall of Fame coach who had a strong relationship with his players: how was he able to balance the dual roles of patting them on the back and kicking them in the butt? He definitely said that there were callous times when his players would wonder why he was upset with them after they won a game by 20 PTS, but that was because he demanded perfection out of them. His players also demanded a lot of themselves and they would not accept anything less. The balance was easy to achieve with that group of players because they bought into it and enjoyed being driven to the max. He wanted them to play strong defense and instilled that via arduous practices. His players admitted that they could not have gone undefeated without him.
He conducted brutal practices including drills on how to take a charge: was that part of his Army mentality or his defensive-1st philosophy or other? He definitely emphasized defense, which was a result of the disciplinary approach he picked up at West Point. It was a logical step to bring that to Indiana and give it a shot. The players talked about how relentless their practices were and how their coach barked at them, but they accepted it because they knew it would make them better on the court.
The seeds of the 1976 Indiana team were planted during the spring of 1975 when the Hoosiers made it all the way to the Elite 8 before a 92-90 loss to Kentucky gave them their only defeat of the season: do you think that they would have gone undefeated in 1975 if Scott May had not broken his left arm, and do you agree with Knight's belief that the 1975 version was the best team he ever coached? I do agree with Coach Knight because he had some outstanding seniors: even though he returned 4 starters in 1976 he blamed himself for separating 2 of the best defensive guards in history to cover for the loss of May. It definitely set up 1976 because he stewed over the loss for several months. The day before practice started in the fall of 1975 he challenged them not just to win a Big 10 title or NCAA title but to go undefeated, and I do not think that he would have done that had he not suffered through the Kentucky loss.
In November of 1975 the Hoosiers beat the reigning world champion Soviet National team 94–78 in a preseason exhibition game (Scott May scored 34 PTS/13-15 FG): how much of a home-court advantage did they have at a sold-out Market Square Arena? The place was in a frenzy. We could have built up that story a little more after the US had an Olympic gold medal stolen from them in the 1972 Olympics, which was a horrible loss for Coach Iba. Knight had so much respect for Iba that he wanted to bring in the same Soviet team and give them a thrashing on American soil. It was a hostile arena and the fans got behind their local team but make no mistake: even though the Hoosiers were college kids playing against grown men who were essentially professionals from overseas, they were still the better team.
Indiana dominated the Big 10 with an average winning margin of 23 PPG in conference play: was it just a down year for the conference or were the Hoosiers just that much better than everyone else? They faced Michigan twice in conference play and almost lost to them during the regular season before a miraculous tip-in by Kent Benson helped them beat the Wolverines in OT on February 7th. Nobody can say they had a "patsy" schedule: they also beat defending national champ UCLA in their regular season debut. I think their dominance was due to their incredible play and the fact that team had been together for virtually 4 years: they were not a mid-major team with a soft schedule.
Knight ran a motion offense to get his guys open shots and instilled a man-to-man defense whose 64.8 PPG allowed was #12 in the nation: was the key to their success the offense or defense or both? Both: he demanded they play great defense and but he had guys who played well at both ends of the court. Wilkerson in particular might have been 1 of the greatest defenders in NCAA history but they were also a scoring machine on the offensive end. They constantly moved the basketball and had great leaders like Quinn Buckner.
The Hoosiers trailed conference rival Michigan by 6 PTS at halftime of the NCAA title game, but came out and scored an NCAA record 57 PTS in the 2nd half to win by a final score of 86-68: how where they able to play what Knight later referred to as "the perfect half"? He did not give a volatile halftime speech: Knight just told his players that they had 20 minutes left to prove they were the best…and they did. They took the court and simply played the most flawless 2nd half in the history of college basketball, which put an exclamation point on their dominance. If you cannot get a chill up your spine when watching that part of the film then you are soulless: there was such a love affair between the coach and players that is 1 of the best parts of sports.
That legendary squad remains the last college basketball team to go undefeated despite some close calls in the past few years (2014 Wichita State went 35-1 and 2015 Kentucky went 38-1): do you think that we will ever see another team achieve perfection? I would imagine there might be another perfect team someday because Kentucky came so close and had the talent to do it. However, over time we will have to see if the current "1-and-done" mentality will ever enable a coach to mold a team over 4 years like Coach Knight did back in 1976. When your best freshmen leave after 1 year it crushes the ability of a team to mold itself into a dominant squad in such a short period of time…but having said that, the achievement is possible.