The Final 4 is not only the culmination of the best 3-week tournament in sports: it also serves as the final step of our season-long journey from Midnight Madness to 1 Shining Moment.  With his home state of Arizona playing Final 4 host for the 1st time ever, there was no way that HoopsHD's Jon Teitel was going to miss the chance to head out west and check out as much of the action as possible.  While he was unable to finagle a press pass from the NCAA, he was able to attend all the ancillary activities including the College Slam Dunk & 3-Point Contest, an open practice featuring all 4 teams, the College All-Star Game, and the Fan Fest.  We already covered the 1st 2 days during the past few weeks, and we conclude with all the action from Fan Fest the day before the title game.
I tried to interview Christian Laettner earlier that weekend but everyone wanted a piece of him.  On April Fools Day he was back on the court leading a clinic, so this was the closest that I could get: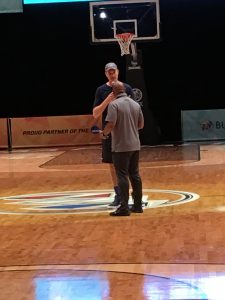 It was mostly a day full of players, but for you ESPN fans there was also a Seth Greenberg sighting: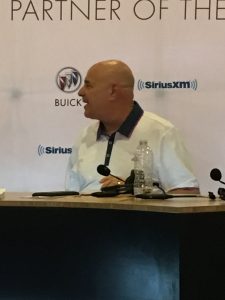 The star of the show was Hall of Famer David Robinson.  The line to get his autograph seemed to go on forever, but the Admiral looked great for a guy who graduated from the Naval Academy 3 decades ago.  I just wish I could figure out who was sponsoring his appearance: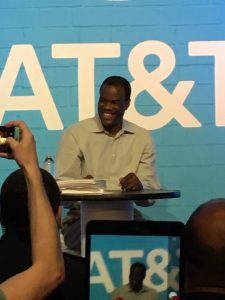 All the Wildcat fans came out to see Robinson's former San Antonio teammate Sean Elliott.  If he had any eligibility left then perhaps Arizona would have made it back to the Final 4: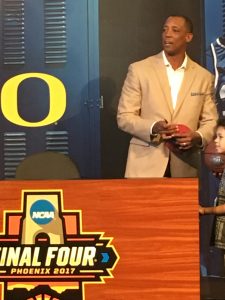 The Suns fans who like their crafty veterans came out to see Eddie Johnson just blocks away from where he used to regularly light up the scoreboard with his sweet jump shot: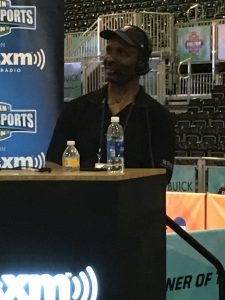 The schedule makers saved the best for last.  Exactly 8 days after becoming the youngest NBA player to ever score 70 points in a game, Suns SG Devin Booker showed up with a small army of security to a boisterous reception from the hometown fans, even though his Kentucky Wildcats were unable to join him at the Final 4.  I do not know if the 20-year old is ever going to make an All-Star team or win a title, but when you cheer for a team that just lost more games than the LAKERS you take pride in his career so far and maintain hope that there is nowhere to go but up: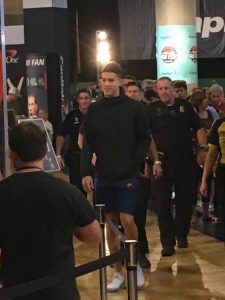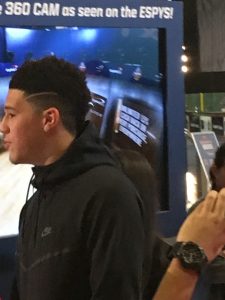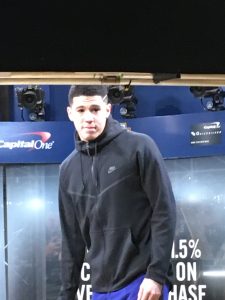 And that is a wrap from Arizona, scene of a fantastic Final 4, hope to see you next spring in San Antonio!