Most college coaches measure their success by how many games they win in March, but some of them are lucky enough to make the leap to pro basketball and try to win a championship in May/June.  1 who has achieved success at both levels is former coach John Kresse.  This month marks the 45th anniversary of Kresse making the ABA Finals as an assistant to Lou Carnesecca with the New York Nets.  After heading back to the amateur level as head coach at Charleston he won an NAIA national title in 1983 and made the postseason 6 straight years from 1994-1999.  He won more than 550 games in his Charleston career and eventually had the arena and court named in his honor.  HoopsHD's Jon Teitel got to chat with Coach Kresse about playing for 1 Hall of Fame coach (Joe Lapchick) and working for another (Carnesecca).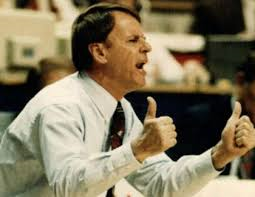 You walked onto the St. John's basketball team as a freshman, and earned a scholarship from Hall of Fame coach Joe Lapchick as a sophomore: what was it like to play for the legendary Lapchick? He was an "Original Celtic" from the 1930s who later coached both St. John's and the Knicks.
When Lapchick retired in 1965, Hall of Fame coach Lou Carnesecca hired you as his assistant coach: what made Carnesecca such a great coach? He is really my mentor as he helped me come to St. John's and then get a job as a high school coach in 1964. I spent 11 years with him at St. John's. He had great energy/enthusiasm and stressed the fundamentals of the game with his ABC's. He was a player's coach who did not have a big ego.
In 1970 you joined Carnesecca as assistant coach/director of player personnel/chief scout for the ABA's New York Nets: what was the biggest difference between college and the ABA, and what are your memories of the 1972 ABA Finals (Roger Brown scored 32 PTS in a 3-PT win by Indiana in the decisive Game 6)? In the pros you had to deal more with individuals/personalities so relationships/motivation were very important. 1972 was 1 of our best teams and we made it to the Finals before losing to a great Pacers team. It was a great experience. We played 116 games that year including exhibitions/playoffs!
In 1979 you became head coach at Charleston: why did you take the job? We had a great run in the 1979 NCAA tourney before losing to Penn in the Elite 8 and a couple of weeks later I took the job at Charleston. I was in my mid-30s and had been an assistant for 15 years so I wanted to see if I could become a head coach. We had some great players and I ended up staying 23 years.
In 1983 you won the NAIA title after PG Stephen Yetman drew a charge in the final seconds to clinch a 4-PT win over West Virginia Wesleyan: what did it mean to you to win the title, and where does Yetman's play rank among the best defensive plays that you have ever seen? It was the 1st year we had won the conference title and got to go to Kansas City for the national tourney. We played 5 games in 5 days, which was tough. We beat Chaminade in the semis after they had upset #1 Virginia earlier that season. Stephen was named tourney MVP: he was a great offensive PG and a great defender.
What are your memories of the 1994 NCAA tourney (freshman Tim Duncan had 16 PTS/13 REB/8 BLK in a 10-PT win by Wake Forest)? When we made the jump to D-1 we were not allowed to get an NCAA tourney bid for 7 years, which I thought was unfair. We gave them a good game and kept it close for most of the game. It was a great moment in our school's history to finally have a chance to be a part of March Madness.
What are your memories of the 1997 NCAA tourney (Stacy Harris scored 22 PTS in a 9-PT upset of Maryland after Gary Williams benched Laron Profit/Terrell Stokes for being late to a team meeting, but tourney MOP Miles Simon scored 20 PTS in a 4-PT win by eventual national champion Arizona)? We were a #12 seed but had some great seniors like Thad Delaney/Anthony Johnson.  Arizona coach Lute Olson had a really good team despite only being a #4-seed. We were down by 2 PTS with 20 seconds left but Jermel President's shot bounced off the rim. We finished 29-3 (#16 in the AP poll) with losses to Oklahoma State, Kentucky, and Arizona.
What are your memories of the 1998 NCAA tourney in Chicago (Mark Madsen had 16 PTS/17 REB in a 10-PT win by Stanford)? That was another close game. We took the lead with 4 minutes left but could not hold on.
What are your memories of the 1999 NCAA tourney (your team made a 25-1 run but fell short in a 9-PT loss to Tulsa to end your 25-game winning streak)? Bill Self was Tulsa's coach. We fell behind 25 PTS in the 1st half but our conference POY Sedric Webber helped us make a run in the 2nd half by making four 3-PT shots. We finished #16 in the AP poll: we had some great teams during the 1990s.
Your career 79.7 W-L% remains 1 of the highest of any D-1 coach in history: what made you so successful? Great players make the coach and I was very lucky to have a great run for a long period of time. I stressed defense which helped us won a lot of close games. It was great to see the program grow both on and off the court. After retiring I remained at the college to teach some classes and do a couple of games as a TV analyst. I owe it all to Lapchick/Carnesecca.
The John Kresse Arena is named after you, and in 2008 Charleston moved to the Carolina First Arena where the playing surface is named John Kresse Court: what was your reaction like when you heard that the school would be doing this, and what does it feel like to walk into an arena and see your name on the court? When they told me that they were doing that I was baffled/excited. To have something named after you while you are still kicking is extremely special. Now we are at the TD Arena where the court is named after me. We even got to host St. John's in a game on ESPN, which was beyond my wildest dreams.
When people look back on your career, how do you want to be remembered the most? I want to be remembered as a teacher/coach who valued his student-athletes. I waved the flag at Charleston and tried to get people engaged in our program. I will say "Go Cougars" for the rest of my life!