Since the Finals did not end in a sweep last Friday night and Father's Day is right around the corner, what better time for an interview with the son of a former Finals MVP.  Wes Unseld won back-to-back Kentucky state high school championships before becoming a 2-time All-American at Louisville.  Drafted by the Baltimore Bullets in 1968, he won Rookie of the Year & MVP in 1969 and was named Finals MVP in 1978 after helping lead the Bullets to a Game 7 road win at Seattle.  In 1988 he was inducted into the Hall of Fame and in 1996 he was named 1 of the 50 Greatest Players in NBA history.  HoopsHD's Jon Teitel got to chat with his son Wes Unseld Jr. about being a great rebounder at Louisville and winning an NBA title.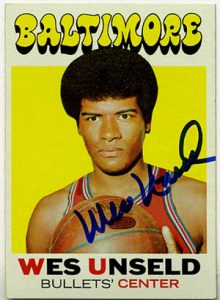 Your father was a 2-time all-state performer at Seneca High School and won back-to-back Kentucky state titles in 1963/1964: what did it mean to him to win a pair of titles? I am sure it meant a lot to him: he has lasting memories of that.
He stayed in his hometown of Louisville for college, where he led the conference in rebounding for 3 straight years (1966-1968): how was he able to be so dominant throughout his college career? His mentality when he stepped on the floor, especially when it came to rebounding, was that every shot was a miss so he would always put himself in position to rebound the ball.
What are your memories of the 1968 NCAA tourney (he had 23 PTS/22 REB in a loss to Houston, who was led by Elvin Hayes with 35 PTS/24 REB)? He spoke of that occasionally because he and Elvin later became opponents and then teammates in the NBA. It was an important game because it was the culmination of his college career.
He was named an All-American in 1967/1968: what did it mean to him to win such outstanding  honors? Anytime you get recognized for something that you love to do it is a tremendous honor.
In the summer of 1968 he was drafted 2nd overall by Baltimore in the NBA draft (1 spot behind Hayes) and drafted by Kentucky in the ABA draft: did he see that as a validation of his college career, or the realization of a lifelong dream of reaching the NBA, or other? It was a little bit of both. He had a great support system while he was growing up but college was not an option for everyone in our extended family. I do not think that going pro was something he thought about early on in his life.
In 1969 he averaged 18.2 RPG and became the 2nd player ever to be named ROY & MVP in the same season (Wilt Chamberlain did it in 1960): how was he able to make such a smooth transition from college to the NBA? It was just his approach and the way he played hard. Some of it is about being in the right situation, having good teammates, etc., but rebounding is a skill that translates easily from college to the pros.
Take me though the 1971 playoffs:
In Game 7 of the Eastern Conference Finals he scored 17 PTS in a 2-PT win at Madison Square Garden over the defending-champion Knicks: how important was it for the city of Baltimore after it had spent such a long time losing to New York teams in almost every sport? I am sure that it was huge. Baltimore is a blue-collar town with passionate fans who really support their teams.
Finals MVP Lew Alcindor had 49 PTS/13 REB/12 AST in Game 2 en route to a 4-game sweep by Milwaukee: where does Alcindor rank among the greatest players that you ever saw? I am unsure if my dad would agree with me but I would say top-5.
In the 1975 season finale he had a career-high 30 REB in a win over New Orleans to win season REB title over Dave Cowens by a margin of .01: did he make a concerted effort to lead the league or was it just a happy coincidence?! If I had to guess it was a combination of the 2. He would go after every single rebound he could get but he never did anything for personal acclaim or to break a record.
In the 1975 Finals his team was swept by Golden State: how big a deal was it for him to play in the 1st championship game or series in any of the 4 North American major pro sports leagues to feature 2 African-American head coaches or managers (Al Attles/KC Jones)? When you are in the playoffs you go into every series with the goal of winning. However, on a personal level, it was certainly of some significance for that to be an African-American milestone.
In Game 7 of the 1978 Finals he scored 15 PTS in a 6-PT win on the road to beat Seattle for the title en route to being named Finals MVP: where does that rank among the highlights of his career? That has got to be up there after getting so close a number of times before winning it. It was a sense of relief to finally lift the weight of the world off of his shoulders.
In Game 7 of the 1979 Eastern Conference Semifinals he scored 8 PTS in a 6-PT win over Atlanta: did he feel like the team was good enough to defend its title? I think so from my recollection…but I was only about 4 years old at the time! They did not have a great record in the regular season the previous year but they clicked in the postseason and came together as a team. Once you have the recipe in place it allows you to get a lot more confidence.
His career average of 14 RPG remains #6 all-time despite the fact that he only stood 6'7": what was his secret for being a great rebounder? Tenacity: he had a hit-first old-school mentality. You still see a few guys like that today but his frame of mind is that he would not be outworked by anyone on the court.