A lot of players in next week's draft improved their stock with a memorable moment during the NCAA tourney but only a handful of them have a championship ring.  After watching his brother Kris Jenkins beat him to win the 2016 NCAA title for Villanova with the most clutch shot ever, Nate Britt won his own title last April as part of the Tar Heels.  He was known for playing tough defense and finished his career as 1 of the best free throw shooters in UNC history.  Earlier today HoopsHD's Jon Teitel got to speak with Nate about his Hall of Fame coach and his family's 2 titles.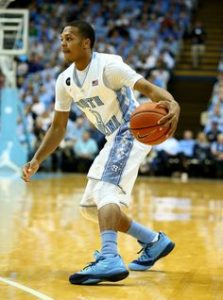 You played for Coach Roy Williams at North Carolina: what makes him such a great coach, and what is the most important thing that you have ever learned from him? His preparation: of all the coaches I have ever played for he did the best job of preparing his team for any situation, so during games we were just acting on instinct and did not need to make a lot of adjustments. He taught me the importance of being a good person and treating people with respect. We had a "thought of the day" at each practice and the 1 that I remember the most was that you cannot control the winds but you can adjust the sails: if you cannot control something then you should not stress out or get off course.
As someone who has been right in the middle of the Duke-UNC rivalry for the past several years, how do you explain it to people who have never seen it before? It is hard to put into words the emotions that get going as we prepared for those games and then played them. It is the most exciting adrenaline rush leading up to the game, and then during the game there is so much excitement that it almost feels surreal. In most games the adrenaline wears off after a few moments, but in that game there each player has an adrenaline rush the entire time.
In the 2014 NCAA tourney DeAndre Kane made a layup in the final seconds and then you took the inbounds pass and sprinted up the court to call a timeout: what the heck happened with the clock, and do you feel that the referees should have put time back on the clock rather than just give Iowa State a 2-PT win? I do think that the refs should have put some time on the clock because it was obvious that we wanted a timeout and Coach Williams was signaling for it. I have never gone back to look back at the film and see if there was any time left when I signaled for a timeout, but I think the problem was that they started the clock late. As a player you always keep an eye on the clock so I thought that there was still time left.
After shooting jumpers left-handed as a freshman you switched to shooting them right-handed as a sophomore (while still shooting FTs from the left side): why did you do that, and how did it work out? I am naturally left-handed but did not shoot well from the 3-PT line as a freshman: my major issue was confidence. I talked to my father and Coach Williams about switching hands because I would sometimes do that during pickup games. I put in a lot of time during that summer to see if the switch would help. I took a whole lot of shots: it was looking pretty good by the time the season started and it has worked pretty well ever since then.
As a sophomore you made 60-68 FT (88.2%), which is 2nd-best in school history: what is the key to making FTs? I finished my career over 80% so I definitely did not want to switch hands and get away from that. It is just about practice: if you put in the time to get better then it will become routine. After I do a drill I try to make 5 FTs in a row before switching to another drill. It is an easy shot from the same distance that is not contested: it will ease your mind because shooting is mostly about confidence.
In the 2016 NCAA title game you scored 2 PTS and your adopted brother Kris Jenkins helped Villanova beat you with the game-winning 3-PT shot at the buzzer: did you think that he was going to make it, and how has that shot changed your relationship (if at all)? I definitely knew the shot was going in: I told people after the game that anyone who knows him knew the game was over as soon as he caught the pass. He did not give me a hard time about it because he knew how hard it was for me to lose that game. It did not change our relationship too much: it just gave him more of a reason to support me last spring when he got knocked out of the tourney early, but I think that he would have been there either way because that is how our family supports each other. We always played on the same team growing up and we still try to watch each other play as much as possible.
Take me through the magical 2017 NCAA tourney:
In the Elite 8 Malik Monk made a 3-PT shot with 2 defenders in his face to tie the game at 73 with 7.2 seconds left, then Luke Maye hit a jumper with 0.3 seconds left to clinch a 2-PT win over Kentucky: how was your blood pressure doing by the end of that game?! It was definitely up and down. When Monk took his shot I thought there was no way it was going in, and then my heart definitely dropped because it was like our game against the Wildcats earlier that season where he made a 3 at the end of the game. It also reminded me of the 2016 title game in terms of each team making a big shot in the final seconds.
In the title game you scored 2 PTS in a 6-PT win over Gonzaga: what did it mean to you to win a title, and what was the reaction like when you got back to campus? Awesome! It meant everything to me. We talked amongst ourselves that it was time for Carolina to win another title.  Being a part of our basketball program puts you in an elite group, but to win a championship makes it even more special. We feel that we finally have a seat at the table along with the other players who have left their mark on the university. It was electric when we returned to campus: we had a welcome party at the Dean Dome. The campus had been extremely dead the previous April after we lost, so to be able to experience that kind of energy with the rest of the student body was great.
You played 151 games during your college career: do you think NBA teams view that as an advantage (experience and spent 4 years learning all the fundamentals) or disadvantage (a 1-and-done guy might have less wear and tear on his body)? It depends. I do not think that anyone would see it as a disadvantage other than the fact that an 18-year old freshman might have a higher ceiling as a "project" based on his ability. It may not be the best option for some teams who want to make a guy into whoever they want but I see it as an advantage.
You wore #0 to prove people wrong who thought you were a "zero": what # do you want to wear in the pros, and why? My next # will have to be 13: I was born on the 13th so that is my favorite #. I was also a big Steve Nash fan, which has a little bit to do with it as well. I told the UNC fans that I would never wear #0 again because there is no reason to wear it going forward due to all of the support that they gave me.
What would it mean to you to get drafted: a validation of your college career, the realization of a lifelong dream, or other? Almost every kid who plays basketball hopes to make it to the NBA, so being able to put on the hat of the team that picks you would be a dream come true. I have already had a few of my dreams come true: going to Carolina, playing for Coach Williams, winning a national championship, etc. As a 10-year old I just wanted to play for the Tar Heels, but hearing my name called at the draft would be like reaching the top of the mountain.