It may seem like the Big East has cornered the market on coaches who were Hall of Fame players (Patrick Ewing/Chris Mullin) but do not sleep on the D-2 Mountain East Conference.  Last year West Virginia Wesleyan hired Vicky Bullett to coach their women's basketball team and the Lady Bobcats hope to get even better this season.  Coach Bullett's resume as a player is rather remarkable: 1989 ACC POY at Maryland, 1992 Olympic gold medalist for Team USA, and 1999 WNBA All-Star.  In 2011 she was inducted into the Women's Basketball Hall of Fame and then spent several years as the head coach at Hagerstown Community College before returning to her home state of West Virginia.  HoopsHD's Jon Teitel got to chat with Coach Bullett about winning a gold medal and becoming a Hall of Famer.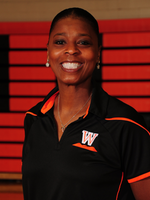 1 of your 6 brothers (Don) coached your team at Martinsburg High School and drove you 6 hours round-trip so that you could practice with your AAU team: what was it like to play for your brother, and how much of an impact did he have on your life? It is always hard because any sibling would put more pressure on you than a stranger would. He has always pushed me to work hard on the court and in the classroom and helped prepare me for my freshman year at Maryland.
In the 1988 Olympics you played for team USA: what did it mean to you to win a gold medal? The team was exceptional. Now they select players but back then there were probably 300 women who tried out. I was 1 of the youngest players and I learned a lot.
In 1989 you were named ACC POY/All-American at Maryland: what did it mean to you to receive such outstanding honors? They were struggling when I first got there because they had some players who had transferred out. I thought about going to Tennessee but they already had a stacked team. My dad suggested I go to Maryland so I could play right away and it was an honor to receive those awards.
In the 1989 ACC tourney title game you were named tourney MVP after getting 30 PTS/16 REB in a win over NC State: how were you able to play your best when it mattered the most? We had a good team but Coach Chris Weller only played about 7 of us, including All-American Deanna Tate. As a senior you want to accomplish a lot and we got pumped up to play against our ACC opponents: we were destined to do well that year.
Take me through the 1989 NCAA tourney:
You scored 28 PTS and your team had a tourney-record 25 STL in a win over Stephen F. Austin: what is the key to playing great defense? My brother told me that I had to play defense if I wanted to make the Olympic team in 1988: it was a tool that he expressed a lot. Most athletes do not like to get scored on and I always wanted to be a complete player. Defense was the key factor in us making it to the Final 4.
In the Final 4 you had 20 PTS/10 REB in a loss to eventual champion Tennessee: where does that rank among the most devastating losses of your career? It was not devastating: the Volunteers had a great team. They called us a Cinderella team due to our small bench. We just ran into a good player like Bridgette Gordon and a great coach like Pat Summitt.
You broke the school's all-time scoring/rebounding marks as a junior and graduated with 1928 PTS/968 REB: how were you able to balance your scoring with your rebounding? You just have to do both. Our coach did not play around: you either boxed out on rebounds or ran the steps at Cole Field House! I was disciplined enough to just go out there and do my best.
You were a 4-time All-Star in the Italian League: what is the biggest difference between college basketball and pro basketball? College basketball has some gimmick defenses but in the pros it is more 1-on-1. A lot of foreign players are very good on offense so there are less schemes overseas than there are in the US.
On July 3, 2001 you set a WNBA record by playing 55 minutes in Washington's 4-OT win over Seattle: how exhausted were you by the end of the night? I remember that game very well. It was late in my career and the coach tried to keep me to a certain level of minutes, but we just reached a point where she said she needed me to play. I probably paid for it the next couple of days but at the time I was not that exhausted. I had to guard 6'5″ center Lauren Jackson, which also took a lot out of me.
In 2011 you were inducted into the Women's Basketball Hall of Fame: where does that rank among the highlights of your career? It was a great highlight. I escorted my head coach at Maryland to the ceremony the previous year. People told me that Vivian Stringer was looking for me and she said that I was up for it the next year: I thought she might have been offering me a job! It kind of completes the package for all that you have contributed to the sport.
You currently are head coach of the women's basketball team at West Virginia Wesleyan: how do you like the job? It is going well but I hate recruiting.