CLICK HERE for all of Jon's interviews, and the rest of our extensive and continuous preseason coverage
There are already enough distractions for college basketball players in 2017 that they hardly need another, but when you are born in Houston and play for Houston Baptist like SR C Josh Ibarra, the very last thing you want to deal with is Hurricane Harvey. Josh was 2nd-Team All-Southland Conference last year as he helped the Huskies win their final 9 regular season games and reach the CIT before falling to Campbell.  HoopsHD's Jon Teitel got to chat with Josh about the hometown hurricane and how to replace the loss of his top-2 scorers from last season.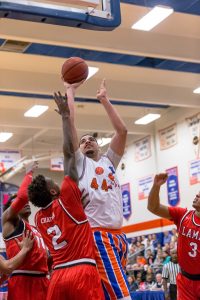 (photo credit: Juan DeLeon)
What made you choose Houston Baptist? As soon I came on my visit to HBU everyone around me including the coaches/teammates made me feel welcome and like I was a part of the team. Being close to home is nice too.
You play for Coach Ron Cottrell: what makes him such a good coach, and what is the most important thing that you have learned from him? What makes coach so special is that he has the patience to actually teach and show you different things, whether it be plays/skills.
Last year you started 8-12 before winning your final 9 regular season games: how were you able to turn things around in February? In the beginning of the season we were not playing as a team. I think we were more worried about our own stat lines rather than just playing to win. What helped us was realizing that doing things individually was not going to get us anywhere and we began to play as 1 unit.
In the 2017 CIT you scored 11 PTS in a loss to Campbell: what did you learn from that game that you think will help you this year? What I learned from that game is to never underestimate another team. We went in too relaxed, thinking it was going to be an easy game, and they showed us up.
Your non-conference schedule includes games against Providence/Virginia Tech/Oklahoma State/Michigan State/Vandy: which of these games do you feel will present your biggest test? I think they are all big tests. We will see where we are as a team versus tougher opponents that will push us harder than any Southland team will, and those games will prepare us for the long run during conference play.
You are 1 of 3 seniors on the roster: how much pressure is there on you to be a leader this year? There is not too much pressure on me. We have a lot of young guys on the team this year so we just have to make sure they are ready and know what to do.  I believe they will be great for us so that takes the pressure off of the seniors' shoulders.
You lost your top-2 scorers from last year (Colter Lasher/Reveal Chukwujekwu): how will you try to replace all of that offense? Making up for those 2 is going to be a difficult task. I think that sharing the ball a lot more to even things out will be best for us. We need to have points scored by a greater number of players rather than trying to put it all on certain people.
You were born in Houston: what impact did Hurricane Harvey have on the campus (if any), and how is your family doing? Harvey did not have too much of an impact on campus (thankfully) and my family managed to stay dry the entire time.
What are your goals for the upcoming season, and what are your expectations for the upcoming season? My goals for this season are to just take it 1 game at a time and not get too caught up in thinking about winning the conference, which just adds more pressure on us as a team. My expectation for us this year is just to be better than we were last year.