CLICK HERE for all of Jon's interviews, and the rest of our extensive and continuous preseason coverage
Mitch Henderson is building quite the New Jersey-based basketball staff in Princeton: he has 1 assistant coach who made back-to-back NBA Finals with the Nets (Kerry Kittles), 1 who was a 3-year captain at The College of New Jersey (Skye Ettin), and 1 who was a 4-year team manager at Rutgers (Brett MacConnell).  It obviously worked out well for the Tigers last year: an undefeated Ivy League season, winners of the inaugural Ivy League basketball tournament, and a near-upset of Notre Dame in the NCAA tourney.  HoopsHD's Jon Teitel got to chat with Coach MacConnell about the key to recruiting and how it felt to win 19 games in a row last season.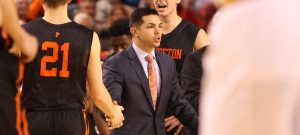 During college at Rutgers you were a 4-year manager for the men's basketball team: how did you 1st get into coaching, and could you have ever imagined that the Scarlet Knights would become part of the Big 10? I definitely did not think they would be joining the Big 10 but I do remember that there was a lot of college realignment going on at the time. I really got my start as a manager and knew that I wanted to get into coaching. I worked at the Rutgers camps and got to meet some of the coaches, then progressed from D-3 to D-2 to D-1. I worked for 2 very different coaches in Gary Waters/Fred Hill, which laid the foundation for my own path into coaching.
You are known for being a great recruiter: what is the key to getting a high school star to sign his name on the dotted line, and does working in the Ivy League make your job easier or tougher? The key at Princeton is to find student-athletes who value basketball and academics equally. The guys we recruit successfully are the ones who realize that they are not compromising the basketball side of things by coming here because we have a very difficult schedule that has become the norm. I think the Ivy League has only become easier to recruit for due to the success of the league in recent years: its profile has risen greatly with games on ESPN as well as the Ivy League tourney.
Last year as an assistant coach at Princeton you had a 19-game winning streak that included a perfect 14-0 conference season: where do you think that team ranks among the best in school history? I have to make sure I do not alienate any alumni!  It is really hard to gauge: we were 1 shot away from winning an NCAA tourney game, which would have put us in rarefied air. I measure most of our teams against the 1998 team, which my boss played for (27–2 overall, 14–0 in conference play, and a win over #5-seed UNLV in the NCAA tourney).
While that would have been good enough in the past to get an NCAA tourney berth, you had to win the inaugural Ivy League conference tourney last March to secure your spot: what kind of home-court advantage did the Quakers have while facing you in the semifinals at the Palestra, and do you like the idea of the Ivy League having a conference tourney? I love the tourney: there was 1 split-second after we finished 14-0 where I had my doubts but that quickly passed. I would like to see it played at a neutral site or at the #1-seed's court in the future but even if not I still hope it continues.
In the 2017 NCAA tourney you took Notre Dame to the final possession before a 2-PT loss: how close did you come to pulling off the upset, and what did your team learn that you think can help them this season? I think that just playing on that stage gives you great experience and now we have the goal of getting back there. You can never quantify how valuable is it to the players in the program in terms of preparing them for the future. Having veterans who have been through it will allow the younger guys to lean on them in similar situations.
Last year the Tigers led the conference in several categories including scoring defense/3-PT FG%/turnover margin: are there any 1 or 2 specific stats that you think are most highly correlated to a team's success? We love all those KenPom numbers and pay attention to all of them. There is not 1 specific stat but the 3 you mentioned are things that we have always valued. 3-PT shooting is very important, as is taking care of the ball, and we have hung our hat for several years on playing good defense.
Coach Mitch Henderson was named 2017 conference COY: what makes him such a great coach, and what is the most important thing that you have learned from him? I am heading into year #6 so I am not sure that we have enough time to cover everything that I have learned!  The 1st thing he stresses is to be myself while developing my own voice, and conversely you have to be able to change/evolve to help the team win more games. We have changed a lot defensively over the past couple of years after meeting with some other coaches around the country. Our program has always been about the quality of individuals and he does not compromise on that when recruiting.
You have a brutal non-conference schedule featuring Butler/Miami/USC/Middle Tennessee: which of these games do you feel will present your biggest test, and what do you think about the prospect of having to possibly face the Trojans twice during a 5-day stretch in December?! There is a chance we might play Miami twice as well, although it is a little less likely than USC. It is out of our control but we take it 1 game at a time so we are focusing on Butler because they are game #1 on our schedule.
You lost several good seniors but return G Myles Stephens, who was named both conference DPOY/conference tourney MVP last year: what makes him such a great player, and how much pressure is there on him to be a leader this year? It is hard to pick just 1 attribute because he has become such a well-rounded player. He is shooting the ball well, can score in the post, and rebound: he does a little bit of everything. He is a menace on both sides of the ball and will have to take on a bigger leadership role.
What are your goals for the upcoming season, and what are your expectations for the upcoming season? Our goal every year is to win the Ivy League and make the NCAA tourney but we take it day-by-day with smaller goals and a focus on the process.