CLICK HERE for all of Jon's interviews, and the rest of our extensive and continuous preseason coverage
Tennessee-Martin appeared to hit rock bottom 5 years ago after finishing the 2012 season with a 4-27 overall record, including 0-16 in OVC play.  Fast forward to 2017 and the Skyhawks have turned things around in a big way.  In his very 1st season as a head coach last year, Anthony Stewart led the team to a 22-13 record, including a 14-PT win over UNC-Asheville in the CIT.  HoopsHD's Jon Teitel got to chat with Coach Stewart about his unique path to the coaching business and his philosophy on transfers.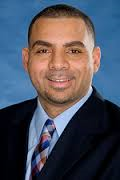 You played basketball/baseball at Mount Union: which sport were you best at and which 1 did you enjoy the most? In college I was good at both sports but was probably the best at basketball.  I enjoyed both of them: I was a pitcher on the baseball team.
How did you 1st get into coaching? On accident in 2000. I got a promotion at my company where I did corporate logistics and ran into an old friend who I had played against in Columbus, OH.  I became his assistant at Columbus State but did not think I could make it work because I already had plenty to do at work.  He called me every day for 3 straight weeks and I told him that if he held practice at 6AM before I had to report to work then I could give it a shot.
You were an assistant to Coach Heath Schroyer at Wyoming/Tennessee-Martin: what sort of relationship have you 2 developed over the past decade? He is like family and is 1 of my closest friends. He was very influential in my growth as a coach.
In the spring of 2016 you replaced Heath as interim head coach at Tennessee-Martin: why did you take the job, and what was the biggest lesson you learned during year #1? It was a remarkable opportunity: there are only 350 or so of those D-1 jobs on planet earth.  It is nice to run your own team and call your own timeouts. I had to admit to myself that I did not know everything, which helps you use the resources/people around you. My assistants work with me, not for me.
In the 2017 CIT you lost to Campbell: what did your team learn from that game that will help them this year? Anytime you can make the postseason and play meaningful games it is an honor. I think it gave them a thirst and some much-needed experience.
Your 14 home wins last year were the most since 1992: what kind of home-court advantage do you have at Skyhawk Arena? The statistics show that the home team has a greater chance to win (by a couple of percentage points).  Our fans give us a little extra as the 6th man during close games, which was very helpful for us last year.
Your 10 non-conference wins were tied for the most in school history: what sort of scheduling philosophy do you have? We have a very tough non-conference schedule again this year: I do not like to play too many cupcakes.  We want to compete in every game so that we will be prepared for an 18-game OVC schedule this year.
You have several transfers on the roster (Matthew Butler/Kevin Little/Garrett Sams): what is the key to integrating all of the new guys with all of your returning talent? We recruit a specific kind of student-athlete who can fit into our community and our team. When we zero in on possible Skyhawks we bring them in to see how they interact with our existing roster.  We also talk to our own guys about the new guys: it is not just a 1-way street.
What are your goals for the upcoming season, and what are your expectations for the upcoming season? We want to get our 1st NCAA tourney bid. I am very excited about this team because it is probably the most talented that I have been associated with here. We need camaraderie/chemistry but I think the sky is the limit for this group.