Earlier today it was announced that the NCAA has created a Commission on College Basketball to examine 3 specific aspects of D-1 basketball:
The relationship of the NCAA and its institutions/student-athletes/coaches with outside entities (such as shoe companies, agents/advisors, etc.)
The NCAA's relationship with the NBA (specifically its "1-and-done" rule)
The relationship between colleges and the NCAA national office (to promote transparency and stop any future scandals before they blow up)
The Commission will commence its work next month and then recommend changes in April.  The 14-person Commission is a fascinating mix of former players (David Robinson)/coaches (John Thompson III)/athletic directors (Jeremy Foley), current school presidents (Rev. John Jenkins), and a chairwoman who was the US Secretary of State (Dr. Condoleezza Rice).  HoopsHD's Jon Teitel reached out to many of the Commissioners to get their reaction and has already heard back from Ohio State athletics director Gene Smith, who issued the following statement: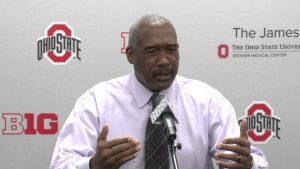 I am privileged and honored to serve alongside such a distinguished group committed to making the great game of college basketball even better for all parties involved.
We congratulate AD Smith on his appointment and hope to bring you further reaction from other members of the Commission in the days ahead.