Since the A-10 was kind enough to bring their media day to Washington, DC, HoopsHD decided to take the day off from work and check out all the action.  With 14 teams there is a lot to cover so we did our best.  First up is Rhode Island's EC Matthews: 2014 Atlantic 10 Co-ROY, then missed most of the 2015-16 season with a torn ACL, but bounced back last year to be named Most Outstanding Player at the Atlantic 10 conference tourney.  Jon Teitel got to chat with EC about overcoming an injury and winning a conference title.  We also wish him a happy belated birthday earlier this month!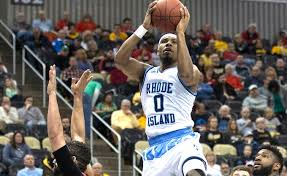 You grew up in Detroit: what made you choose the Rams? See that guy right there (Coach Hurley as he is being interviewed by Andy Katz): it was him. When I 1st got an offer I did not know who Coach Hurley was as a coach or his family tradition so I just did my homework. He had a vision for me and I trusted him.
You play for Coach Dan Hurley: what makes him such a good coach, and what is the most important thing that you have learned from him? His passion for the game: he is the definition of a hard worker and wants us to be great. He takes us all under his wing.
In February of 2014 you scored a career-high 32 PTS/11-15 FG in a loss to Duquesne: was it just 1 of those scenarios where every shot you put up seemed to go in because you were "in the zone"? It was 1 of those situations and it is just indescribable. Everyone wants to have a game like that and I hope to have some more this season: the rim was like an ocean.
You finished that season by being named A-10 co-ROY: what did it mean to you to receive such an outstanding honor? It meant a lot at the time because I was trying to make a name for myself.
In the 2015 season opener against American you tore your right ACL and missed the rest of the season: how difficult was the rehab process, and how is your health at the moment? The rehab was actually easy for me and I healed well. The hard part was not doing things I had done before but I found my niche toward the end of last season. I did more rehab this summer and am 100% so I am confident in what I can do.
In the 2017 A-10 tourney title game you scored 19 PTS in a 7-PT win over VCU en route to being named tourney MOP: what did it mean to you to win a title, and how were you able to play your best when it mattered the most? It meant everything to me. It has not been done at URI since Lamar Odom so we are in the history books and will try to do it again. God does not make mistakes.
In the 2017 NCAA tourney you had 13 PTS in 2017 2nd round 3-PT loss to Oregon: what did you learn from that game that will help you this year? We were supposed to win that game! It gave us confidence that we can play with any team in the country. We will carry that confidence over to this season, which will help in big games.
You are 1 of 5 seniors on the roster: how crucial will all of that experience be to your team's success this year? I think we have everything to gain and nothing to lose.  The sky is the limit and I think that we will have a lot of success this year. We are a veteran group and think that we can do much better.
Your non-conference schedule includes games against Seton Hall/Providence/Alabama: which of these games do you feel will present your biggest test? All of them will be a test for us in some way. We still have a lot to prove and want to be a good team even earlier this year.
What are your goals for the upcoming season, and what are your expectations for the upcoming season? Just do what we did last year but way better. I want to bring another A-10 title back to URI, make the NCAA tourney, and then advance farther: why not us?!